The Wild Wanderer Spotlight Series highlights the stories of queer adventurers in their own words, and we hope that by sharing these underrepresented voices, true diversity and inclusion will begin to make their way into the mainstream.
Wild Wanderer Spotlight: Owen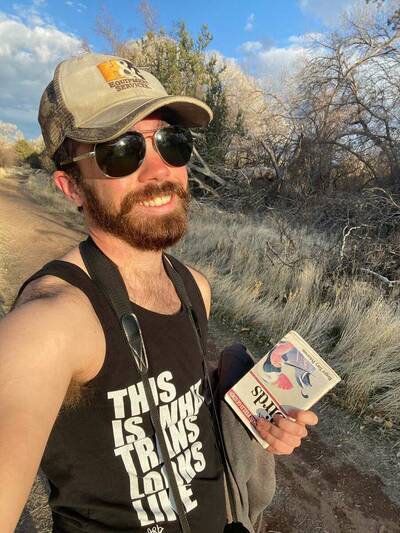 "Queer people know better than anyone that binaries are usually false – or at least incomplete. The distinctions that we draw between the urban world and the wilderness, or between the human world and the natural world, are just as incomplete." – Owen
What are your pronouns?
My pronouns are he/him.
How do you Identify?
I identify as trans and queer – I like to say that I'm queer-not-otherwise-specified. I'm transmasculine, but I barely know what my gender is (or what gender is in general!), and I identify way more with being trans than I do with any particular gender.
What outdoor activities are you involved in?
I'm currently working for the National Park Service in Arizona, and I've worked at seven NPS sites in interpretation, education, and visitor services positions. I've also worked for a nonprofit environmental education center, a state park agency, and as a national park tour guide.
I'm a serious hiker, passable birder, and amateur geologist, but my main enthusiasm is in landscape interpretation and understanding how all the elements of a place – the rocks, the plants, the people, the weather – fit together. All of it makes one big complex whole, and I think that learning to see that whole is a critically important step in building a healthy and sustainable relationship with the natural world. Learning to see ourselves in relationship with each other and the beings and places around us also gives us opportunities to learn more about ourselves – none of us exist alone.
Tell us about a favorite/memorable outdoor adventure you've had:
One of the coolest things I've ever done was staff a fire information stand on the side of the road in Yellowstone. In 2013 we had two big fires in my district – the Alum fire and the Arnica fire.
I was on duty on the day that the Alum fire blew up from a couple dozen acres to about 3000 acres; the visitor center was downwind of the fire so it was very dramatic. I remember standing on the side of the road while the plume of smoke drifted over the sun and ash started falling onto everything around me.
I was stationed right at a major intersection, so I got to talk to a ton of people about the fire – how it started, how big it was, how the park was managing it, and so on. I had already been really interested in fire ecology, and that experience of being on the educational front lines made me even more convinced of the importance of studying disturbance ecology. It's been a real challenge to help people understand that fire is a good thing for that ecosystem. I think fire and transition are particularly good metaphors for each other – sometimes you have to make a drastic change to be healthy and move forward with your life.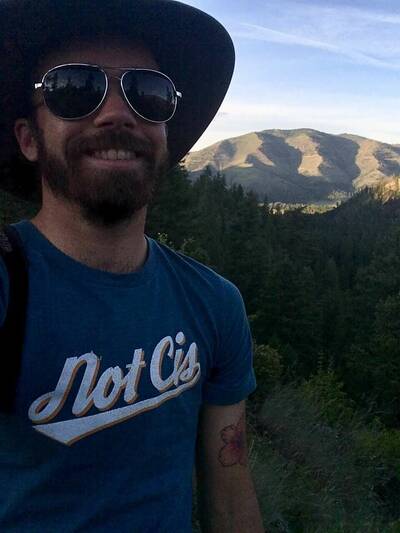 In your opinion, what are the most important challenges/issues facing queer people outside?
There's a lot to be said about the intersections of race, class, and queerness, but as a white guy I'm not really the person who should be talking about that. To speak to my own experience: one difficult thing I dealt with before I transitioned were "it's so good to see a young woman working in this kind of job!" and similar comments that were really depressing and dysphoria-inducing.
Working and recreating outdoors is also usually intensely physical, which I think can be a deterrent for people who have a hard time connecting with or being comfortable in their bodies.
As an LGBTQ+ person, if you could change one thing about the outdoor industry, what would it be?
I think we need a major overhaul in our understanding of what constitutes "nature." Queer people know better than anyone that binaries are usually false – or at least incomplete. The distinctions that we draw between the urban world and the wilderness, or between the human world and the natural world, are just as incomplete. Nature is everywhere – in wilderness areas, in city parks, in your garden, in a houseplant, in your own body. There are no divisions between us. The natural and the human worlds are two parts of a larger whole; they're co-created and co-defining. The trees along your street are as worthy of respect as a thousand square miles of federally designated wilderness; a thousand miles of wilderness is as worthy of respect as the dandelions growing in your yard.
Anything else to add?
PSA: any American citizen with any kind of permanent disability is eligible for a free lifetime pass to all national parks and other federal public lands! You can get it at any federal lands office that has a fee program, and you don't have to show any documentation. Many NPS sites will also let Indigenous people in for free. The rules about this aren't particularly consistent, but it's always worth asking.
And for everyone – get involved in your local public lands! Working for the government is its own whole thing (I'm totally willing to help out anyone interested in applying for federal jobs!) but everyone working in federal lands management is ultimately accountable to the citizens and communities around them. We're publicly funded, publicly managed, and here for the people of this country. We want you to tell us about your visit, about what you expect, about what you want – those conversations are how we're all going to move forward together into the future, and make sure that future is the future that we want.
Connect with Owen
Follow Owen on Instagram.
See more Wild Wanderer Spotlights. You can follow Wild Wanderer on the organization's website, Instagram, Facebook, and Twitter.
---
This article is part of our Trailblazer program.
Backpackers.com Affiliate Policy: This article may contain affiliate links, which help fund our website. When you click on the links to purchase the gear we get a commission, and this goes a long way to creating guides, gear reviews, and other excellent content.