Backpackers.com — Bringing an instrument into the backcountry is possible, but it requires some proper planning. A number of the rules below overlap for camping and backpacking, but with the latter you'll want to take even more care, and take a smaller instrument.
Below is a guest post by Colleen Kinsey that will guide you to protecting a guitar or Ukulele in the backcountry, and a few tips on which model might be best for your travels. Colleen has a passion for guitars and ukuleles, enjoys jamming, teaching, and getting others involved in music. Her website, Coustii, focuses specifically on guitars and ukes. Colleen loves to travel and spread music education wherever she goes.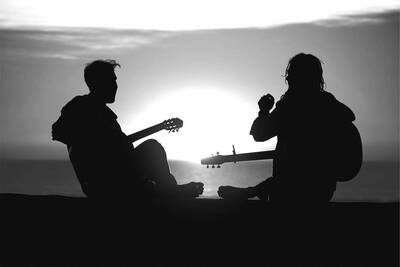 Protecting a Guitar or Ukelele in the Backcountry
by Colleen Kinsey
Who doesn't love having a jam session with new friends surrounded by the warmth of a campfire? If you're lucky, a couple s'mores are warming up for when the song's over. No s'mores while backpacking, but that jam session is all the richer for your isolation.
I love meeting other hikers and campers along the way that also have their instrument in tow, but I've found that not everyone knows how to go about protecting a guitar or ukulele in the backcountry or camping. A few minutes of preparation can save you the headache and price tag that accompanies a broken instrument.
Even if you aren't banging your guitar or uke around, one of biggest enemies for a wooden instrument is the weather. The ideal temperature is between 60-70 degrees and a relative humidity of 35-50 percent. The humidity, or lack thereof, causes the wood of your stringed instrument to swell or shrink (respectively). Extreme changes can cause the fretboard to warp, seams to open, cracks in the wood, or the pegboard to lose its grip.
It's difficult to keep a constant temperature, especially with the unpredictable weather while you're camping or backpacking. There are a couple measures you can take.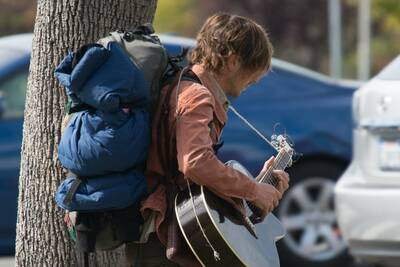 Control the Humidity Inside Your Case
You're in luck — the world has some trusty tools to keep the humidity levels of your case at a constant level for when you can't stabilize it on the outside. This implies you'll be taking a hard case, which is more typical for campers than backpackers. The methods below will help with either a soft or hard case, but know that a hard case will do a much better job of protecting your instrument, if you can carry it.
If you are headed to warm, humid climates, you will need to dehumidify your case. Look for silicon packets that can be placed inside your sound hole. This absorbs any moisture and prevents the wood of the instrument from getting moldy or damaged. They're light, and typically come with electronics. You probably have some in your house.
When you hit cold, dry weather you will want to humidify the inside of your case with a humidifier containing hydrogel. This allows vapor to slowly be released, making a more stable environment. You can also use or create your own sponge- and water-based humidifiers, but these will have to be refilled more often.
Not sure what kind of weather you're about to encounter? Look into getting a hygrometer. This gadget will help you avoid the guessing game, and tell you exactly what your instrument needs to be happy. There are plenty of hygrometers made specifically for wooden instruments, and they aren't too expensive either, so consider this as an investment if you plant to be camping a lot.
Buy a Sturdy Case
One of the easiest things you can do to protect your guitar or ukulele is buy a good case. I highly suggest one with padding on the inside. The extra cushion will protect the instrument in case you hit a giant pothole while you're off-roading in your car, or take a tumble on your hike. If there's a little wiggle room, place some old T-shirts or newspaper in the gaps. This will give you extra protection against instrument catastrophes.
As I said above, a more serious case means a lot more weight. This isn't ideal for backpacking, but for car camping it's not a problem. Those taking instruments on a backpacking trip should consider a lightweight, rugged soft case, and potentially bringing a uke instead of guitar.
Case-Based Tricks for Protection
When precipitation is eminent, I've found this trick really keeps your gear dry. Put duct tape around the seal and the hinges. This will ensure no moisture leaks into the case. It will also prevent your case from popping open at a less than favorable part of your journey.
When backpacking, you can use your pack's rain cover or a secondary trash bag to cover and tie off your instrument and case so the water doesn't get inside.
Avoid Direct Sunlight
Having your instrument out in the hot sun is also dangerous. The heat from the sun can melt the varnish on the wood. This will create bubbles on the surface, which is incredibly difficult to repair. Of course, it's fine to play a couple of jams outside, especially if the scenery is worthwhile, but be careful not to over expose your instrument.
My best advice is to invest in a travel guitar, or a less expensive ukulele. There is no guarantee what will happen in the great outdoors. Instead of taking the risk and exposing your $1,000 guitar to the elements, consider getting a cheaper, lighter version to take with you on your adventures. This way, should mayhem arise, no tears will be shed if your precious guitar or ukulele is destroyed.
Recommended Travel Guitars
As an alternate to your expensive guitar at home, consider investing in a smaller version that's more compact and easy to take with you. The Dean FLY MAH Flight Series offers a similar sound to a regular guitar, but is three-fourths the size. The mahogany top and body give this travel guitar a full, rich sound that may rival your guitar at home.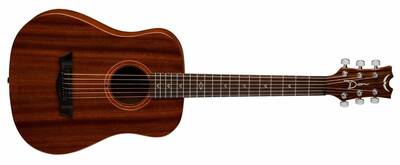 If you're looking for something even more compact, the Martin Steel String Backpacker Guitar is an excellent bet. You won't get quite the sound, but it's compact and lightweight as they come.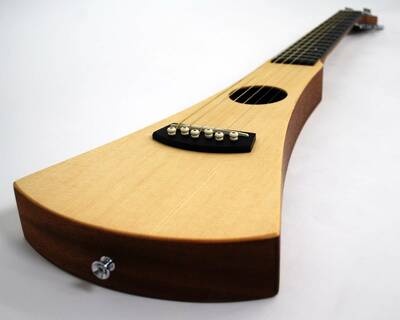 Recommended Travel Ukulele
You can't get much smaller than your average uke size. That said, you'll want a mighty one to keep up with you while you're moving around. The smallest size is the concert ukulele, which is also the most popular. The Lanikai LUTU-21S Mahogany Soprano offers a good quality uke with an affordable price tag. The Lanikai will give you a bright, clean sound that will have your fingers moving until after the campfire goes out.

Extra Resources
If you're serious about taking your instrument into the wilderness, this is just the beginning. Make sure to read up on the resources below (and others), which will help with protection, instrument choice, and what exactly you could be singing around that campfire.
Take advantage of this camping season by bringing music along with you! You never know, you may make some new friends, or learn a few new songs.
Images in order: Silhouetted Men via Pixabay, Busker in Berkeley by D Coetzee via Flickr; All Guitars and Ukuleles courtesy respective manufacturers, All Rights Reserved