Ahnu Sugarpine Overview
Lightweight and strong, cute, and surprisingly capable, the Ahnu Sugarpine II WP might just be the hiking boots of your dreams, you just don't know it yet.
The Sugarpine II boots are only made for women, which gives them a decidedly female feel that most hiking footwear is lacking — they feel as if they were crafted for me, personally. Uphill or downhill, the Sugarpine II are comfortable and versatile, providing support in hot California mountains and snow-filled Pacific Northwest forests.
Since everyone's feet are so different, Backpackers.com does not assign awards for footwear, but we would recommend most women start their search with a single hiking boot: the Ahnu Sugarpine II WP. Due to the weight, breathability, and good looks, these waterproof dynamo boots are ideal for adventurers of all kinds, and work for Wilderness Backpackers, Ultralight Backpackers, Day Hikers, Car Campers, Urban Hikers.
See where these boots fall on our Best Hiking Boots guide, and read the full Ahnu Sugarpine II WP review below.
Ahnu Sugarpine II Star Rating
Comfort

Durability

Soles

Uppers
Summary
With an aesthetically pleasing style, lasting materials, and the right balance between rugged and breathable, the Ahnu Sugarpine II makes for an excellent women's-specific hiking boot. I have found my feets' savior!
Ahnu Sugarpine II Specifications
| Feature Type | Feature Specs | What This Means |
| --- | --- | --- |
| Weight | 12.5 oz. (354 g) per shoe | Very lightweight for a waterproof hiking boot. It's not made of lots of leather, and feels light and snappy when worn. |
| Category | Lightweight (<18 oz.) | We categorize boots in three classes, and this boot is definitely lightweight, bordering on ultralight. |
| General Fit | Standard | The Suparine II has a general standard fit, if a little narrow in the width, but with plenty of the room in the toebox. Try it on before you buy. |
| Upper | Leather, Suede, Mesh | The upper is mostly mesh, with suede and leather in key points to increase durability. |
| Waterproof | In-house | Ahnu has an in-house waterproofing that works surprisingly well on this boot. And it breathes exceptionally. |
| Midsole | Dual Density EVA | A thick EVA midsole provides plenty of cushion, but is not as hard (or heavy) as a PU sole. It won't stay as firm as a PU sole over time. |
| Sole | Custom Vibram Outsole | The specific name of the Vibram sole is not published, but it's custom, and has decent grip. |
| Lace System | Traditional, 2 Lace Hooks | Standard laces that stay put. |
| Sizes Available | 5-11 for Women, with half sizes | Plenty of sizes, except for women with very large feet. This is a female-specific hiking boot. |
| Manufacturer Warranty | 1 Year Limited Warranty | One year is fairly standard warranty for boots. |
| Retail Price | $145 | A mid-range price for solid, lightweight boots. They work for almost any environment, too. |
Gear Review of the Ahnu Sugarpine II
Origins: Easing You In
Let's be real: I am not sponsored by Ahnu in any way, so what I am about to tell you is completely from the bottom of my heart (er, soles?): The Sugarpine II waterproof boots are my new favorite shoes.
Before being asked to do the review I was already breaking in a pair of Ahnu Montara boots I scored at the REI garage sale — an older, slightly heavier version. They gave me some gnarly blisters after climbing up Mount Si, so I was slightly hesitant when asked to review the lighter, more breathable version. But the boots were appealing, so I slipped them on.
A little bit about my hiking style: I'm a hopper, a skipper, a jumper. In turn, that makes me an occasional faller, and someone who needs lightweight yet sturdy shoes. Until I found the Ahnu Sugarpine II WP boots I lived in a world of shoe-compromise. On a typical hike I would bring two pairs of shoes — a boot for hiking and a trail shoe for quicker, more technical sections. If the weather and trail permitted, I would sometimes bring a pair of sandals, but I digress.
With many months to test the Ahnu Sugarpine boots, I made sure to take them on as many adventures as possible. We slid down dusty trails, hiked up steep snowy rocks, power-walked urban streets, and jogged (yes, jogged!) down forested switchbacks. In a given week I put about 10 miles on them. These boots went everywhere with me and, quite frankly, they will continue to do so.
Revelation: The Moment I Knew
While my general revelation is a series of happy feet adventures, the Ahnu Sugarpine boots and I will always share a special day that really signifies our time together.
A friend and I decided to go on a last-minute hike in the Mount Baker-Snoqualmie National Forest to celebrate the weekend and hopefully come across some sunshine. Seattle was living up to expectations and the gray was very…gray.
The trailhead was packed, as were the trails. People were soaking in their last bit of pre-winter weather. I wore medium-thick wool socks and doubled-tied my Ahnu Sugarpine II boots. We headed up the four-mile Granite Mountain trail, gaining 3,700 feet in elevation. The first two miles were forested switchbacks, climbing up and up, until a break in the trees, offering a breath of fresh air and the bright blue sky! All the way up the boots did not rub the back of my heels, though I was armed with band-aids and a second pair of socks (as every hiker should be!) in case they did.
The last mile was covered in snow — at least six inches! We played it safe but kept going, finishing the climb on a steep ascent to an outpost atop a rocky peak. The boots held the ground and offered ample support.
At the top of Granite Mountain we took in the views above the clouds, pointing out different mountains peeking through the notorious Pacific Northwest weather. I readjusted my laces after moving around my feet, feeling for dampness or soreness. The only dampness was from my general sweat and my feet still felt comfortable — an experience I've never had after such an uphill hike.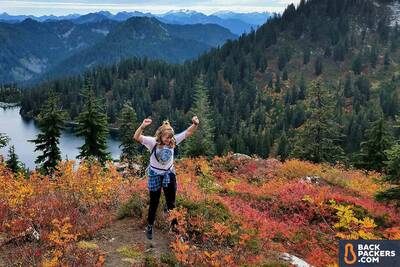 We began the steep descent, which was covered in snow. By then the trail was sloshy and slick, decorated with sharp, threatening rocks and branches. The Ahnu Sugarpine boots were grippy enough to inspire confidence and while cautiously stepping down the steep grade I had very few slips. Once I stepped into a pocket of snow that was nearly ten inches, causing me to "whoop" and land on my bum. I expected my feet to be soaked, but again, they were dry. The only moisture was from my leggings at the top of my boots.
Back in the forest, we did speed bursts between groups of hikers, lightly jumping over branches, traipsing down rock paths, and hoping over tiny creeks. And yes, I almost took a tumble, but that was on flat ground and I can't fault the shoes for that — remember, I'm a faller.
Digging Deeper
The Ahnu Sugarpine II waterproof boots are constructed to be both solid, but incredibly light.  A size seven weighs roughly 12.5 ounces, which his very light for a full, waterproof hiking boot. Part of this is the closed mesh and suede uppers, which offer protection, breathability, yet are light materials. The boot has leather overlays in certain areas, but is not a full leather boot, which is often very heavy.
The Ahnu Sugarpine uses an-house waterproofing, which works quite well. The waterproofing is better than you'd anticipate by just looking at the cloth-style shoe.
The boots are beefed up with custom Vibram outsoles, which have decent traction, but are not the best on the market. The footbeds, specifically the Numentum insoles, are quite soft and provide great cushion on less-than-stable trails. Finally, the toe rand is semi-reminiscent of steel-toed boots, making the toe box a safe space.
Comfort 
5 Stars
The Ahnu Sugarpine boots were breathable in the California summer sun and kept me warm while trekking snowy peaks. Never have I had a pair of shoes that were steadfast in their comfortable disposition for long durations of time, in multiple climates, over many terrains. They were comfortable even on the day I hiked eight miles in the wilderness followed by five miles of power-walking while completing errands in the city.
Shoes are, of course, highly relative to the user. Clearly, these boots fit my feet. The breathability and lightness reduced potential blisters and kept me nimble. Be sure to try on a pair before making the final decision.
Durability 
5 Stars
The boots do not scream "durability" with their cloth exterior, but if you look closely you will find it to be reinforced with suede and leather overlays in the areas most likely to rip. There were a few incidents where I thought I would tear the boot along a jagged branch or ruin them while sliding into inches of dust and shale in the Santa Monica Mountains, but they never faltered.
After 4 months and about 150 miles, the uppers look relatively unscathed, if dusty, and the soles still have plenty of grippy ridges.
Soles 
4 Stars
The Ahnu Sugarpine boots are agile, have a custom Vibram outsole, and definitely provide traction and stickiness when needed. However, while their lugs were pretty deep, I found them to be a bit too smooth for slippery descents down mossy trails. Snow and rocks did better.
Uppers 
4 Stars
The uppers of the boot complete the Sugarpine II's full package. I had to do a minimal amount of rearranging and shifting, often a problem with other boots. The tongue was cushy, prevented water from entering, and was easily held in place with the laces (an improvement from the older pair of Ahnu boots).
They were breathable, which is arguably the most important thing. And for the in-house waterproofing, as long as the water doesn't get in through the top of the boot and soak through to the sock, you are good.
Fit
The Ahnu Sugarpine II boots are narrow enough to be agile on the trail, but the interior shoe real estate is ample, allowing for toes to wiggle and feet to naturally swell. My feet are prone to stress fractures, worn from years of non-supported Converse treks, and felt totally comfortable every single time.
My feet are narrow with arches that prefer support, adorned with (embarrassingly) long toes. Finding shoes can be a challenge because sizing up to accommodate my toes often leaves too much space for my heels, and vice versa.
Grievances
The Ahnu Sugarpine II boots have given me very little to be upset about, so my grievances are purely relative to my own preference. The color and cloth show dirt rather easily, making them look dusty. Perhaps this is seen as a badge of outdoor exploration, but wiping them down is only kind of effective.
My last concern is the outsoles. They performed well, but were not stunning. Specifically in wet grass on a downhill slope. Traction is super important, and while these boots do the job, other models will grip better.
Final Word
Stylish and hardy, the Ahnu Sugarpine II waterproof boots are an all-around rockstar for female adventurers. Jump, run, skip, and hike with ease.
Where to Buy Ahnu Sugarpine II
We tested the Ahnu Sugarpine II waterproof boots. These boots are only made for women, and don't come in another variation. Ahnu does offer the Sugarpine II Air Mesh and Sugarpine II Waterproof, which are low-top versions of the boots. They use the same materials, and the Air Mesh breathes even better but does not have any waterproofing.
If you love the fit and don't want a boot, these are good options.
Compare Ahnu Sugarpine II waterproof boot prices below.
Review Policy: We do not accept payments or gifts from brands and vendors, and strive to provide unbiased, independent advice. Brands typically provide review samples which we return, and in some cases we purchase the item so we can keep using it long after the review. Affiliate Policy: We support the hours that go into our reviews and testing through affiliate commissions on purchases made through links in this article. These don't effect the outcome of our reviews or selection of gear, as per our Review Policy.