REI Down Jacket 650 Overview
The REI Down Jacket 650 is jack of all trades when it comes to keeping you warm, Michelin-man style. Not the most incredible thing on the planet, far from the gutter — the jacket is subdued in a casual way, layers well, and keeps you from freezing on most mountains.
The hoodie has a nylon shell fabric that's treated with a DWR finish, which is supposed to shield you from light rain and snow…more on that below. It's stuffed with 650-fill power goose down and compresses into a small bundle.
Due to its cost (and the relative cost of other down jackets on the market) the REI Down Jacket is our Budget Pick for the Day Hiker and Car Camper. We believe it will function extremely well for each of these endeavors and, for the quality construction, simply can't be beat on price.
REI Down Jacket Star Review
Comfort

Durability

Warmth

Packability
Summary
The REI Down Jacket is a decent budget choice for those who want responsibly sourced down, bluesign approved fabric, and a lightweight puffy in a wide range of colors. None of its features or warmth will blow you away, but for the price it's a very capable, versatile jacket.
Learn more about down with our comprehensive down jacket guide, and see why we recommend the REI Co-Op Down Hoodie below.
Update: We tested the REI Down Hoodie in 2016, and it has since been updated a few times. The line is now called REI 650, and there's a Down Jacket for men and women, a Hoodie for men, and a Parka for women. The general construction, fit, and price is the same. The down is now certified by RDS, and the nylon used is bluesign approved, which are large environmental improvements. Overall we think this jacket is still excellent value for the price, and wish REI would stop changing the name so consumers can recognize the jacket over the years. Colors have changed as well.
REI Down Jacket 650 Specifications
| | | |
| --- | --- | --- |
| Feature Type | Feature Specs | What This Means |
| Insulation Quality | 650-fill power | Lower end of high quality down. |
| Insulation Type | Not specified by manufacturer. | Most likely goose down. |
| Fill Weight | 3 oz. | Stanard for most down jackets. |
| Shell Fabric | Treated nylon (bluesign approved) | REI likes to keep us guessing. |
| DWR Treatment | Yes | Standard, nothing exceptional. |
| Number of Pockets | 2 | Zippered hand warmer pockets. |
| Stuffs Into Itself | Yes | Into the left front zipper. |
| Hood/Jacket Option | Yes | We like hoods, but the hood-less version is super popular. |
| Adjustable Hood | No | What you see is what you get. |
| Adjustable Waist | No | Heat will escape a bit. |
| Average Weight | 10.4 oz. | Nice and light. |
| Gender | Men, Women | Same jacket, except for cut and sizes. |
| Sizes Available | XS-XXL | Make sure it fits! |
| Manufacturer Warranty | Limited Warranty | Only for defects in materials or workmanship. |
| Retail Cost | $119.00 | The price just can't be beat for a quality down jacket. |
Gear Review of the REI Down Jacket 650
Origins: Easing You In
I recently turned 30 and wanted to do something that would reset my creative energy. I also really wanted to fly somewhere way cooler than Southern California's dog breath heat, so I ended up booking a flight to Portland, Oregon. A fresh new place and a legendary cool weather system! I also had a few outdoorsy friends who made Portland their home, so I knew great memories awaited me, along with some spectacular nature.
As soon as I landed I got what I wanted: cold rain. I hadn't seen rain in a year! For those not accustomed to the dust-bowl of the North American southwest, California has been in a 5 year drought. The ability to see normal, steady amounts of rain has become somewhat rare. Like a grizzly bear shopping in the vegetable aisle at your grocery story. Yeah, that rare.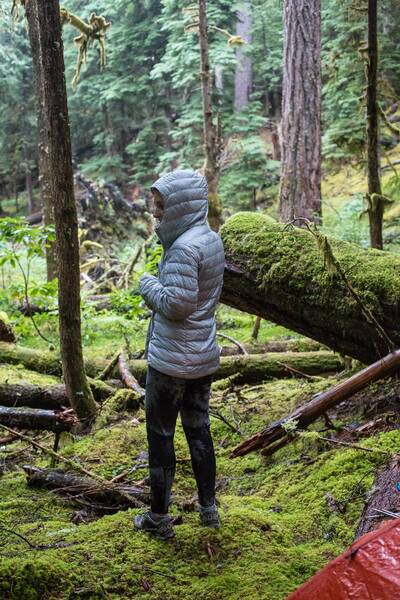 I felt refreshed (physically and emotionally) as I headed straight to the forest and Bagby Hot Springs. It rained for the entire two hour drive, but I wasn't worried — I had a "waterproof" jacket that would protect the REI Down Jacket. You should know up front — down jackets typically don't do water. Their positive properties all fail when wet, so while the rain was uplifting, it was a little nerve wracking knowing I'd be brushing against such a destructive force.
By the time we reached the trailhead it was 9 p.m. and, you guessed it, still raining. I layered up before getting out of the car; base layers, the REI Down Jacket, then my "waterproof" jacket to ward off the water. I was pretty comfortable and warm, and even though the rain was consistent, I felt confident that my outer shell jacket would keep the Down Hoodie dry.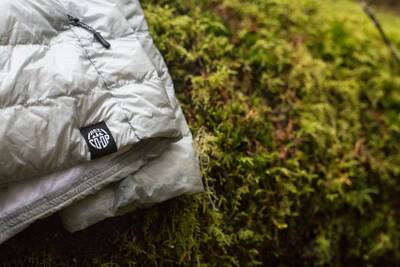 I was incorrect; the down jacket got completely wet. There's nothing worse than the sticky feeling on your arms and torso of a wet down product; your skim becomes clammy and it all clings to your skin.
Not only was the REI Down Jacket no match for the Oregon rains, but my "waterproof" jacket (quotes necessary) failed to protect me and everything underneath. The Co-Op Down Hoodie does have a DWR coating that repels a small amount of water, but it was no match for a torrent. The rain soaked through three layers of clothing, including the precious down plumes!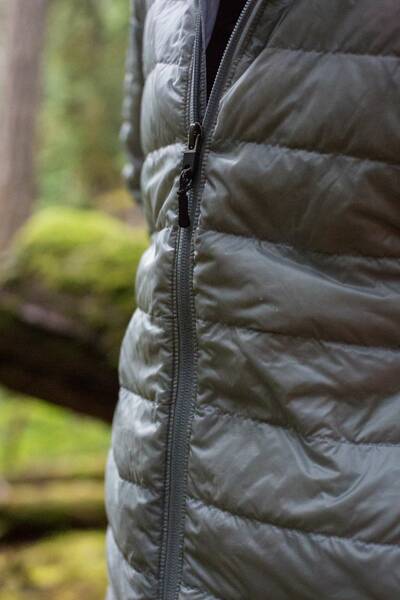 After settling into camp I was able to wring water out of the Down Hoodie and think things over. First, it's always good to experience gear failing in a non-critical environment — now I know exactly what it's like to wear a wet down jacket. Second, I know the coat isn't a match for serious rains (and was never billed as such). Third, taking it off made me realize just how done it seemed — like moving a wet pile of laundry into the drier. Ick.
However, I didn't give up on the REI Down Jacket. I knew it was mostly the fault of my "waterproof" jacket and that I should continue to give this affordable down jacket another go.
Revelation: The Moment I Knew
The next day my friend and I packed up and headed out. I was still clothed in my damp down jacket, and still felt that awful clamminess. But I hoped over time my body heat would dry it out a bit.
We headed towards Mt. Hood and the famous Timberline Lodge. We climbed up in elevation and, as harsher winds began to blow, I was thankful for this jacket. Even when wet the REI Down Jacket was better then nothing in the elements. It became more of a windbreaker than a warm layer.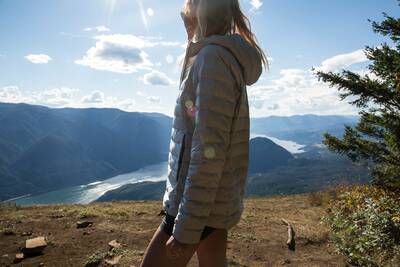 After making it to the lodge we sat down to a hot meal and discussed trail life. About two and half hours later (yes, we talk for long periods of time), I noticed the REI Down Jacket had nearly dried. Impressive, right?
In my experience down anything takes about 4 to 5 days to dry, but a mere half day later it was working again as intended. I wore the jacket the rest of the day, learning that while being fairly warm, this Down Hoodie also breathes nicely. It's probably due to the fact that the down fill is not very dense, which also means it's not as warm as other jackets. You win some, you stay lukewarm for others.
Digging Deeper
Fast forward a few days and three miles up Dog Mountain. The hike is a brutal 3.5 miles up with only a few switchbacks. Once you reach the summit you are rewarded with panoramic views of the Columbia River Gorge. Most people use this trail to train for Mt. St. Helens, Mt. Adams, and other volcanoes that surround the area.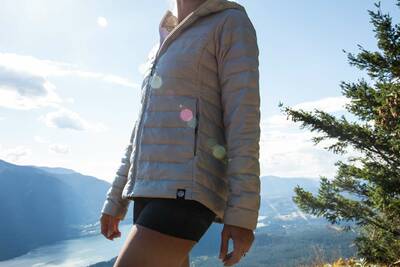 After reaching the summit crisp winds pelted my sweaty body, which had me reaching for the REI Down Jacket. Now completely dry, it kept me protected from the wind and sun. The warmth of it is not overwhelming, but it does a decent job deflecting the elements, especially on a hike.
The extra features are a nice touch, too. It has zippers on the hand warmer pockets, perfect for storing things other than your hands. Finally,  the fact that it can be stuffed into one of these pockets means it's compressible, and compressibility is key in a versatile piece of gear.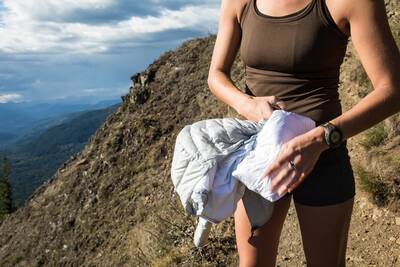 Comfort
Like wearing a silky, feathery pillow that breathes.
Durability
After wind, sweat, and more rain than any down jacket should absorb, this thing was dry and warm in a day. If only it paid the rent!
Style
On looks alone I'd wear this jacket everyday — if only Southern California could ever hold on to a season other then summer! Made for harsh weather, excels in the casual moments.
Grievances
For being a budget-friendly down jacket I was very impressed, but I did have some issues with the REI Down Jacket.
The fit was a little off. I like my down jackets to hug my body, especially around the arms and upper body. I want to be cuddled when I walk! I have large down jackets that fit snug in certain spots and feel form-fitted, which, to me, is comfortable. This jacket was a little loose in key places. We all have different bodies, so I recommend trying this one on before you buy.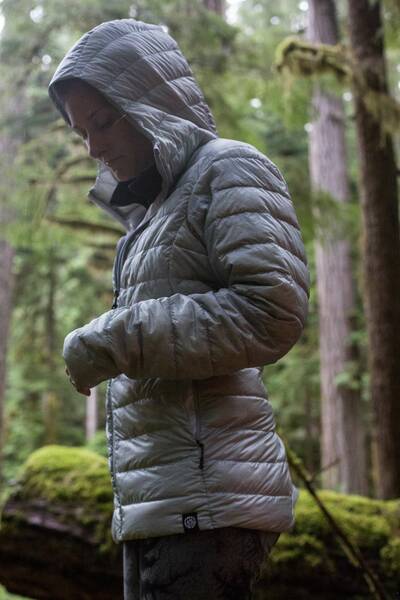 Most people looking for an affordable down jacket will like this option, especially if you don't plan to be somewhere that's below 30 degrees outside. I don't know about you, but I absolutely hate being cold. I have spent plenty of nights shivering on a mountain and more nights frozen from the desert winter cold than I care to remember. So, know where you are going and check the weather, because the REI Down Jacket is not a superstar on warmth. It calls for major layering. That said, with the proper layers, I belie you'll have yourself some quality warmth.
Final Word
The REI Down Jacket is a bit like duct tape — it will surprise you with its versatility and price!
Where to Buy REI Down Jacket 650
The women's version of the REI Down Jacket with a hood was used for this review; a men's version is also available. You can purchase both of those below.
REI no longer offers the Hoodie for women, but instead offers a Parka. This is good for urban use, but not so much for the outdoors.
See the REI Down Jacket, Hoodie, and Parka below.
Review Policy: We do not accept payments or gifts from brands and vendors, and strive to provide unbiased, independent advice. Brands typically provide review samples which we return, and in some cases we purchase the item so we can keep using it long after the review. Affiliate Policy: We support the hours that go into our reviews and testing through affiliate commissions on purchases made through links in this article. These don't effect the outcome of our reviews or selection of gear, as per our Review Policy.