Backpackers.com — For a lot of people backpacking is a three-season experience. When temperatures drop and snow begins to fall, many people turn a cold shoulder (pun-tended) to the great outdoors. This is fine — as is everyone's preference and skill-level when it comes to backpacking.
But there are those who have a piqued curiosity for winter backpacking. No crowds, a silent and ever-changing blanket of white landscape, and an entirely different battle with nature takes place in the winter. For those interested in the escape, there are two main complicating factors you have to be aware of: snow and avalanches.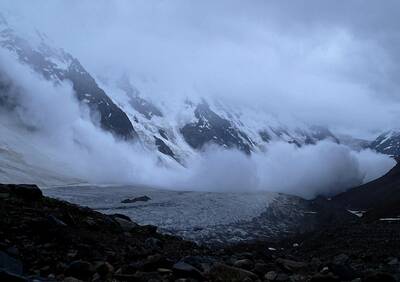 They're obvious, we know. But both of those can mean death for a sloppy backpacker.
So, we've compiled a helpful list of snow and avalanche resources for those interested in wintering outdoors.
Snow and Avalanche Resources
NASA WorldView
The most universal resource is NASA's WorldView page. This is a free and public site that allows you to zoom in on any location in the world. You can see daily updated images of a specific trail, mountain, or camping spot (as long as you have the coordinates). This is a great way to check if snow has fallen on your route.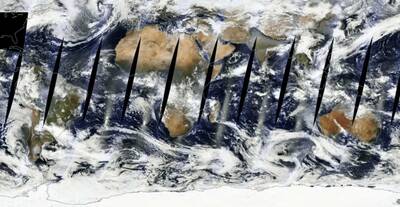 We admit, the resolution is not the best, but it's a great way to get a quick snapshot of any route you plan to take. And, for those in fire-prone areas, you can also see smoke covering an area.
Hopefully local resources would be able to give a better description of both smoke levels and amount of snow. But many places don't have detailed, up-to-date weather reports, and this resource literally covers the entire globe.
SNOTEL
The next largest source is Snow Telemetry (SNOTEL), a resource provided by the Natural Resources Conservation Services (NRCS). SNOTEL has individual stations that measure current and average snow levels, precipitation levels, and streamflow. The filters and levels of information adjustable in SNOTEL is incredible. Most of its stations are in the Western US, and each station provides both average and current information.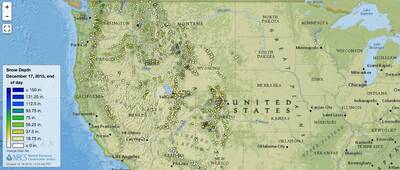 SNOTEL's stations are full of information at the specific site, but are not as accurate in the surrounding areas. So while checking the level of snow or water at a certain station certainly helps, it's not a sure way to know the snow and precipitation level on the route you plan to take, or the location you plan to camp at. At best, SNOTEL's resources provide a general description for your area (unless you are camping really close to a station).
A combination of the WorldView and SNOTEL's services can provide an excellent idea of snow in the area you plan to backpack, especially if it's somewhere in the Western US.
National Avalanche Center
If you go to the National Avalanche Center's website, you'll see the large, unruly message dead center (pun-tended again!):
"Avalanches kill more people on national forests than any other natural hazard. The best way to stay safe is to know the conditions, get the training, carry rescue gear, and stay out of harm's way."
While snowfall, too much rain, and eventual freezing are all serious issues that winter backpackers have to deal with, avalanches are still the most threatening. This is especially true for winter sports enthusiasts, but it is prudent for all winter backpackers to have a handle on avalanche resources in the area they plan to visit.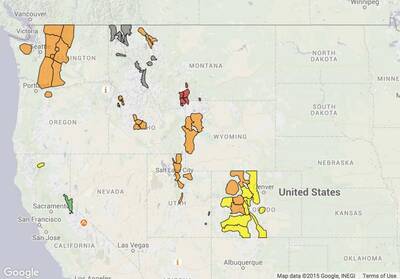 The National Avalanche Center works with 14 individual centers across the US, each of which have detailed and up-to-date information, which increases in frequency once the first snow falls and all the way through the season. Centers are spread out in many critical areas, but the Pacific Northwest and Colorado have the most information. The centers are mostly funded by donations and partnerships, and therefore could probably use your help!
Mountain-Forecast.com
Not a government agency, and not limited to US data, Mountain-Forecast is one of the best resources for climbers, not just in winter but year-round. The site states:
"Dedicated mountain weather forecasts for more than 11200 (and growing) major summits for climbers and mountaineers, provided for up to 5 different elevations."
Keep in mind these are weather forecasts, and the site warns that users should not take the information as a literal indication of what they'll find on the trail. Mountain-Forecast has a great selection of active weather maps all over the world, and can serve as an invaluable resource to backpackers and climbers alike.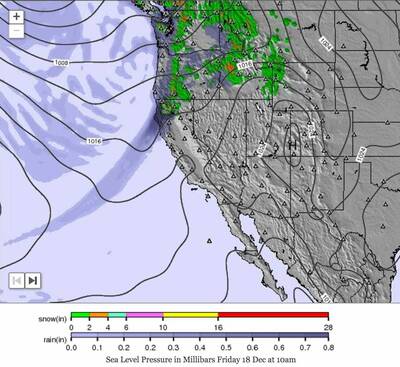 If you plan to take that winter trek, make sure to be prepared. This will serve as a good start, but (as all the other sites say) don't use this guide alone to help you survive the big outdoors. Gather all the information you have, and know how to deal with an unexpected situation. Good luck.
Images and screenshots in order; Giant Avalanche by Masa Sanako via Flickr; World Map via NASA WorldView; General SNOTEL Map; National Avalanche Center Local Locations; Mountain-Forecast Rain/Snow Map of California