Backpackers.com — A celebration is in order! It's International Women's Day, a time to celebrate the the accomplishments, uniqueness, and simple being of women on the planet. Of course, every day deserves the full appreciation of more than half the planet's human population, but we'll go with the trend.
As a backpacking site, we are all too aware that this field is saturated with male content. From gear to advice to cultural icons, the outdoor backpacking world is dominated heavily by the male. We won't get into a debate about this now, but we will highlight five excellent websites that support and promote women in backpacking.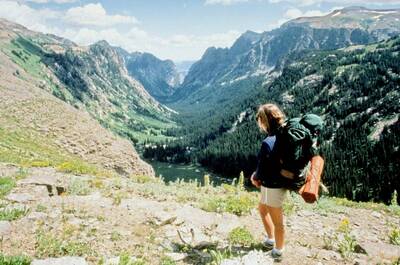 1. Trail To Summit
Trail to Summit is a fantastic backpacking website, period. It was founded by Allison Driscoll in 2011, a New Hampshire-based backpacker that, like so many of us, decided to post her tips, tricks, and trails online. The site has grown in leaps and bounds since 2011, becoming a high-caliber resource for backpacking advice on all levels, but specifically a site for peakbagging in New England.
Driscoll — a realtor by day — has an entire section on her site dedicated to female backpackers. With a number of clear, inspired articles, this is a resource for women looking to join the outdoor ranks, or those wanting tips on how to handle specific situations. There are 10 articles that deal with hiking as a woman — two of our favorites are "Are Female Hikers Treated Differently?" and "Did Backpacker Magazine Get Women All Wrong?"
Then there are individual interviews with her female editorial staff, each of which sheds a lot of light on what it's like to be a backpacking woman. This is called "Wild Women," and helps to debunk strange myths and provide real examples of awesome female backpackers.
2. Wanderlust and Lipstick
Wanderlust and Lipstick deals more with the travel adventure and backpacking category — still, it's one of the primary resources for women in the outdoor world. Founded by Beth Whitman, Wanderlust and Lipstick is a full-fledged institution that offers daily articles, gear reviews, tips and tales for a variety of lifestyles and locations. Each of these resources is geared toward women who want to explore the world through travel, and aims to help women do that safely and expertly.
Whitman has published a number of books, the most critical being "The Essential Guide for Women Traveling Solo," which is in its second edition. She also created a separate (but connected) entity, WanderTours, which are guided trips dedicated to providing women only and co-ed travel experiences led by experts in the field. For all your adventure travel needs, check out Wanderlust and Lipstick.
3. Appalachian Trail Girl
This resource you might actually find by Googling. Megan "Hashbrown" Maxwell hiked the Appalachian Trail in 2012, and started a website to document her experience. Sound familiar? Well, since then, Appalachian Trail Girl has grown to be a thorough and well-used source of information for thru-hikers and those involved in extreme backpacking — specifically women in backpacking.
One of the great aspects of this site is that Maxwell writes everything — so we are constantly aware of our author and her experience. As such it followers her adventures as they come, which is entertaining and true to life. Maxwell consistently writes about women in the backpacking world, and her site stands as "A How-To for Hiker Girls." Two short articles — "The Pee Rag" and "The Best Underwear for Outdoor Sports" — are examples of her contributions. Lastly, Maxwell has published a book, titled "The Appalachian Trail Girl's Guide: Part Memoir, Part Manifesto," which speaks to her experience.
4. GearGals
With a slogan of "For Women Who DO," GearGals stands as one of the most outspoken, straightforward, clear, and unbiased outdoor gear review sites on the web. Founded by Jill Massal, the site's primary focus is legitimate reviews of female outdoor gear. Jackets, bike seats, belts — the list goes on and on, like a good classic gear site. Massal has rounded up a host of women (and some men) to help in the reviewing process, and each has a punchy voice that brings a wealth of information to each review.
GearGals also has a blog, which often deals with women in the backpacking world. Posts like "Please Stop Being Afraid of Turning 40, Outdoors Women," and "Last night's sexist night ride: Free advice to the bike industry and a PSA to the riders" ground women's place in the outdoor world, and call to attention many of the issues facing the gender disparity in this field.
Go here for the gear reviews, stay for the well-penned, real-life scenarios in which women are discussed often.
5. Women Outdoors
For women who want a more formal introduction into the outdoor world or a formal meeting group, Women Outdoors may be the organization for you. Founded in 1980, Women Outdoors is a non-profit, all-volunteer group dedicated "to provid[ing] a supportive environment where all women can have fun and challenge themselves in a community of women who love the outdoors while respecting the Earth."
This is done through regional chapters, organized events that you can join, and a yearly "Gathering," an open-invitation to any Women Outdoors member and the ultimate celebration of the group's purpose and efforts. It costs $30 a year to be a member of the organization, and paying that fee will allow you to participate in a network of organized events. As the site states,
"Women Outdoors currently has chapters in Arizona, Connecticut, Western Massachusetts, Eastern Massachusetts, the Mid-Atlantic, New Hampshire/Vermont, the Finger Lakes Region of New York State, Albany, NY, and Rhode Island/Southeastern MA."
If you're a woman and want a formal approach to being part of an outdoor community, consider Women Outdoors.
There are, most certainly, a huge number of resources we missed when it comes to powerful and informative websites about women in backpacking. But these five rock, and each offer something slightly different. Enjoy, and happy International Women's Day!
Images in order: Backpacking in Grand Teton via Wikimedia Commons; Screenshot courtesy Trail to Summit, All Rights Reserved; Screenshot courtesy GearGals, All Rights Reserved