Backpackers.com — A year ago Ruth Boden, cellist, professor, and head of Music Outside Four Walls, took to the Wallowa mountains of Oregon to play her cello on a mountaintop. This wasn't her first time hiking her instrument to a peak, but it was the first time a film crew followed her. Gavin Carver of Reel Planet, a production and film company based in Oxford, England, journeyed with Ruth to capture the ascent, and the breathtaking sound of music over the mountains.
Andante is the short film about that experience. We got in touch with Ruth and Gavin to discuss the making of the film, how music and wilderness come together, and where they're at now. See the video and interview below.
Interview with Ruth Boden and Gavin Carver of Andante
Backpackers: How did the concept for this film start? Whose idea was it?
Gavin Carver: The origin of the idea to make the film was a chance meeting at a conference. Ruth was leading a session on approaches to teaching the cello and I was there for something completely other, but I heard her mention that she hiked and climbed with her cello and this struck me very powerfully as a great story for a short film.
I'm a keen hiker and mediocre mountaineer, and many of my films have dealt with the interaction of nature and culture, so it was a perfect subject for me … I contacted Ruth … and we quickly agreed to the trip into the Wallowa mountains, a journey she was going to do anyway.
Backpackers: It's beautifully shot, how many crew members were with you during the hike? What camera was gear was used?
Gavin Carver: It was a very simple production in many respects: I was a filmmaking crew of one. I shot the film on a Canon Cinema camera (a C100), known for its very high quality cinematic image. I just used one zoom lens throughout … I had to carry my own tent, sleeping gear, food, spare clothing as well as the camera and sound kit. The camera is not big but … quite heavy, and I think the camera plus lens, sound equipment and accessories probably weighed about 6 lbs. I took a monopod rather than a tripod, but I only used it in a few instances (the main shot on the summit for example), most of the film was shot handheld.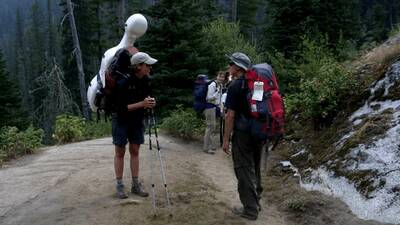 Of course, given the nature of the film, the sound recording was as important as the image, and I'd not recorded a cello outside before … All the music was recorded on location in sync with filming. I had a shotgun microphone on top of the camera, and we put a radio mic on Ruth. This worked out quite well, and after fiddling about with positioning we found that the radio mic recorded the cello really well.
Our biggest problem was wind noise on the summit, so we had to cover the microphones with wind baffles, and orient ourselves so our bodies were providing as much protection from the wind as possible. Fortunately the wind dropped briefly during the main 'take' on the summit.
Backpackers: Ruth, from the video you seem like an experienced backpacker. Can you talk some about your history with the outdoors? Do you often play music in nature? Was this a dream of yours?
Ruth Boden: I have been hiking and climbing mountains for a long time now (a little over 20 years). The first time I really experienced playing music outdoors was at a summer camp in the Rocky Mountains where our practice areas were outside. I immediately fell in love with the notion that the sound was not restricted by a concert hall. That same summer I started bringing my cello with me on shorter hikes and knew then that nature was the ideal performance space for me.
Backpacking has been a newer adventure — I had long dreamed of completing the Appalachian Trail with my cello, but couldn't afford to take that much time off from work, so I started piecing parts of the trail together in small chunks during the summer.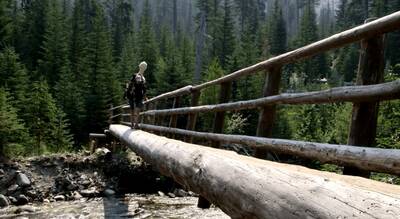 The first outings were very interesting and had a high learning curve — it was really difficult to come up with a workable system for hauling all of my gear and a cello. My first attempts were thwarted by failing gear, including a belt system, which completely ripped out, leaving me to hike about 14 miles with 78 pounds worth of stuff resting only on my shoulders, the second attempt ended in a broken foot (a very painful walk out), and then finally I discovered a much better system for hauling gear. There is a backpack harness used by deer hunters to get carcasses out of the woods — rated very high for weight, and allowed me to strap everything in far more securely. While it is definitely not a perfect system (as you can see in the film, the cello has a tendency to lean), this worked out much better.
To date, I have completed a little over 400 miles of the AT, including Mount Washington and Mount Katahdin. In the end, I can't imagine a better place to play music than outdoors.
Backpackers: The liner notes say this is in the Wallowa Mountains of Oregon. Did you follow a specific trail to the top?
Gavin Carver: Our original plan was to hike from the road-head to Ice Lake, wild camp there for three nights, and play on the surrounding mountains, descending on day four. With cello, camera, and full kit for wild camping (carrying about 65 lbs each) it's a full day's hike up to Ice Lake. Ruth knew that she wanted to play on the Matterhorn (there are several Matterhorns world-wide, this has confused some European viewers), but we were going to find another summit to play on for the third day. Our plans changed though because a weather front was coming in, and clearly the third day was going to be hard to play and film due to rain and wind, so we decided to head down a day earlier. We judged it right, as the weather turned on our descent.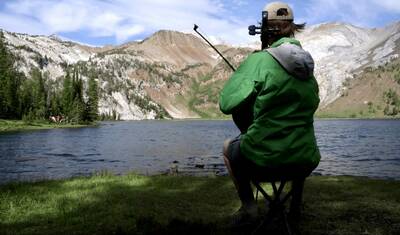 Ruth Boden: As so many of these trips go for me, there is a general plan but I try to leave openings for changing weather, and whatever feels right. I knew I wanted to go up to Ice Lake (located in the Eagle Cap Wilderness — part of the Wallowa Mountains in Oregon, just outside of Joesph) and camp and play there, and I'd heard the Matterhorn was really gorgeous, so this seemed like a good trip.
As most people who know me will attest to, I am not always the greatest at detailed planning– lots of big ideas and dreams, sometimes not a lot of practicality. Regardless, I had no idea which peak was the Matterhorn, nor really what trail we would take, but fortunately through the kindness of others, we figured things out.
I think the one thing (aside from a rapid turn in the weather) that really changed our plans a bit were the fires burning through Oregon that summer. Air quality wasn't all that great, and as you might be able to get a sense of in the film, there were very visible clouds of smoke coming from fires approaching.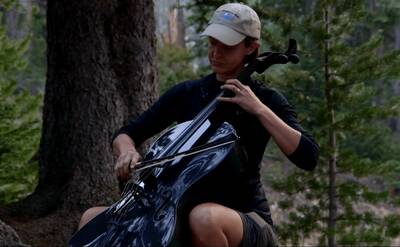 Backpackers: Ruth, the clip of you playing at the end, on the top of the mountain, is relatively short. How long were you up there? Did you have a list of music you wanted to play (other than the Bach)?
Ruth Boden: I always have two things that I play, especially if on top of a mountain — the Prelude and Sarabande to the 1st cello suite by Bach. These were two things that my dad always loved, and after he passed away I started playing these every time I am on top of a mountain because it just feels like maybe he can hear it.
The other music that I play is completely dependent on what I'm feeling at the time. It might be some second movement of Dvorak's cello concerto, it might be some Haydn, or it might just happen to be some Leonard Cohen. Often I just play whatever comes to mind. I can't recall how long we stayed up there or everything that I played — my intention is never for it to feel like a concert, but to simply be an experience.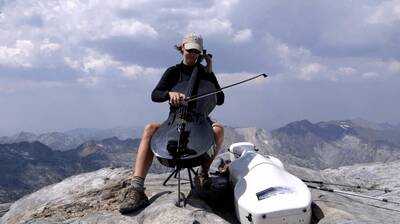 Backpackers: And, while we hear from you about the experience beforehand, there isn't a reflection afterwards. What was it like to play that high up?
Ruth Boden: There are few words that can adequately describe the feeling and emotion that comes from playing that high up — in a concert hall your sound always comes back to you and for me it can feel a little boxed in. On a mountain the sound just leaves you and becomes part of the landscape … With no audience, no concert attire, no planned or rehearsed program, there is just something pure and reflective about this kind of playing that escapes description.
Backpackers: This was filmed over a year ago now. How has the reception been? Has it changed or altered anything for you as professionals, creatives, or personally?
Gavin Carver: I actually shot the film with a specific goal in mind; I'd always wanted to have a film in the Kendal Mountain Festival (KMF) in the U.K. We shot the film in August, I edited it in late August/early September and just submitted it in time. KMF accepted it, which was a real thrill, the general quality of mountain and wilderness filmmaking worldwide is really high so it was great to be in their company.
To be honest a cello up a mountain is a little off-beam when most of the films are about serious mountaineers, climbers, and extreme sports in the wilderness. But Kendal, like other similar festivals, does like to show the breadth of mountain cultures, so they selected it.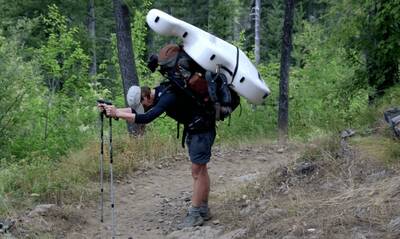 After that it played at Vancouver International Mountain Film Festival, and a festival in Chicago dedicated to music and film. That was going to be that, but the online magazine Aeon saw it and asked if I could make them a special cut of the film. They then released it … and it gathered over a million views and some wonderful comments. I was totally delighted. Needless to say that coverage brought the film to the attention of a wide range of people, such as yourselves, so it's been fun to give the project a further life.
We never made it as a money earner, short documentaries almost never generate significant income (music videos and funny cats might), we made it because it was a great story to tell, and provided us with a good adventure, and of course we hoped it might gather some interest. But I don't think either of us expected quite such a big response.
Although to earn a living I have to make films on a variety of subjects, often for commercial clients, I try to make films in the mountains and wilderness as often as possible, and Andante is a great 'calling card' to have. In April this year I'm off to Nepal with a friend who's a Nepali filmmaker. A couple of years ago we planned to make a film about the lives around the tea houses in the Himalayas. Our plans changed because of the earthquake, avalanches, and landslides in 2015, we didn't want to get in the way of the rescue efforts, and our presence would have been ethically questionable I think. However, we are going into the Langtang this year to see how the valley and its people are recovering and rebuilding their lives, as much as they can. Hopefully that film will be released this autumn.
And, of course, I want to make another film with Ruth. It was a great hike and a lot of fun. I went into it hardly knowing Ruth at all (we'd met briefly 18 months before the film) and now we're good friends, albeit living in different continents. Maybe it's Europe next.
Ruth Boden: Until the recent release of this with Aeon, this project for me has always been very private and personal. It has been incredibly touching to read peoples' responses to this film, and to be able to share this little window into the project with others. I'm excited to work with Gavin again, as we've become good friends through this experience, and he has such a beautiful and artistic vision for nature, art, and how the two relate.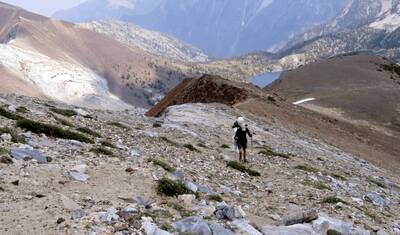 What this film has changed for me personally is the chance to share a little adventure with people who have always wondered how and why I pursue Music Outside Four Walls (a non-profit that documents Ruth's effort to play and educate the playing of music outdoors). Working at Washington State University and giving numerous performances, clinics, and masterclasses throughout the year while still teaching all day — my students don't always get to see this side of me that is not concert oriented, or strictly professional … the side of me that feeds on music for music's sake, and the driving need to follow my passion regardless of expectations, accolades, or any other extrinsic motivations.
The experience was clearly impactful for its creators. We await more projects from Reel Planet and Gavin, and more outdoor concerts from Ruth and Music Outside Four Walls.
All images and video courtesy Gavin Carter of Reel Planet