Backpackers.com — We scraped through a trough of stories to find something worthy of your reading on this holiday. Low and behold: the Backpacking Santa Claus.
The tale consists of two brothers, Hank and Brian Leukart, who decide to trek the Rim to Rim Trail of the Grand Canyon dressed as ol' Saint Nick. Written in three parts on Without Baggage, Hank Leukart's wilderness blog, the incredibly entertaining and death-defying story touches on what makes backpacking so interesting, and uplifting, and downright frightening.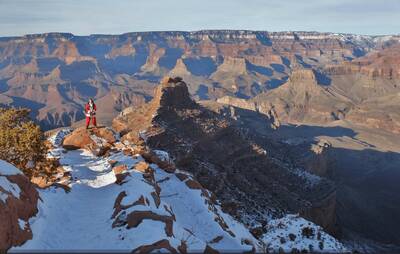 You'll have to read each piece of the story in full, but here is a brief introduction to each:
"Santa Claus snowshoes the Grand Canyon, rim to rim to rim" sets up the tale. Two brothers that love death-defying backcountry experiences decide to hike the coveted Rim to Rim Trail in late December, because they can't get a permit during the normal season. Despite rangers telling them the North Rim is snowed out, closed, and impossible to reach, they decide to go for it. You get a real sense of the brothers here — they're attitude and ability in the backcountry.
"Hiking in Santa Claus's bright celebrity spotlight" continues the tale. Hank dons the Santa suit as the descent begins, inspiring families, backpackers, and hikers along the way. Celebrity proves overwhelming, tedious, and inspirational.
"How I came to believe in Santa Claus" concludes the tale. It gets into the nearly impossible task of snowshoeing up to the North Rim of the Grand Canyon, the "hardest single trekking day of their lives," on New Year's Eve 2009. Read the article to see how they make it…and just how crazy and brutal this trek was.
Hank and Brian exhibit an intensity that many backpackers are known for: the desire to push themselves to the front of death's door in order to achieve something many can't, or won't, or don't want to.
Can we condone the trip? It gets pretty dicey at the end, and it probably wasn't the best idea in the long run. But they did it, and wrote about it, and here we are. For those that want an amazing Christmas story in the backcountry, read it in full on Without Baggage.
Featured image: Grand Canyon in Snow by Grand Canyon National Park via Flickr
Body image: Santa Claus (a.k.a. Brian) dons a Santa suit on the Grand Canyon's South Kaibab Trail courtesy Without Baggage, All Rights Reserved.