Backpackers.com — Here at Backpackers we make an effort to highlight excellent media and articles from our community. One such video came to our attention through Reddit. It's a short, stylized video by Hunter Linford, a young man with a GoPro, a drone, and some serious talent.
Linford and crew spent two days conquering the Mt. Humphreys ascent, the highest point in Arizona (12,637 feet), and he captures fall footage during the trip and at the peak. We particularly love the music in conjunction with the edits, which provide an upbeat vibe to the experience. We got in touch with Linford, and you can see our full-length interview below the video.
Interview with Hunter Linford, Creator of "Mt. Humphreys"
Backpackers: Are you a professional film-maker? What is your background?
Hunter: I am a 19-year-old who is on his way to becoming a professional film maker. I have been making films for [a] little over a year, which include films on adventuring and snowboarding. I can tell that I am rapidly progressing with my filming, editing, and equipment and I plan on making professional documentaries as a possible future career.
This film was made 100% with GoPro, along with my DJI Phantom 2 drone. Every skill I used to make this film come to life … has been self taught. I am currently taking my first film class at Northern Arizona University and will be applying what I learn to upcoming projects while still keeping my original style.
Backpackers: What time of year was the hike? What was your experience of it?
Hunter: We took this trip around fall. [T]he aspens were beginning to change to a beautiful yellow, temperatures were near ideal for a backpacking trip — despite the last night when we rested at the top of Mt. Humphreys, which is a bare peak with little to no wind coverage and we woke up with a sheet of ice on all of our sleeping bags. The skies were clear plus a crescent moon made it ideal for star gazing. We saw nine shooting stars this trip; you could say it was a trip of a lifetime!
Backpackers: Your video claims "highest drone footage in AZ history." Is that a fact? How do you know? And how high was your drone?
Hunter: My video claims highest drone footage in Arizona history based on the fact that Mt. Humphreys is the highest point in all of Arizona. I have yet to find anyone else who has any drone footage flying over the highest point in Arizona. I've looked everywhere on the Internet [and] social media and haven't found anything — give it a try and let me know if you do! This is [why I claim it's] the highest drone footage in Arizona history. Unfortunately I do not know the exact elevation my drone maxed out at, but it was well above 12,633 feet.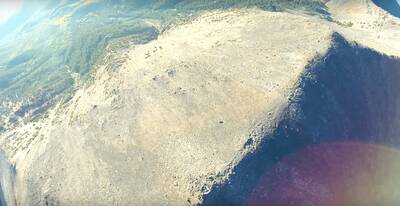 Backpackers: The editing of this, in conjunction with the music, was very tastefully done and provided a solid story with very little words. Can you talk some about this process and where/how you found the music?
Hunter: The process of editing this film was quite the challenge, I wanted to make it a story and not having any dialouge didn't help. However I stayed true to … my psychedelic editing and pieced the video together in chronological order, enabling it to have somewhat of a story line. I always edit to the music so finding the right song is key for me to make a great video. Once I hear the right song I know right away that its the one I need to use, it just feels right.
Backpackers: Vibe Tribe is listed as a sponsor for the trip. What is your involvement with the company, and how did they contribute?
Hunter: Vibe Tribe is a clothing brand that my friend Masood Shah created. Vibe Tribe is all about getting outside and going on adventures, they sponsored us on this trip by giving us fresh yet comfortable gear to rep on our way to the top of Arizona!
Backpackers: What is your experience with backpacking in general?
Hunter: My experience with camping and the outdoors started very young. Every other weekend growing up I would visit my Dad who would take my brother and I camping for the weekend. Our trips included going to the desert located in south east Arizona or making the trek to the forest in Northern Arizona. We would go hiking, shoot guns, fish, and just enjoy each other's company around the fire. My dad was definitely my influence for getting out in nature and exploring. He taught me how to fish, hunt, make a fire, set up a tent and most importantly to enjoy the outdoors.
We're excited to see more work from Hunter. You can follow him on Instagram, or subscribe to his YouTube channel. Enjoy the video — it makes us want to hike to the top of Mt. Humphreys. What about you?
All images courtesy Hunter Linford