Backpackers.com — Phillip Ouellette is a master sign maker. He's also an accomplished thru-hiker, having completed the Appalachian Trail (AT) via the southbound route in 2013. His love of the trail joined forces with his carving and artistic skills to create Trailsigns, a custom sign shop that reproduces any and all of the epic signs we see along the trail.
Want a detailed replica of the classic Pacific Crest Trail marker hanging in your living room? Phillip can construct one without issue, any size you like. Same goes for the legendary Katahdin sign, small AT signs, National Park signs — really, any sign that exists, as long as you (or he) has a picture of it.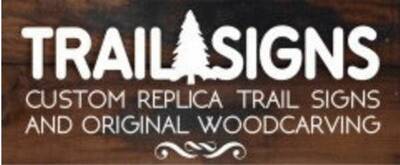 As a business, Trailsigns has flourished over the last three years. Phillip gained a loyal customer base through word of mouth, constant customer outreach, and outdoor gatherings. He also works as an independent commercial sign and logo artist, and has recently decided to umbrella his two businesses under Springer Signcraft.
We highlight Trailsigns and Phillip in a lengthy interview below. He offers a bright and instructive voice in the world of sign making, tourism in the wilderness, and how the construction of something is inherent to our most creative and natural side. It's a fascinating perspective, captured below. Enjoy.
Interview with Phillip Ouellette of Trailsigns
Backpackers: You opened your Etsy shop for Trail Signs in 2013. How has business, word of mouth, and community built over the last three years?
Phillip: I've been really happy with how Trailsigns has grown in the last year, especially. I built out my sign shop in my attic and officially opened the Etsy store when I got home from my thru-hike, late 2013.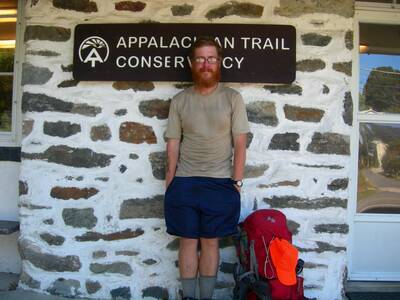 Word tends to spread quickly on hiking and outdoor related blogs like Trail To Summit (a great resource, and Allison is a bona fide bad-ass hiker) and hopefully Backpackers! I did a promotion with Cairn, a company out in Oregon that does subscription boxes geared toward the outdoors; they included a Trailsigns card in a month's worth of their boxes and that definitely drove a lot of people my way. I've been happy with Etsy as a seller, and I have a great Google-result standing. I took Trailsigns down to Trail Days – an annual celebration of the Appalachian Trail in Damascus, VA – last spring and talked to a lot of folks down there, got a lot of recognition and a few sales. That was a blast, and I am going again this year.
I've realized that you really have to do the work, one-on-one meetings with potential customers is the best way. If you give someone a card and later they see you on a blog, it starts to sink in, "Trailsigns is legit, I should go check out [that] website!" I understand now why companies have advertising and marketing departments! Just because you put your product or art online, and [it] is technically accessible to the world, it still takes a lot of work to drive people to your site, to connect customers to your product.
Backpackers: Do you still work at a sign shop? On your profile in Etsy it says you quit your job there … what do you do now?
Phillip: I worked at a small local commercial sign shop for ten years before quitting to hike the Appalachian Trail (AT). When I got back, like I said I opened my own little sign shop out of my home, and in addition to Trailsigns, I do commercial work for a variety of businesses. I'm a one man show and my shop space is tight (comparable to other shops) so I concentrate on small- to medium-sized, unique, hand-made signs.
I've recently decided to rebrand under the name Springer Signcraft – bringing in Trailsigns and my commercial work under the same umbrella. When I was on the AT, I went Southbound, and Springer Mountain was this near-mythical, faraway destination that I thought about, and walked toward, every day. It seemed like an impossible goal sometimes. But step by step I got there, the time and sweat and persistence paid off. So, I figured it would be an apt name for my company; goals can seem far away but you just keep plugging along.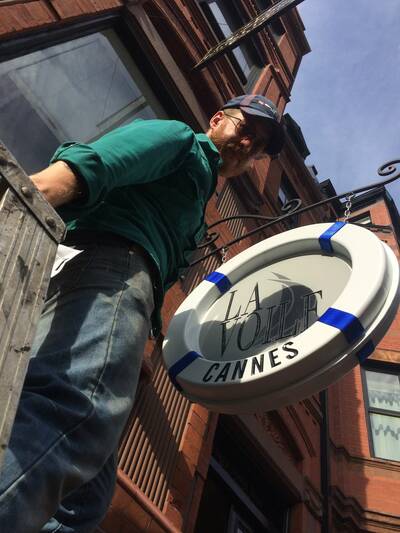 Backpackers: Can you talk about your background in wood carving?
Phillip: I've worked with wood and other building materials since 2000, when I got a job as a carpenter at an events production company. That company went under but I had learned a great deal about general carpentry, set dressing, painting, etc. I moved to a small sign shop in Medford, MA a couple of years later. It was a great place to work, casual and creative and everyone had an art-school or art-related background. We made most everything with automated methods, vinyl cutters and CNC routers, not to say we didn't make cool, creative signs, and I had a lot of leeway as a designer to throw fun ideas at clients.
But, I always wanted to get more into the old-school craft of signmaking, though it can be tough to make a profit when the guy next door can crank out a vinyl sign in an hour. But I took an incised letter carving class at the North Bennet Street School in Boston's North End, an amazing institution that offers classes like piano tech, restoration carpentry, violin making, bookbinding. I have a lot of friends who have gone here and are incredible crafts-people; who have truly made a career from their craft. Sometime during this time I made my first trail sign replica, for a friend who wanted a reproduction White Mountain hut sign for his dad for Christmas. I found an old crate in the trash and used the wood to make the sign, to make it look old and weathered. It turned out really well, [and] when I got home from my AT thru-hike I figured I should open up for business on Etsy and make a go of it.
It was kind of perfect, because I could practice my hand-tooling skills on a product that I was actually going to sell – since it was OK for it to look a little messed up! It actually kind of looked better that way. So I've developed my hand-carving chops to the point where I can now make pretty sharp looking incised carved signs, and the whole time I was producing sellable products.
Backpackers: What do you think about the sign-making industry, or even the wood carving industry?
Phillip: There is definitely a resurgence of hand made signs right now; I don't think the future of vinyl signage is in any danger but there are definitely segments of artists, signmakers and business owners that, for a lot of reasons, like the hand-made sign better. Personally, I think there can be a middle ground between the vinyl sign ("vinyl" is a dirty word amongst sign-painting purists) and the fully-handmade school.
Also, the technology is better – sign vinyl and cutters, not to mention the layout software, are vastly superior to what they were in the 80's during the technology's infancy. These days they're making vinyl that is comparable or even more stable than paint, and there's no reason why just because you're making a vinyl sign it has to be ugly, poorly kerned Helvetica type – vinyl is a medium, just like paint, you're just getting it to the substrate in a slightly different way. Good design goes a long way.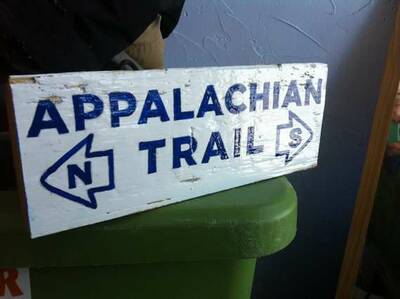 I feel like it's a similar stand-off [that] audiophiles have between vinyl record collectors and digital media-lovers; sure, back in the day CD's sounded like crap and you were better off playing a record. That's all changed, the technology has improved – and at the end of the day I think it's the song that counts, whatever medium you choose. Sometimes people use "outdated" technology because it's cool and trendy, but it's often better to use the old methods. Sometimes it's better to use the new. Or best yet, in my opinion, a combination.
Over the last couple of months I've hand-carved reclaimed-wood signs with chisels in the same manner as they would have been made a hundred years ago; I've also made slick Plexiglas office signs with cut vinyl logos on them. They all looked awesome, and were all pretty fun to make. It really just comes down to what the client wants and needs, if I can make it for them, I will.
Signs have two purposes: 1) to succinctly and clearly convey information, and 2) look nice. Depending on the project, one may outweigh the other, but those elements are always in play. And of course they should always be constructed well for their intended purpose. Pretty simple.
Backpackers: How do you go about making the individual signs? It seems like your replicas are really close to the originals, can you tell so much from a picture? How many of the signs do you have to visit in order to do them justice?
Phillip: I was a painter for many years, and my most popular and best selling canvases were of the literal variety; I loved painting just scenes from around my studio or neighborhood; vignettes of wooden toys, art supplies, things I'd made, and finally I got to the point where I could paint the human form with reasonable competency. So I'm pretty good at looking at something and figuring out how to make a fairly accurate representation on it.
It's similar with making the trail sign replicas – you can glean a lot from a high resolution photo. Was this sign carved with a machine or my hand? Routed, or with chisels? What materials — wood, metal, some combination? Paint colors? It's really interesting and fun to do this; it required knowledge of materials, techniques, and processes. And often just some playing around. Once you know how most signs are made, you can make educated guesses as to how they are constructed and how best to mimic it.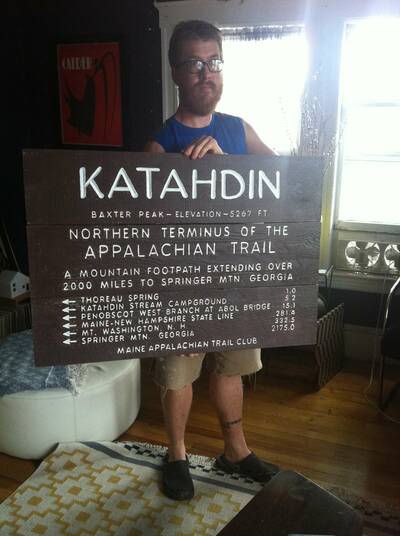 Depending on the project, I often weather, distress, or add a faux-finish to the final product so it looks like what the customer has in their mind's eye of what's on the trail. Sometimes, when a sign is to be used for actual exterior sign purposes, I will deliver a new, nicely painted sign and assume Mother Nature will weather it for me. If it's supposed to look like it was plucked from the top of a mountain and delivered to a mantlepiece, I'll distress it as such ("throw loose change at it," as a friend of mine suggested).
Sometimes on the trail I will see a sign I reproduced in its natural environment, and I'll say wow, that's bigger than I thought, or I used the wrong color brown!! But you get as close as you can, and I haven't had any complaints so far.
Backpackers: Have you learned anything odd about how signs are made in the U.S. (or elsewhere), in terms of standard fonts, wood materials, color patterns, etc?
Phillip: I wonder where a lot of the type and design comes from for a lot of these signs — I feel like a lot of it dates back to the WPA and groups like the CCC, who built so much of the parks system back in the day. To me it looks like they may have carved a sign in the 40's or whenever, and as it wore out someone else copied it, put a new one up, and on and on. Obviously I should know more about this topic! Maybe one of your readers will direct me toward a book…?
Backpackers: While there are some stock signs on the site, it seems you mostly do custom orders. What have been some of your favorite custom orders? Any fun stories with a client, a sign you had to visit, or weird signs?
Phillip: Yeah, the custom stuff is my favorite. I've probably made 25 or 30 Katahdin summit signs since I started this operation, and I always enjoy it, just because Katahdin holds such a special place in my heart – the beginning of my thru-hike – and the end of so many others'. But the custom ones are fun, just because I would prefer to do something new every day, and use it as an opportunity to learn a new little trick, or go buy a new tool or take a trip to the paint store.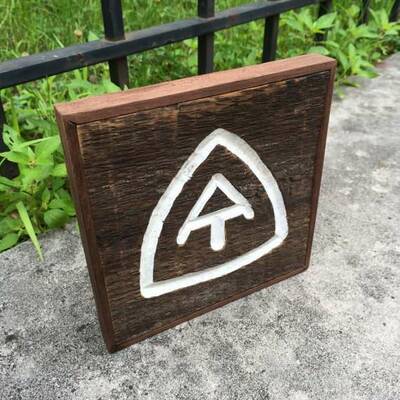 I don't think I've made a special trip to view a sign, thought it's kind of fun to have a client say 'I want you to make a copy of the sign, say, where the AT and Long Trail splits near Killington VT, but I don't have a photo,' and I can go into my personal collection and pull it out and say "You mean this one?"
I also try to keep a little tape measure on me if I'm going somewhere where there might be a trail sign I might need to reproduce. I can measure the sign and take a picture of it with the tape measure on it so I'll know the size later. This has paid off for me! Not that my customer will complain if it's a couple of inches off, but it's always nice to know that you're making it exactly right. I measured the Katahdin sign at Baxter peak last summer just for my own records.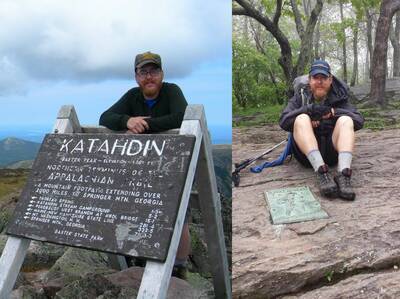 No super-strange projects as of yet — I really like the signs that will be wedding presents or hang in children's rooms, both of which I've done; I hope that people will look at these signs for years to come and they will conjure up good emotions, like so many do for me and bring me back to good times on the trails.
Backpackers: You offer bumper stickers and aluminum signs in addition to wooden ones. Are wooden signs your favorite? Any reason you began to make other versions, or has that always been part of the business model?
Phillip: Bumper stickers are just kind of fun, honestly it's not really profitable for me to make them but I feel like they flesh out my store a bit. They're like the impulse items at the grocery store. I do like working with metal, and I can cut simple sign blanks from aluminum but I'm not really set up to work with metal. But I like to have a few aluminum options at the Etsy store, again, just for variety and because there are some really cool metal signs out there! Wooden signs are my favorite, because as you might have sussed out, I like working with wood.
Backpackers: What are some of your favorite projects? Can you provide pictures so we can show them?
Phillip: These [my projects from the end of 2015] were all really fun! Usually my favorite project is the one I did last…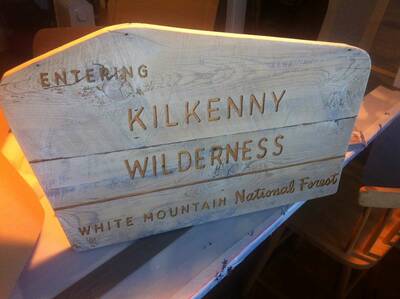 Backpackers: What is the most requested sign?
Phillip: I've done more Katahdin summit signs than anything else.
Backpackers: Have you seen an increase in desire for replica signs as backpacking has become more popular, especially with books and movies like Wild and Walk in the Woods?
Phillip: It's a fact that those books and movies drive people to the trail, for better or worse. Aside from that, I think a lot of people are retreating to the woods and mountains for the same reason as they have since the industrial revolution, to get away from it all. They wake up one morning and realize that the "American Dream" isn't exactly panning out for them, or they're beginning to wonder if it exists at all, and they want to, as a couple I met on the AT said, after selling everything and hitting the trail "…get off the merry-go-round."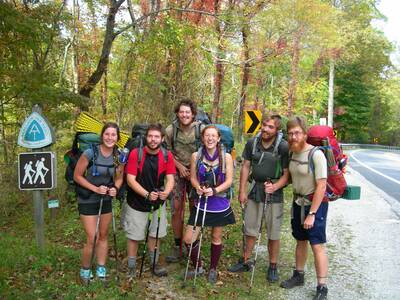 I'm glad people are going back to nature, as long as we can figure out how to manage the uptick in use and avoid destroying the very thing we are seeking out. Trailsigns and Springer Signcraft support a number of trail-maintenance groups including the Appalachian Mountain Club and the Appalachian Trail Conservancy.
Oh, also, if I could use this opportunity to let people know I'm running a 50 Mile Trail Ultra in New York this spring and am raising money to benefit the Mohonk Preserve. Great organization doing good things to keep our natural places beautiful.
All that said, yeah, I think more people getting into backpacking means more customers for Trailsigns … but let's be kind to our Mother! Leave No Trace!
Backpackers: What are the future plans for Trailsigns? Official signs for the U.S.? Custom graphic design? World domination?
Phillip: 3 words: Trailsigns Mobile Mini-shop.
I'm in the process of gearing up for Trail Days in Damascus, VA, and as part of this I'm currently looking at purchasing a little camper I will convert into a mobile sign shop. I'm looking at it as a promotional endeavor as well as a real-life actual working shop. I will use it to combine work with recreation, parking in National or State parks, hiking and trail running by day and signmaking, in the old school fashion, at night. The tiny shop will advertise Trailsigns as a sort of rolling billboard, play into the whole tiny-house and tiny-studio phenomenon, and hopefully be an ambassador of craft itself. I think just as people are flocking into the wilderness, they will soon be flocking back to working with their hands, building beautiful and useful things, and away from the cookie-cutter corporate America culture and aesthetic that so many have found devoid of soul and value.
So yeah, tiny mobile shop. Keep an eye out.
When I'm not sure how to proceed, or I'm worried about money or I start to obsess about the future of my business, I have a rule: go make something. It's easy to sit and worry about why orders aren't coming in: I have to make myself step away and go to my workbench. Play with some different wood, see how it carves. Roll out some brown craft paper and work on my hand-signwriting skills. Make a gift.
I have never been the kind of person who puts money first; I'm of the mind that if you invest in yourself, your skills, and your tools, the money will follow. Delivering a quality, good-looking and useful product to my customers should be my main focus. And I have awesome customers!
Well, there you have it. Need custom backpacking signs? Get in touch with Phillip. He can make just about anything you like. Find him and Trailsigns on Etsy, Facebook, and Behance.
All images courtesy Phillip Ouellette