Backpackers.com — The SoCal Hiker has a simple mission: create comprehensive hiking guides for Southern California. He's doing it well, and with style.
If you peruse Jeff Hester's site, it's ripe with excellent hikes, a user-based community, and interesting challenges — like the Six- Pack of Peaks challenge, an attempt to ascend six mountains in Southern California between January 1 and October 31. This year's challenge just ended — Hester and finishing crew will be partying today for their accomplishments.
SoCal Hiker Trail Map
The site has a number of interesting things happening at any given time — which we'll continue to highlight here — but the most essential resource is the interactive trail map.
As you can see in the image below, SoCal Hiker has created a geo-tag location for more than 80 hikes, most of which are in the greater Los Angeles area.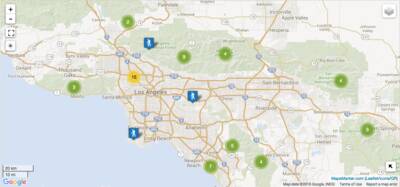 Not only can you find hikes based on location, but each of those individual hikes has a full article attached. These guides are comprehensive — they include pictures, peak trail maps, videos, comprehensive text, and links to other hikers who've done the same trail.
Hester takes his work seriously, and we really respect that.
A couple great trails to check out — quotes from SoCal Hiker:
Trans-Catalina Trail — "This is a 34+ mile multi-day backpack trek that traverses the length of Catalina Island. It's an amazing trip that feels like a world away from Los Angeles."
The Lost Coast Trail — "A 25-mile multi-day backpack along the most rugged and remote section of California coastline. A truly wild adventure."
Cooper Canyon Falls — "A moderate 6 mile hike to a beautiful waterfall, with a jaunt on the Pacific Crest Trail. Great option for an overnight backpack."
All the trails write-ups are by Hester, and he encourages people to tell him about new hikes. If you're in the Southern California area and need a good resource for a day hike or multi-day backpack, this is it. Make sure to shout out to SoCal Hiker, too — you can find him on Twitter, Facebook, Instagram and others.
Featured image: Gone from view by Mel Stoutsenberger via Flickr
Body image: Screenshot courtesy SoCal Hiker