Backpackers.com — Shucks! This deal is over. We told you it would end, and here we are, at the end. Don't worry though, we post more deals every week. See the current gear deals now. Feel free to read the article, though. It's full of excellent content and reviews — you know you want to. Happy shopping!
Shoes! Yes, we're here again with a gear deal the likes of which your feet have never seen. Or, probably, they have at one time or another. But this sale is now, which means you could be walking around with some sparkly new shoes in a week or two. Not in time for Christmas, but just in time for all those New Year hikes you're planning.
The Merrell shoe sale on Steep and Cheap is solid, comprehensive, and a great way to grab a new pair of chucks. Merrell is known for high-quality backpacking gear across the board, but shoes is really its wheelhouse. With classic and affordable models, Merrell often hits hikers, runners, and casual day-walkers (essentially, all of us) with a fresh line of shoes each year.
You can browse the Steep and Cheap sale in full — discounts rise like skyscrapers to more than half-off — or see our hand-picked items below. The sale ends on December 29, so you have some time to peruse. But many of the best sizes will sell out, and then you'll be stuck buying normal priced shoes. Who does that?
Bare Access Ultra Running Shoe — Men's and Women's
This shoe contains a lot of buzzwords. "Bare" for those that like to run naked. "Ultra" for those that think they are superhero runners. "Access" implies you'll get into the hippest nightclubs wearing these sleek, colorful sneaks.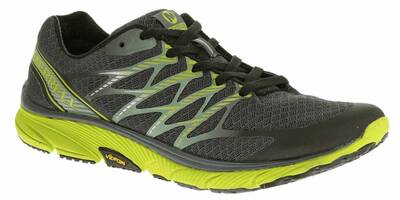 Marketing aside, Merrell's Bare Access Ultra running shoe is a hybrid for minimalist road runners that want a zero millimeter drop, but get real sore feet. The Bare Access Ultra has 12 mm of padding and a strong midsole, which means you'll keep that classic running form, but won't tear up your feet in the process. Each shoe is just 7 oz, and they have a Vibram sole.
Gear Institute says of the men's Bare Access Ultra:
"A lightweight, flexible, low profile zero-drop road running shoe built for barefoot-inclined runners who want moderate cushioning and protection for long distances. Think of it as the road sibling to Merrell's Bare Access Trail released earlier this year."
While it works for trails, this shoe is meant for the road. Both men's and women's models are available on Steep and Cheap in a variety of colors and sizes. The Merrell Bare Access Ultra runner's shoe is (for most models) 40% off, or $59.97. That's a steal for a new pair of ultra access kicks.
Merrell Capra Sport Hiking Shoe — Men's and Women's
Moving up from the minimalist world, the Merrell Capra Sport is a hiking and backpacking shoe that focuses on low weight, high traction, and superior scrambling. While Merrell sells waterproof versions, the shoes in this Steep and Cheap sale are not waterproof. This has one main pro: in warm conditions, the open mesh of the Capra Sport will keep your feet from sweating, meaning no blisters for you. If you see yourself getting into some serious wet weather, consider getting the waterproof version.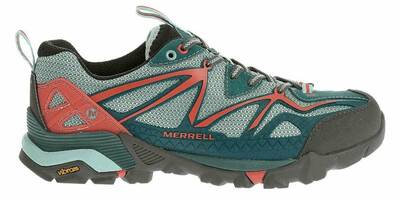 These shoes offer everything a modern hiking shoe should — a stratafuse synthetic leather with mesh upper, a gusseted tongue, a UniFly midsole, and Vibram's MegaGrip sole (among other fancy sounding things). They will protect your feet and keep you on the move. One reviewer says of the Capra Sport,
"This shoe was everything I wanted for long hikes in variable conditions. I needed something light and breathable, yet rigid enough to tackle tough trails with some weight on my back and this shoe delivers."
Steep and Cheap has the women's Capra Sport for $89.14, or 31% off. The men's is 20% off (they're a popular shoe, what can we say?), or $103.96.
Merrell Crestbound GTX Backpacking Boot — Men's
Alright, boot lovers. Here's a sweet ride for you. The Crestbound GTX backpacking boot is a beast of a shoe. A combination of GORE-TEX coating, full-grain leather, an articulated tongue, and serious ankle support make the Crestbound a solid choice. If you want a giant backpacking boot, that is. The combined weight of the shoes is 3 lb 3 oz, so you'll need to be ready to lug your feet around.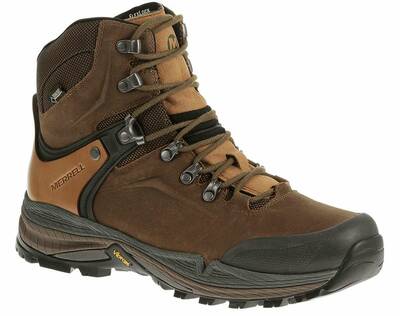 Many reviews say this boot breaks in quickly and easily, and it provides a great deal of support. For extended backcountry trips the Crestbound will keep your feet safe and secure, and it functions as a great work boot, too.
Steep and Cheap has the Merrell Crestbound GTX Backpacking Boot for 30% off, so these will set you back $160.97. The pro-tip (for those reading close to the time of writing) — Merrell itself is selling this shoe for the same amount off. Grab it on the website.
That does it. If you love Merrell, which typically runs true to size and breaks in quick, consider nabbing one of these shoes. Or check out the full sale and buy at your heart's content.