Backpackers.com — Yes, it's a bit outside the traditional backpacking purview. Nike? Hiking? "Sneakerboot"?! But the reality is that we all have more than one type of shoe — three slightly different trail running shoes isn't what we mean. We mean sandals, and sneakers, and a dress shoe, in addition to your multiple pairs of trail shoes.
Nike has a glamorous — and decently functional — line of weather resistant sneaks this year, and it's debuting them in New York City.
Hike Nike NYC and the Sneakerboot
Every year the shoe giant debuts a new fall collection. And for the last few years, it has released a line of Sneakerboots — that is a sneaker, but with the protection of a boot. The shoes are marketed towards those who want to wear the swoosh while its thundering, raining, and freezing cold.
This year Nike and renowned artist Steve Harrington teamed up to create a pop up art exhibit in New York to display the 2015 shoe collection. It's called Hike Nike, and can be seen at 135 Bowery, New York City, until November 29. You can see the boot collection and installed artwork, characters, and products by Harrington at the exhibit. There's even a sign-up sheet (physically and online here) for urban day-hikes in Manhattan. Put that sneakerboot to work.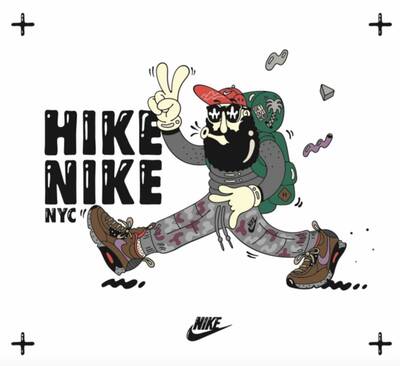 This year's collection highlights four shoes for women and men. See the men's collection below.

These shoes, from left to right, are: Flyknit Trainer Chukka SneakerBoot, Air Max 95 SneakerBoot, Lunar Force 1 DuckBoot, and Air Max 90 SneakerBoot.
And the women's collection:

These shoes, from left to right, are: Flyknit Trainer Chukka SneakerBoot, Air Max 1 SneakerBoot, Acorra SneakerBoot, and the Dunk Sky High 2.0 SneakerBoot.
If you're in New York, check out the exhibit. And if you're in need of a weatherproof Nike, check out the SneakerBoot.
All screenshots courtesy Nike