Backpackers.com — It's rare to find a heart-warming story that's so rich in outdoor exploration, pure love, and the longevity of years. The life of Jack English, a man who built his own cabin in the Ventana Wilderness with his wife and son, follows each of these elements to their ends. English passed away on March 3, 2016, at the age of 96.
Jack English in the Wild
A classic name has a certain appeal. Jack English reminds us of Jack London, mostly in the nominal similarity, but also in the straightforward and clear desire to be in the wild. English entered the backwoods life at an early age, often visiting Pine Valley in the Ventana Wilderness as a child, and then as an adult.
After World War II, English became a carpenter, settled in Soquel, a sleepy town south of Santa Cruz, California, and started a family with his wife, Mary. In 1976 a 5-acre piece of land went on sale in Pine Valley, and Jack — knowing this land from a lifetime of hunting, fishing, and hiking there — recognized the opportunity and bid on it.
The incredibly moving tale of the above events, penned in the book Cabin Porn (and posted on Medium by Steven Leckart after Jack's passing), paints the full story of Jack's life, his high school love with Mary, and how he and his son built a log cabin in the Ventana Wilderness with their bare hands.
A passage from the article/book states of the cabin-building beginnings,
"On Fridays after work, Jack would load up his pickup and drive with Dennis to the nearest campground parking lot, arriving by 830 p.m. They would start hiking and would get to Pine Valley around 1030 p.m. Each trip was meticulously planned out so they could avoid hiking back and forth more than once. With a handmade sifter he'd fashioned out of a redwood frame and wire screen, Jack started creating two separate piles of gravel and sand by the creek. Gradually, they hand-carried the sand and gravel in five-gallon buckets back to their site."
Keep in mind that Jack's land in Pine Valley is six miles from anything — even a vehicle — which meant the entire cabin had to be built by tools that were hauled in. Jack and his son did most of this grunt work; the foundation was finished in 1977, the final stone laid in 1980.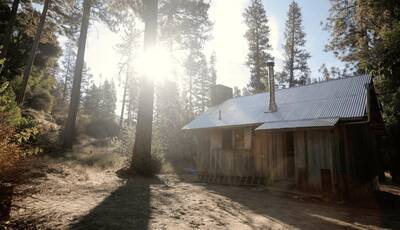 As Jack and Mary got older (they were born in 1919 and 1922 respectively) they spent long stretches of time out in the wilderness, removed from society and its changes. Jack switched from union carpentry to making bows for violins, cellos, and basses. And the calm and peace of the wild became a strong point of belief for Jack, who wanted to go backwards, closer to the things that are natural.
After Mary
Jack and Mary were high school sweethearts, and in interviews, videos, and print, Jack made it clear that he was enamored with her all his life. Many of these reflections came from the years after Mary passed away, in 2001. There were a multitude of small things — the pictures he kept of her in the cabin, the cardboard box of ashes he carried with him — to allow the spirit of Mary to stay with him at all times, in their woods.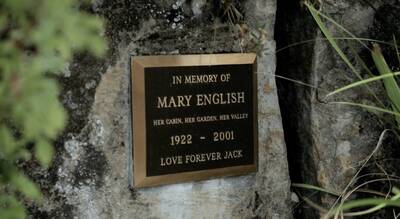 After Mary's death Jack moved permanently to the cabin, living a life of relative solitude and contemplation. He became a legend in the Ventana Wilderness, a smiling sight to hikers, backpackers, and anyone wandering through.
The Los Angeles Times did a feature story on Jack in December of 2013, after he had a heart attack, and could no longer live in the cabin. There are a number of pieces of wisdom to be gleaned from Jack English's thoughts on life. Here are a few, quoted from the LA Times article, by Thomas Curwen:
"Happiness is making other people happy. It's a darn sight better than making them feel bad."
"What is life?" … It's intangible. You can have the organs — the hair, the eyesight, the hearing, the appetite — but without life, there is nothing. You tell me what it is."
"Life is a bunch of problems. It's how well you accept them and how well you can live with them."
There are many points of inspiration througout Jack's story, from the true love he embodied and built a life around to the deep appreciation for an authentic wild. He will be missed, and we hope his story will inspire the true calling of many others.
All screenshots taken from "Jack" by Grace Jackson via Vimeo, All Rights Reserved