Backpackers.com — "Keep Jumbo Wild." Three short words that invoke action, curiosity, and the sanctity of nature. It's almost like Patagonia knows how to create a lasting, impactful environmental campaign. Because that's what "Keep Jumbo Wild" means.
The Jumbo Valley, for those who haven't been following the movement, is a controversial swath of land in British Columbia that has battled corporate plans for a ski resort for the last 25 years. For those 25 years locals and the native population, the Ktunaxa Nation, have opposed the development for a host of reasons. The two most prominent: protection of sacred culture, and protection of a last bastion for grizzly bears.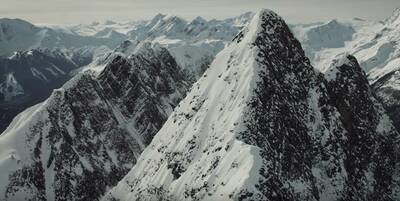 "[Jumbo Wild] … is known as Qat'muk, home of the grizzly bear spirit. Part of an important international wildlife corridor, the Jumbo Valley is one of only two areas in North America where grizzly bears can freely roam between Canada and the U.S."
While the ski resort, which would be called the "The Jumbo Glacier Resort," has been fended off successfully, nothing has permanently made the Jumbo Valley off limits for development. This movement, spearheaded by Wildsight, aims to give Jumbo Wild permanent protection from any man-made development, keeping the culture, wildlife, and stunning mountains as they are.
If you want to support the movement, sign the petition here.
Patagonia and Sweetgrass Productions
Patagonia is known for bold moves — and it has consistently led the outdoor pack when it comes to environmental activism. Patagonia teamed up with Sweetgrass Productions to produce a film on the Jumbo Wild. You can see the preview featurette below. It's an eight minute intro to Jumbo, the movement, and the controversy. It clearly has a bias — that of environmental activism. But it proves its point with in-depth interviews, stunning cinematography, and a thoughtful summary of the events of the area.
This featurette was released a month ago, and the full film can be seen in a number of screenings through December. We've compiled the remaining screenings below. You can also rent or buy the full film on Vimeo.
For those more curious about the film and its process, the Vancouver International Film Festival has provided a Q&A of Jumbo Wild. You can hear the director and producer speak about the process, shooting in such remote places, and the general reception of the movement. See the Q&A below.
Jumbo Wild Q&A from VIFF on Vimeo.
The Remaining Tour Dates
Here are the remaining tour dates. We have just one question for Patagonia — why aren't there are more screenings in the U.S., especially California?
Remember, if you want to support the movement, sign the Jumbo Wild petition here.
All screenshots courtesy Patagonia