Backpackers.com — The high-end water bottle market is booming. Whether it's aluminum, stainless steel, glass, or BPA-free plastic, water bottles have become a central part of our lives. As active people we need to stay hydrated — inactive folks need to as well — thus the industry encompasses all of the U.S., and most of the world, too.
Those high-end models are great for people with the money and sheer sustainability in mind. But, for the most part, they are heavy. Really heavy when compared to a simple water bottle, like a Dasani or Gatorade or Smart Water. This may sound blasphemous to some of you, but most serious backpackers take these lesser water bottles on excursions because of how light they are, how cheap they are, and how easy they are to recycle. Sure, your Nalgene is BPA-free, but it's also much harder to recycle than your typical store-bought bottle.
The issue with using a cheap water bottle, in a reusable sense for a long trip or a day-hike, is the lid.
The lids are flimsy, they fall off, and rarely add functionality to what would otherwise be a great outdoor water bottle.
That changes with the Al-cap.
Universal Cap for Water Bottles
The Al-cap is a Kickstarter project by Ti-cap, a company that has started to make aluminum lids that fit the majority of water bottles on planet Earth. Not every bottle, mind you, but those whose threads are most common in the U.S. This includes Pepsi and Coke bottles, Dasani, Sprite, Dr. Pepper, Smart Water, Aquafina, Fiji, El Dorado water, Jaritas and many more.
You can watch the Kickstarter video below, though we'll note it's mostly a happy-ad for the water bottle top being used in a number of environments:
There are two models of the Al-cap — the Al-cap A and Al-cap B — that fit the two major thread-types.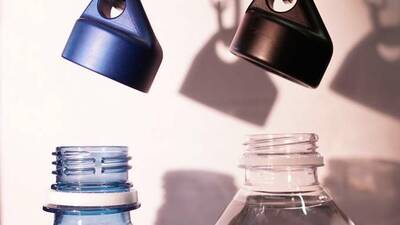 Each cap is made of aerospace aluminum and CNC machined for accuracy. The material means the Al-cap is very lightweight and incredibly strong. Each cap is .9 oz, and with the included carabiner it comes to 1.4 oz. In the video above you'll see a car wheel putting pressure on a water bottle with the Al-cap fitted to the lid — it holds that weight.
One of the biggest issues for us when it comes to these water bottles is how often the lid pops off, or a leak develops because of the lid. There's nothing worse than feeling the liquid slowly seep into your backpack and shirt because a water bottle's come un-lidded.
The Al-cap creates a secure seal with machined threads and a food-grade o-ring — this should be more than enough to keep your water from spilling.
Finally, the top has a classic carabiner loop so you can easily attach the water bottle to your pack, belt, car, climbing harness or … anywhere, really. That's the beauty of the carabiner loop. This is the most important functional upgrade the Al-cap provides — every normal plastic bottle becomes a high-end water bottle by default.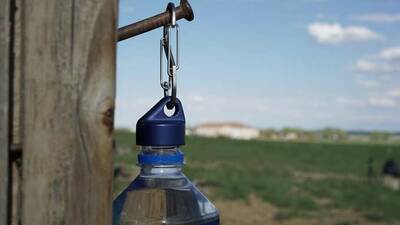 The Kickstarter and Ti-Cap
This is a new company with a specific skill-set in machining. Ti-cap owns the facility and machinery that produces this product, which means all production will be done in-house. That makes this an American designed and produced product.
The original goal for the Kickstarter was just $1,000, which is on the low-end of things. This means that the Al-cap has already been designed, tested, and just needed some order juice to get things rolling.
The Al-cap has raised just under $4,000 at the time of writing, far exceeding its original goal. Not only will you be sure to get the cap you so desperately want, but you can get in multiple colors, thanks to the stretch goal. You can get the Al-Kap in anodized blue, green, or red, in addition to black or gun-metal grey. Pink is the next stretch option, which will be unlocked if the campaign reaches $5,000.
A single Al-cap costs $12 at present, which is a lot. You could get a halfway decent water bottle for this cost — but it just won't add up in terms of weight. A single Al-cap will make those toss-away bottles reusable, and provide a lot of functionality in the process.
You can get a slight discount for multiple bottles, and after $30 you'll get a carabiner thrown in too.
Ready to start using those water bottles you have around the house? Get the Al-kap.
The Kickstarter campaign will be over June 30, 2016.
All screenshots courtesy Ti-cap, All Rights Reserved