Backpackers.com — The Mother of Invention strikes again. Necessity (or was it just many years and ingenuity?) has led to a unique Kickstarter. Meet the Freestyle BivyPack, a transformer backpack/tent created by Kenny Flannery in conjunction with Helium Hiking Equipment. The tagline:
"An ultralight backpack that turns into a small tent, saving weight and adding convenience for hikers, campers and freestyle travelers."
We've highlighted a number of Kickstarter projects here, and we continue to do it because new ideas are golden. We wouldn't get anywhere without them, and there is something to be said for the individual that follows through, not just with the idea but a sewn, tested, usable product.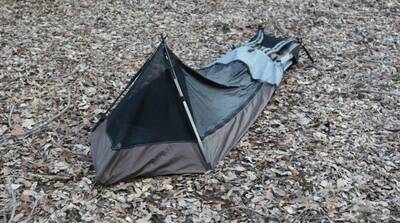 We got in touch with Kenny Flannery, the creator, lead tester, and main designer of the Freestyle BivyPack, and you can see our interview below.
Kenny started HoboLifestyle, an online portal for his journey and thoughts. He's been on the trail since 2007, traveling around the world in a meandering, endless sort of way. And, in short, he's not planning to stop. He has (theoretically) paused to release this Kickstarter project, and you can see him (and his vibes) in the video below.
He will trek on, hopefully with a solid product launch under his belt.
Feestyle BivyPack — The Transforming Backpack Tent
Here's Kenny, demonstrating the Freestyle BivyPack.
Alright, there it is. Not the highest quality video on Kickstarter, and there is a homemade quality to the concept and Kenny's approach. But his attitude is one that travelers around the world can unite under, and one that lends itself to this small, awesome backpack…tent.
The most intriguing thing, though, is we believe Kenny. We believe that he'll use this pack in all his adventures, and there's no better product marketing than that.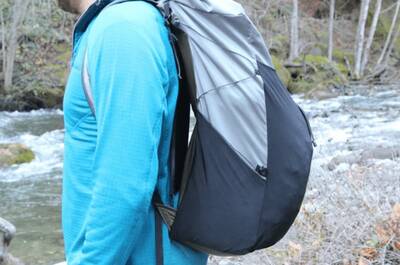 The Freestyle BivyPack is Kenny's brainchild, but (as he mentions) it has come to fruition because of Helium Hiking Equipment (HHE). HHE is not a major brand of backpacking gear, but it has a solid line-up of products, incluidng hammocks, quilts, tarps and custom stuff sacks. All of its gear, in fact, is highly customizable.
This product is a first for HHE — as a tent, and as a backpack. The Freestyle BivyPack's basic stats:
50 L usable space
1.5 pounds, total (25 oz)
300 denier polyester diamond weave ripstop (backpack body), SilNylon (bivy roof), SilPoly (bivy floor)
Carbon fiber frame (for backpack support and bivy poles)
7.5 feet long, 30 inches at its widest point
Many brands attempt to combine things — few of them do it successfully. As we haven't tested the Freestyle BivyPack, there is no way to know for sure how this one will play out. But the sleek, simple design and weight (just 1.5 lbs for everything) are a promising place to start. Coupled with the high-quality ripstop fabric (that's waterproof), the carbon fiber frame material, and the sheer miles that Kenny has put on the prototypes make for a promising backpack…tent…BivyPack.
All the packs will be custom-made to your size, too.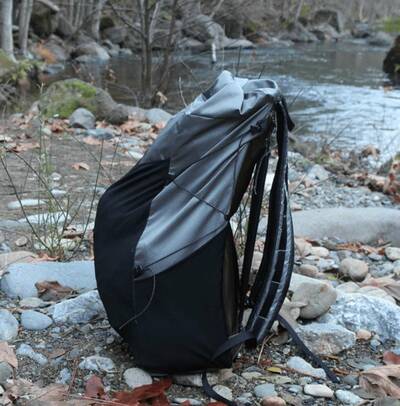 If you're intrigued (how can you not be?) consider supporting the Kickstarter. The fundraising will end January 17, 2016, and we really hope the product makes it to market. Check out the interview below to hear from Kenny himself.
Freestyle BivyPack Interview
Backpackers: In the video you demo how to turn the backpack into the bivy. About how long does this take?
Kenny: It takes about two minutes on average to go from backpack to bivy and visa versa, faster after you've done it a few times.
Backpackers: What is the durability and warranty associated with the backpack? In all your travels did anything rip or break on you? People tend to be pretty hard on their gear…just wondering how you guys would handle repair options.
Kenny: As far as durability, it's held up really well. I usually baby each new prototype, but after using each one for a week or so I start abusing it like any other pack. We've been experimenting with different shapes, sizes and materials for the frame, which has been our most recent challenge and test on durability (punctures and whatnot), so I've been doing a lot of stress tests and dialing in the reinforcements to make sure this won't be an issue. Carbon fiber has been a lot of fun to play with!
The main body of the backpack uses a fabric our supplier just released this year, it's a coated 300 denier diamond weave polyester, it's been great against abrasions so far. It's a little heavier than what we used in earlier prototypes, but the extra durability and waterproofing has been well worth it.
If people's packs get screwed up by some fault of ours then we have no problem taking care of the issue.
Backpackers: Is the Freestyle BivyPack going to be one of Helium Hiking Equipment's products, or is it yours? Who is manufacturing the backpack?
Kenny: We'll be releasing it through Helium Hiking Equipment and making everything in the workshop in Augusta, GA, until it's apparent that we'll outgrow and need to expand.
Backpackers: You show using a rain jacket as a rain fly in the video, but also mention there is a more sturdy method of securing your jacket to the tent. Can you describe how you attach the jacket to the tent?
Kenny: When it's not windy I just throw the jacket over casually like I did in the video, but when it may be windy I put the sleeves through the tent poles before attaching them to lock it in place. This has worked like a charm for me, but this month I'll be doing some more testing with more jackets to try out a couple other attachment techniques to make sure this will be secure for most everybody. We could easily add a native fly as an option to anyone who's spooked by the jacket concept, but personally I've really liked it and will never look back.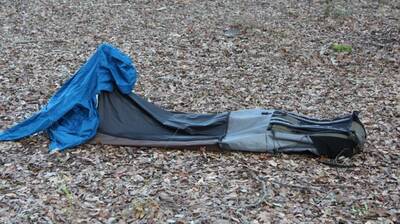 Backpackers: If the funding for this Kickstarter succeeds, have you thought about making a heavier backpack/tent that can sleep two people for a more traditional backpacking experience? Just curious because, you know, we want that!
Kenny: We have designs ready to go for both a heavier two person BivyPack as well as a way to daisy chain a couple individual BivyPacks together the way sleeping bags do, which is what I'm pretty excited about. First we're focused on getting this initial design perfect and seeing if everyone digs it as much as we do. If the funding goes through we'll be able to rock it out and move forward on several other ideas. The tinkering will never end until we're simply floating over the trail.
Backpackers: The price on the Kickstarter for a Freestyle BivyPack is $200. Will that be the retail price if you get funded?
Kenny: $200 isn't 100% locked in, but it'll likely to hover right around there.
Again, consider throwing some small (or large) support to the Freestyle BivyPack project. And if you're so inclined, purchase the actual pack! You'll be ultralight-ing around the globe in no time. We wish this Kickstarter good luck, and happy trails.