Backpackers.com — We love looking at all the interesting new ideas floating around on Kickstarter. We've highlighted a number of successful campaigns here, hoping to bring new products and concepts in the backpacking world to light.
Here's another sweet-looking product in its run on Kickstarter: the VSSL Mini, a flashlight with storage, a compass, and a carabiner, all encased in a slick form factor. There are 22 days left on the campaign, and VSSL has raised (at the time of writing) $13,400 of its $18,619 goal. See the Kickstarter video below:
Flashlight with Storage Revolution
Now, to be fair, this isn't the first product by VSSL. It's actually a smaller incarnation of a number of products that the company initially funded on Kickstarter, which have received positive press and reviews from a wide number of sources.
The original idea for VSSL was to take the form of that old, clunky, giant black flashlight (you know the one) and give it a modern-day boost. With LEDs, that amount of space is no longer needed for batteries, but instead of doing away with it, VSSL decided to dedicate it to carrying essential camping items.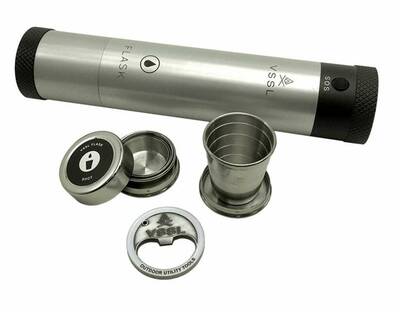 The company has a First Aid version, a Shelter version, a Flask version (above), and a Zombie version (yes, it's a silly company sometimes). All of these flashlights are 9 inches by 2 inches and weigh almost a pound. They're stuffed with useful items in handy tins, and include a compass and, of course, the light.
The original idea went so well, VSSL decided to make a smaller version. This makes a lot of sense, because for hikers, backpackers, and campers a one pound, massive tube is not always something you want to haul around.
So, in developing the Mini, VSSL essentially cut a great deal of length off its original product. It's the same width (2 inches), so the Mini can fit the storage tins that VSSL sells, which contain a number of items, from candles to shot glasses to an emergency shelter and space blanket.
The VSSL Mini Kickstarter campaign offers five versions of the product, each with increasing functionality and cost.
Alpha: This version is just the storage body and a compass. It's $30, and weighs 6.2 oz when empty.
Bravo: This version has the storage body, the compass, and a carabiner end for easy hanging. It's $40, and weighs 6.6 oz when empty.
Charlie: This version has the storage body, the compass, and the light, which, to us, is sort of the whole point. It's $45, and weighs 7.0 oz when empty.
Delta: This version has the storage body, the compass, the light, and the carabiner. It's $65, and weighs 9.2 oz when empty.
Echo: This is the deluxe version, and has the storage body, the compass, the light, the carabiner, a pill fob, and custom tins that fit inside and help to store items. It's $75, and the weight is not yet finalized because the pill fob and custom tins are still in development stages.
This is a lot of options, and reminds us of shoe companies that make one great shoe, then offer six shoes with slightly different specs, none of which are as strong as the original. To be fair, VSSL prefaces the Kickstarter campaign, stating:
"Kickstarter allows us to try out a few product variations to see which ones are the most popular. This will end up guiding our production and marketing efforts."
A bit of live market research is a good idea. The other reason for the Kickstarter is the above-mentioned pill fob and custom tins — both of these are new models, and require design, development, and molds, all of which cost money. The company could simply make these on its own and sell them, but the whole point of Kickstarter is to reach out and see what people want, which we support.
Kickstarting the Project
From our perspective, the two options that are most viable are the Charlie and Delta models. These come with the light and compass — which is sort of the whole point. The carabiner is a nice touch, and we'd want one, but it does add weight and costs more.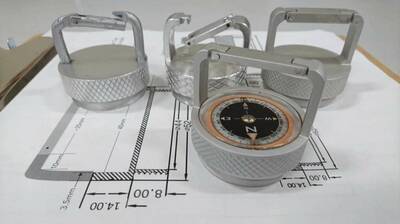 The pill fob is a great idea, but you could just throw your pills in the empty cannister to begin with, and the custom tins work specifically with the pill fob, and will cut down on your overall space. Because VSSL has so many tins already in production, which fit into the Charlie and Delta models as they are, that seems the best option.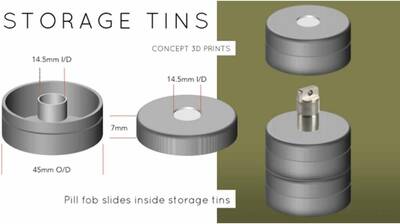 In terms of product comparison, the VSSL Mini is heavier than most common headlamps and small lanterns in the backpacking world. Its flashlight, on bright, will last 20 hours, and 40 hours on dim or SOS mode. This is about half as long as your typical Petlz or Black Diamond. The light takes batteries — N-type or E90 batteries, which are replaceable.
But it's not meant to really compete with those items.
The compass, combined with the light, and the water-resistant casing makes the VSSL Mini a great combo item — the type connoisseurs and gadget geeks will love. Matches, a whistle, house keys, and some medicine would all fit in this thing easily, and you'd always have a compass and light on you. Not to mention that it's sleek and unassuming.
If you've got some dough to spend on a nice flashlight with storage and a compass, get in on this Kickstarter. And check out the plethora of VSSL tins you can buy to fit in the VSSL Mini. They are useful and fun.
The campaign ends April 1, 2016.
All screenshots courtesy VSSL, All Rights Reserved