Backpackers.com — Hammocks seem like such a simple endeavor. Hang a thing between two points, lie down. There's some truth to that — hammocks can be simple. But there are a lot of badly-made widespread models — we're talking about you, rope hammocks — and people who don't understand the fundamentals of this lifestyle. As such, hammocks haven't taken off fully.
That's true even when outdoor recreation is at its peak. Backpackers still mostly take tents, and hammocks are often relegated to backyards and stationary locales. Those places are excellent, but hammocks are also a viable sleeping system (and sometimes shelter) in the backcountry, especially for weekend trips.
Maybe you know this, maybe you don't. Either way, one of the underdogs in the outdoor gear world has written a straightforward free eBook on the basics of hammock camping. It's called "The Ultimate Beginner's Guide to Hammock Camping," and it's by Jeff Zhang of Serac.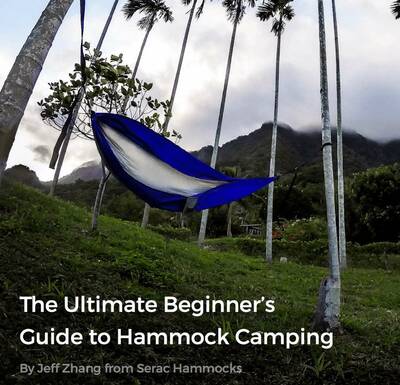 You can view the guide on Serac's website, where you will be prompted to download the eBook. You will have to provide your email (Serac emails you the PDF).
Firstly, we wanted to tell you about this awesome resource. Next, we'll tell you a bit about Serac. Finally, we'll highlight some key aspects of the eBook. And then you should be good to hammock away.
Serac, the Hammock Company
The hammock industry is less heavily populated than the tent industry, but there are still your big competitors and smaller organizations trying to make a difference. Eagles Nest Outfitters (ENO), Grand Trunk, and Kammok are the large competitors — Serac is a little guy, but one that is doing an excellent job.
Started by Wilson Lin and Jeff Zhang, Serac "was founded with the dream of sharing a convenient, affordable, and tree friendly way of exploring the natural world." It's not just an information hub for hammocks — the company actually produces its own hammock, the Serac Classic, which is lighter (just 14 oz!) and cheaper than every major hammock-maker. With positive reviews on GearJunkie, the $37.50 for a single Serac hammock is seriously hard to beat.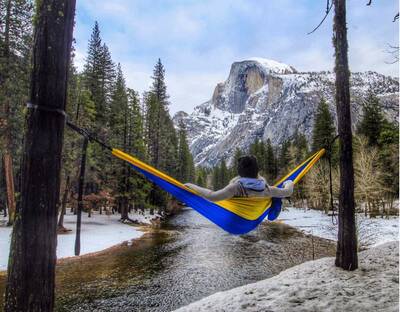 So Wilson and Jeff are at least fulfilling one aspect of their mission — they have a viable product, thus making the world of hammock camping fairly cheap to enter. But they also have the Serac blog, which discusses a number of issues in the backpacking world, especially when it comes to hammocks. From incredible hammock-hanging locations to poignant advice from experts, there's always something interesting on the blog.
How to Hammock Free eBook
Now that you've got some background, here a few highlights from the eBook. Remember, it's free, and you can view it in your browser like a normal (if very long) article. This resource is meant for those new to the concept of a hammock, so it's pretty basic in its approach. That said, it manages to cover the full gamut.
Here are the categories:
How to Get a Flat Lay is a particularly good segment, and provides a helpful calculator tool from The Ultimate Hang, one of the ultimate resources in the hammock camping world. When talking about using hammocks as your sleeping system it is imperative that you are comfortable, and the a flat lay is key.
We also enjoyed the tips on bugs and rain shelters, as that is one of the common "benefits" of a freestanding tent. You can make do with a hammock, but it will end up requiring more gear. The Classic Serac hammock doesn't come with mosquito netting or a rain fly, so you'll need to grab those on your own.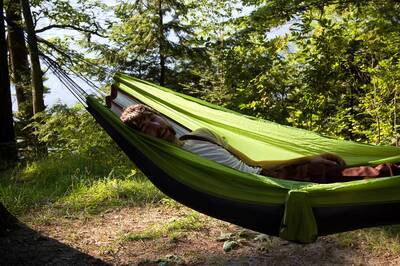 The frankness of this eBook is appreciated as well. It does not attempt to sell the Classic Serac hammock down your throat (or at all, really), but honestly serves as a primer for all types of hammock camping. It even concedes that to successfully hammock camp you'll need trees (or very large rocks), so those backpacking in alpine areas should stick to a tent.
And, as an eBook, you can easily take this on your smartphone once you have a hammock and need some help remembering all the particulars out in the wilderness.
Enjoy, and check out Serac.
Images in order: Serac Classic screenshot courtesy Serac; The Ultimate Beginner's Guide to Hammock Camping courtesy Serac; Oceanside Relaxation by Brian Boucheron via Flickr