Backpackers.com — Loki is a famous wolfdog. It's true. With over 860,000 followers on Instagram (and climbing every day), the massive pup has a knack for stoking the parts of us that want to explore while radiating a warm, furry countenance that's too good-looking to pass up.
Kelly Lund, Loki's best friend, recently published an insightful and heart-warming piece about what this relationship and backcountry exploration has meant for him and Loki. We wanted to flush out Kelly's story, so we got in touch with him. Below you'll find quotes from Kelly's article, quotes from our interview, and a great many pictures of Loki the Wolfdog.
The Essentials
Loki is a three-year-old "low-content" wolfdog, which means his genetics are more dog than wolf. He's technically a husky/arctic wolf/malamute mix. At the time of writing Loki is 70 lbs, and 30″ tall at the shoulder. He may be genetically more dog, but he certainly looks an awful lot like a wolf.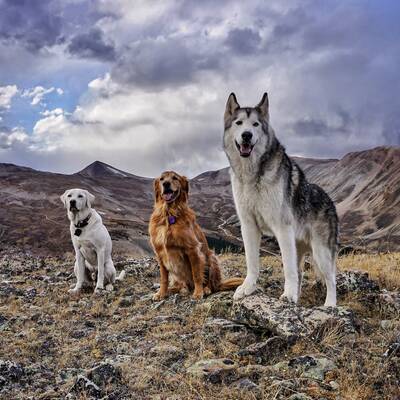 Kelly is the Outdoor Recreational Coordinator for the city of Denver, where he and Loki currently live. Kelly says that his job is "fairly separate" from the backcountry exploration he does with Loki. He says of his work,
"I mostly manage a challenge course. We facilitate teambuilding and experiential education with groups of people, all ages. I also help set up ski programs and snowshoe trips as well."
Clearly a man dedicated to the outdoors, Kelly finds Loki's need for exploration a gift. In his article, Kelly says, "Loki [has] made getting out and exploring the wild around us an even deeper part of who I am."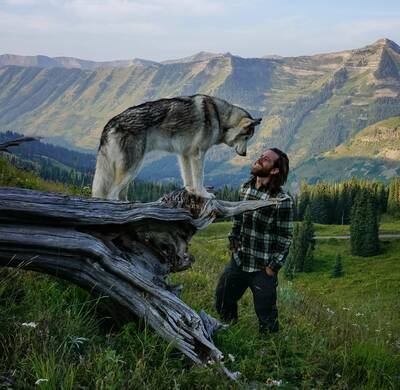 Kelly picked Loki up in a blizzard — an epic day for an epic adventurous relationship. The blizzard just happened to churn through on the day Kelly picked up the pup, but we all love an origin story. Kelly says that his upbringing included large dogs, so he had an idea of how to treat Loki. But, of course, the wolf in him has made things a little different.
The Wolf
Part of Kelly's desire to talk about their lives together is to provide an example of what a wolfdog really needs. Kelly writes in his article,
"Instead of him entering into my world, I felt that I had to listen closely and enter into his world, if this was going to work out. At that time, I decided I would do everything possible not to leave him behind at the house … A dog like Loki needs the space and time to roam free. If I wasn't going to make time for that, he was going to take it by escaping from the backyard."
This driving force pushes Kelly to new experiences, and has created the sort bond that is beautiful and mutual.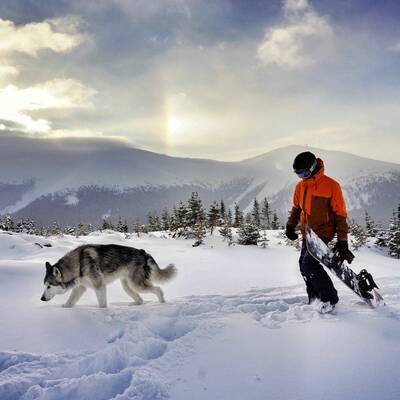 When asked about concrete moments in which Loki's perspective or activity in the backcountry made him stop and realize something new, Kelly says,
"Many sunrise summits in the backcountry while snowboarding have taught me that it's more important to be cold and uncomfortable and experience moments like that than stay behind where it is comfortable. Getting Loki out of the house is a necessity, so I've got him to thank on many of those mornings."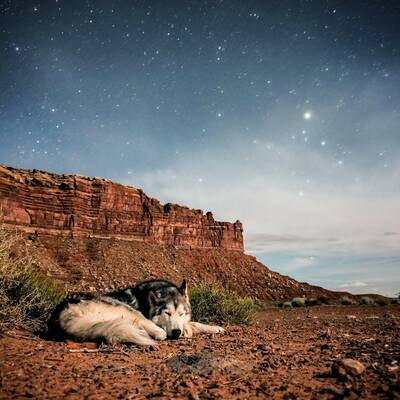 Kelly also says that before Loki turned three he had seen "most of the Western U.S." Lucky wolfdog. When asked about some specific places, Kelly named a number of special adventures:
The Butler Wash Ruins, Upper Butler Wash, and the Moki Dugway in Utah. Exploring Sinks Canyon in Wyoming. And, of course, a number of places in Colorado. Flats Tops Wilderness in general, and specifically backpacking through Devil's Causeway. Also, the Eagles Nest Wilderness.
In terms of outlying physical and emotional characteristics, Loki is certainly unique. Kelly says, Loki has incredible endurance. "His long legs let him move through the snow quite faster than many other dogs," which we can see in the charming videos on his Instagram and Youtube.
Kelly claims he is a man who struggles to find words, but we find his description of Loki's affection incredibly stirring:
"We've made a lot of great memories on mountains, beside rivers, in woods, watching sunsets and scenery, and one might think that Loki is always by my side looking for a scratch on the side and a pat on the head, but that isn't the case at all. Loki rarely looks for affection.

Most people receive love from their dogs in that way, but more often than not, I won't find that with Loki. He is far too independent and captivated with the world around him.

I receive love from Loki by watching him and listening closely as he explores and fills his nose and eyes with the world around him. I just need to give him the opportunity."
Well said.
Kelly has created a massive following for Loki, and largely does it to increase awareness and support for wolfdogs and people who need animals. Kelly gives donations of the profits of his sales — you can buy Loki calendars and other goods, though they're sold out at the time of writing — to two organizations, Canine Support Teams and Eagle Trail Mountain Wolf Sanctuary.
Joy, freedom, and giving back — a good existence for a man and his wolfdog.
If you're as in love with Loki as we are, follow his page on Instagram. You will find a feed full of bounding, epic wolfdog, running free in the wild.
All images courtesy Kelly Lund/Loki the Wolfdog, All Rights Reserved