Backpackers.com — #OptOutside rocked the backpacking world this year. REI gained over 1,000,000 official supporters, and was backed by a slew of outdoor companies and government bodies alike. All this adds up to a surge of people that got outside on Black Friday.
While most of those people simply enjoyed the beauty of nature, Maddox Visual Productions decided to make an #OptOutside film about their experience. Maddox Visual Productions is a professional video and photography firm based in southern Oregon, but like any company filled with talent, they took to the outdoors with a unique blend of expertise and excitement.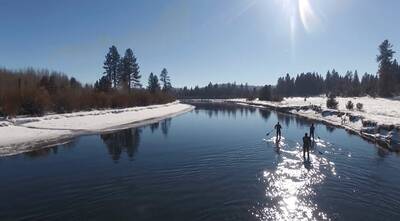 Last week the trailer for "#OptOutside, The Short Film" went up on Vimeo, and it looks like a fun one. The company set out in Central Oregon for a day of paddle-boarding through rivers and lakes, serious mountain biking through snow-caked lands, and even some snowboarding.
We'll highlight the full film when it comes out, but wanted to share in the celebration that was #OptOutside while it's still so fresh on everyone's mind. Enjoy!
#OptOutside Film Trailer
#optoutside The Short Film – Trailer from Maddox Visual Productions on Vimeo.
All screenshots courtesy Maddox Visual Productions