Backpackers.com — REI shook the outdoor world this year when it announced the #OptOutside campaign. The popular retailer is closing all of its retail stores on Black Friday, and paying its employees to get outside on that day. The campaign has started a movement, and REI isn't the only one getting into the wild on Black Friday.
Missouri State Parks, a division of the Missouri Department of Natural Resources, has announced that it will offer free camping on Black Friday.
Missouri State Parks #OptOutside
Missouri State Parks' language isn't quite the same as REI. The organization says on its site,
"In the spirit of offering unbeatable Black Friday deals, Missouri State Parks is sponsoring free camping on the evening of Friday, Nov. 27."
So, in a celebration of Black Friday ideals, camping becomes free. The site says that first come, first serve fees will be waived, and that if you make a reservation for that night you won't have to pay the "camping fee," but you'll still have to pay the "reservation fee." Still, it's great for anyone in Missouri, and serves as a perfect family oriented experience after Turkey-Day.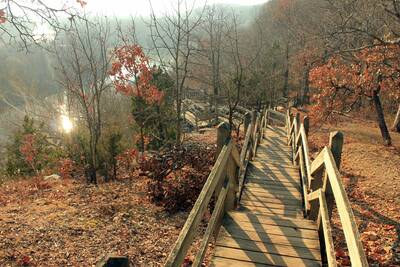 We wanted to highlight some excellent spots for you and your family to enjoy. See below.
Great Missouri Campsites
The full list of campsites in Missouri State Parks is daunting, so we highlighted three sites that look excellent.
Montauk State Park: Great for trout fishing, Montauk State Park has some sweet spots along the Current River. There's also electricity and toilets year-round.
Hawn State Park: This is a beautiful wooded park with lots of trails. It requires a two night reservation for the weekend, so you'd have to make a real experience out of your Black Friday campout.
Sam A. Baker State Park: Only one of the two campgrounds is open this time of year in Baker State Park, and there are no reservations. For those who want a solid hike, check out the 11 mile Mudlick Trail.
Many campsites in Missouri State Parks usually operate with full services from April to October — not so much in late November. So, make sure you pick a campsite that is open year round, and has the amenities you will need. Enjoy!
Featured image: Castlewood State Park by Yinan Chen via Good Free Photos