Backpackers.com — Nine of the National Parks we know and love are currently in danger. The National Parks Conservation Association (NPCA) — a group dedicated to the preservation of National Parks across the U.S. — launched the #ParksInPeril campaign, which highlights nine parks that are currently under threat. They're some of the most well-known in the the country, including Yosemite, Yellowstone, and Glacier.
NPCA #ParksInPeril
Each park has a different and complex issue that involves government and the private sector, but NPCA is targeting its campaign at the Obama Administration. It says, "The Obama Administration has the opportunity to take action and make sure outside interests don't forever mar the national parks. But the clock is ticking down to the end of the president's term."
There is fear of the unknown, and while the Obama Administration has been a huge proponent of the preservation and creation of nationally protected land, when his term ends all that movement could cease. In the President's final year, NPCA is petitioning to get each of these particular parks the help they need.
Join the campaign on Twitter.
Hey Friends, your national parks need your help right now! Check out these 9 #ParksInPeril: https://t.co/Yc7xfElSJapic.twitter.com/2TQRtNQ46n

— National Parks News (@NPCA) November 5, 2015
And consider signing the petition, which will be sent to the Obama Administration.
The Parks
Here's a list of the nine parks that are in peril (below), with quotes from the NPCA site about the issues that face them. The organization has drawn up bold designs that illustrate the issue of each park, which you can see below.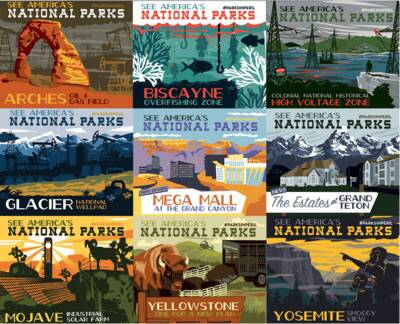 What if you hiked all the way to Delicate Arch at Arches National Park and gazed out to see … oil pumps? For many visitors, the park's dramatic, natural red rock architecture epitomizes our southwest desert. Yet, this uniquely American landscape could be permanently changed if oil and gas companies are allowed to begin drilling near the boundaries of Arches and the nearby Canyonlands National Park.
If you go swimming in the sparkling blue waters of Biscayne National Park, teeming with a rainbow of fish, bottlenose dolphins, endangered hawksbill turtles, and other marine life, you may think you are vacationing on a remote, far-flung island.

Sadly, the last few decades have taken a toll on the coral reef and fish populations at Biscayne National Park – but it isn't too late to reverse the damage.
Colonial National Historical Park along the James River hosts the first permanent English settlement in North America, founded by Captain John Smith and his compatriots at historic Jamestown. A super-size electric transmission line proposed by Dominion Virginia Power threatens this historic landscape.
It's time for us to choose the future of Glacier National Park's borderlands: oil wells or wild nature?
When standing at the rim of the Grand Canyon, the enormity of this natural place is what fills the memories and photo albums of millions of visitors each year. What if that scene is marred by a nearby mega mall?
Stunning views of the Teton mountain range on lands rich with wildlife? Or…mansions? Which would you prefer to see when visiting Grand Teton National Park?
Mojave National Preserve and other California desert national parks are home to iconic Joshua tree forests and desert bighorn sheep. Unfortunately, they also serve as the epicenter of a new "gold rush" for industrial-scale solar proposals. A 2,000-acre solar project has been proposed less than one mile from the preserve and in the middle of a critical pathway for desert bighorn sheep.
Herds of bison grazing in Yellowstone's Lamar and Hayden valleys are images that stay with visitors to the world's first national park, long after their travels end. Unseen to the eyes of summer visitors are the unsightly images of hundreds of bison being rounded up and shipped to slaughter each winter or forced back into the park each spring by use of helicopters, pickup-trucks, and wranglers on horseback — all under management rules set by an outdated plan.
Views for miles and clean air to breathe deeply are two benefits that you and nearly four million annual visitors to Yosemite National Park count on – and are afforded by law. Instead, there's a good chance you'll be greeted with hazy skies and unhealthy air. That's because every national park suffers from air pollution. Pollution-caused asthma attacks simply should not happen to children in our national parks.
These are some of our favorite places on earth — they might be yours as well. Consider signing the petition that NPCA provides. You can include a custom message, or use the detailed (and reasonable) demands the organization has created.
All screenshots courtesy NPCA