Backpackers.com — Sleeping bags are an essential part of camping and backpacking. Some people love being tightly wrapped in a down-stuffed mummy bag, a small hole open for their mouth and nose, toasty in the depths of night. We do, as you can maybe tell.
But what happens when you're camping with your partner? Do you sleep inches apart, on separate sleeping pads in separate bags? Do you zip two bags together? Do you get cold and cuddle up and just bear it because you want to hear the quiet of the mountain at night together?
It's kind of an age-old problem. And Sierra Designs has come up with a comprehensive, comfortable solution.
Sierra Designs Backcountry Bed Duo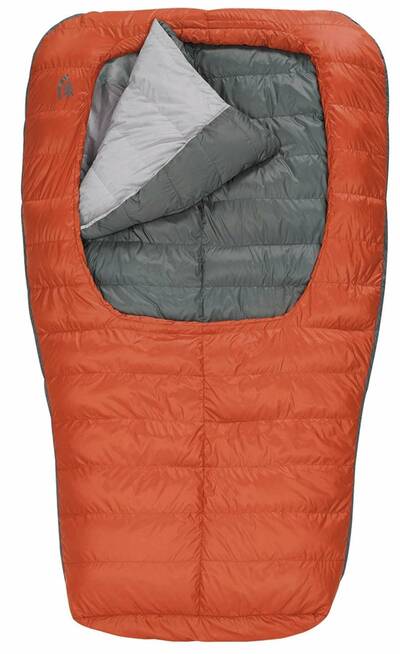 Sierra Designs is an innovative backpacking company based in Oakland, CA. They offer tents, clothing, and sleeping bags. One of those bags was engineered precisely for the outdoor couples. There are two versions of the Backcountry Bed Duo Sleeping Bag:
These are basically the same bag, but the SYN version is (obviously) made with synthetic fabric, while the 600 is made with 600 Fill Duck DriDown. These bags are unique because they have no zippers and are really made to emulate a bed. A bed you can take backpacking.
The Backcountry Bed Duo bags have two sleeping pad sleeves built into the bottom. You slide a sleeping pad into the slots, and they stay put with small clasps that secure any pads from 20- to 25-inches wide. This means no slippage in the night, and a perfectly aligned mattress for each person.
But, of course, the pads are under the bag itself, so you can cuddle and roll around to your heart's content. There's a nice foldable blanket — complete with insulated arm sleeves — and a small hood if it gets really cold. And, if it's too warm, there are easily adjustable vents in the bottom of the bag for each sleeper to poke out a foot or two.
Backcountry Edge made an excellent review video. See how it works below.
Bottom Line
Neither bag is technically rated (due to a lack of zipper and the whole two-person factor) for temperature, but the synthetic version is billed as a 1.5 season bag, while the down version is a full 2 seasons. Many reviews from different sources said the synthetic bag is more than warm enough, even in near-freezing conditions. It's a perfect summer solution, dipping into either Spring or Fall, depending on your location.
Sierra Designs has both bags on sale currently. The Backcountry Bed Duo SYN 1.5-Season is $187.45 (normally $249.95), while the Backcountry Bed Duo 600 2-Season is $374.95 (normally $499.95). The synthetic version is super affordable when you look at the cost of a single quality sleeping bag (and, to be honest, we aren't sure why one would buy the pricier down version).
Finally, there's the weight. A fairly normal solo bag, like the REI Polar Pod Sleeping Bag ($89.50), weighs roughly 3 lbs, give or take some ounces. The Backcountry Bed Duo SYN weighs just 4lbs 4oz. That's just a pound more for two bags, so it will lighten the overall load for most couples.
Stoked? Go grab one.