Backpackers.com — As lovers of gear we've started to highlight an increasing fad: subscription boxes. Not just for the outdoor community — subscription box services have taken over nearly every industry and, for good or bad, are doing well.
Many in the backpacking community gripe about these services because they pick gear for you. And many backpackers obsess (to no end) over the specific gear they want. We get it. It's a preference thing. But for those looking to enter the outdoor field without hours of research, or those wanting hand-selected curation, convenience, and discounts, the subscription service model works well.
While some services focus on general, handy camp-based products, others are more extreme. The Apocabox is a survivalist's dream — and a dedicated outdoorsman's dream as well. The Apocabox was created by Creek Stewart, an established survivalist and naturalist and founder of Willow Haven Outdoor, a leading survival skills training facility.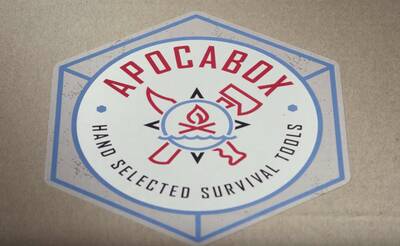 The Apocabox contains hand-selected items by Creek, costs $58.95 every two months, and is associated with high-quality and legit survival.
How to Survive 101
The Apocabox (for those not hip to the lingo) is short for apocalypse, and caters to those who want to survive in any and all disaster scenarios. The brand definitely benefits from Creek's acting abilities and confident swagger. Take a look at the pitch video:
Like all good subscription boxes, each upcoming box's content is a total secret. But Apocabox lets you see older boxes to get an idea of what sorts of things you'll be receiving. Here are the five things you will find in every Apocabox:
Survival Tools
Survival Info
Artisan Made Gear
Survival Accessories
Skills Challenge
And, for those dying to know, here are the contents of December 2015's Apocabox:
Willow Leaf Knife by Reptile Toolworks in Kentucky (custom for ApocaBox)
Mountain Top High "Not If But When" Patch
Pocket Notebook + Pencil
Handy Forager's Bandana (exclusive to ApocaBox)
Candy Sucker Ant Protein
But Out Splint
Dragon Fire Extreme Tinder
Time to Get Knotty Kit
Pine Pitch Glue Kit
DIY Fatwood/mini-Ferro-Rod Components
The Cr///Ek Necker (a tube scarf)
As you can see, a lot of these items are custom made for subscribers and work together (the names of which we took verbatim from the original site). For instance, the special skill in this box is how to make Pine Pitch Glue, which ties in with the Fatwood handle component. But, there's also a spoon blank to carve with your Willow Leaf Knife.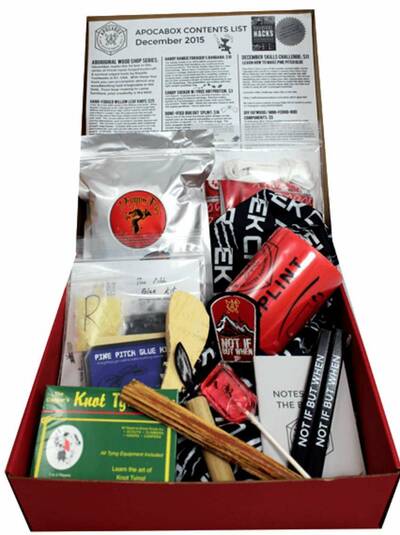 Not simply a box full of stuff to take out into the wilderness, the Apocabox culture asks you to learn useful skills for the wilderness — and for survival, of course.
Reviews
Apocabox began in 2014, and has received accolades from survivalists for many years. Here's one in-depth video review that finds value in his subscription.
Two things to note: There are no contracts with Apocabox, and Creek provides detailed instructions and videos for each box. You can cancel any time and get a full refund on the box if you don't like what's in it.
More complex than a simple outdoor subscription box, the Apocabox is unique in its field. Check it out.
All screenshots courtesy ApocaBox