Backpackers.com — In all the myriad gear that a backpacker can love, need, and obsess over, the backpack itself is the most important. Whether it's a day hike or a month long journey through the backcountry, the pack on your back is how you will carry the items you need while staying comfortable.
And the hunt for the perfect pack is far from over. Uphill Designs, a unique outdoor company based in Seattle, Washington, was founded with a hand-made, eco-friendly ethic that utilizes natural products in order to create stylish and highly functional backpacking gear. And it has entered the fray with a Kickstarter backpack campaign titled "Take the Trail: Packs for the Modern Adventurer."
We interviewed the founder, Dan Sedlacek, via email, which you can see below.
Uphill Designs, A History
Uphill Designs hit the scene in November of 2014 by launching a (different) Kickstarter project for bamboo trekking poles. The original Kickstarter was backed for more than $15,000 dollars (the team needed only $10,000 to succeed).
Uphill Designs is back at it a year later. This time the company is redefining the backpack. Just by looking at these backpacks you'll see some major differences from what's currently on the market. First, they look good. Each pack is made of 100% waxed leather cotton canvas, with brass hardware and elegant color matching designs.
You'll also see how minimal the packs are. There aren't a plethora of straps securing each aspect of the pack, and the pockets are all pretty simple. The "modern adventurer" is the demographic for the packs, and Uphill Designs is selling three models in this Kickstarter — the Appalachian, the Crest, and the Divide.
The Appalachian is a messenger bag that can be used pretty much anywhere. It works in the outdoors, but also fits a host of applications, like going to work or hanging out at a coffee shop. The Kickstarter price is $75.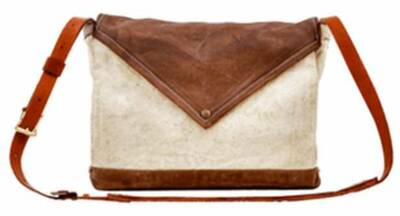 The Crest is an "everyday pack," which functions as both a good school backpack and a fully featured day hike bag. Complete with a yoga strap, water bottle slot, and padded interior for a laptop, it will get you anywhere you need to go in a day. With a 20 L capacity, it's not quite big enough to take on an overnight … unless someone is carrying the majority of your bulky gear. The Kickstarter price is $125.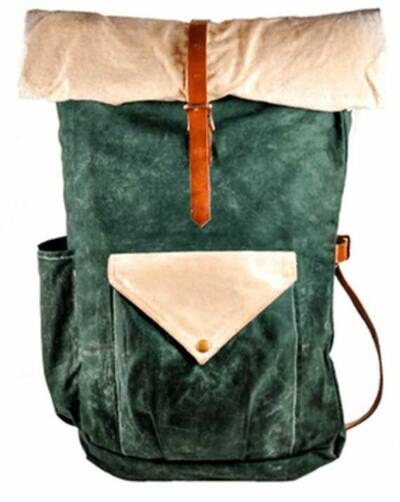 Finally there's the Divide. This is the "Exploration Pack," which is modeled after Uphill Designs founder Dan Sedlacek's custom-made PCT thru-hike pack. With a 45 L capacity and a carrying weight of 40 lbs, the Divide aims to replace your standard backcountry backpack. It weighs only 2 lb 4 oz, has a padded back (as does the Crest), and padded straps and hip belt. The Kickstarter price is $200.
Besides sexy backpacks that are made from eco-friendly material, Uphill Designs' claim to fame is the customizability of its products. Each one of these packs can be made in three color varities, with different straps, pockets, adjustments, and pretty much anything you can think of. Each pack is hand-sewn by the Uphill Designs team, who focus on an individual relationship with each customer to make sure the pack suits their exact needs. See the interview below for more on customization options.
The Kickstarter will end on December 22, 2015. At the time of writing $11,072 has been pledged of the $20,000 goal — a little more than half.
Here is the video for the packs, so you can see them in action. The interview is below.
Uphill Designs Interview
Backpackers: Your company origins say that Dan made most of his gear for a thru-hike trek of the PCT. How closely do the packs you guys are making now resemble the pack he made then? Are there key differences?
Dan: The base design for the Divide Exploration Pack and Crest Daypack, especially the seam and support system, is the same as what I sewed for the 2,665 mile PCT thru-hike. Besides the ability to customize our base models, the key difference is our switch to waxed cotton canvas and weather-proofed leather. Both materials are deceptively lightweight and durable and allow us to create a beautiful product that blends in with the trail.
Backpackers: What do you have to say about other packs on the market from major companies, like Osprey, to smaller ultralight companies, like Gossamer Gear? Packs are this quintessential aspect of backpacking, and years of research have gone into numerous companies and packs. What makes yours different and/or better?
Dan: Handcrafted is such an important part of who we are. Other companies make great packs, but without the option to communicate your needs directly to the maker, how personal is your pack? By speaking directly to the end user, we avoid excessive features in our packs by delivering a product unique to you. The modern adventurer spends as much time on the urban trail as the back-country, and our packs are designed for this lifestyle.
Backpackers: Customization is a large part of your selling point. Can you give examples of the sorts of things that can be customized, beyond color of the pack?
Dan: We know what we love, but every adventurer is different. The range of what can be customized is really up to the imagination of our Kickstarter backers. We look at requests as an opportunity to design elegant solutions. Common requests are water bladder compatibility, yoga-mat strap system, larger or smaller pockets, and a top cinch on the roll-top sleeve. We've done everything from increase the size of the messenger bag for larger laptops to adding padded compartments in the day pack for photography equipment.
Backpackers: We love that your business model is funding new product ideas through Kickstarter. What will happen to these packs if the Kickstarter doesn't come through? Will you start another one, or try to manufacturer the packs in another way?
Dan: Kickstarter is such a great way for us to connect with our most avid fans. They take a chance on us and we reward them with special prices and personal attention in their product. This is our second Kickstarter so we have faith that it is possible to reach our goal. However, if we don't we will continue to work hard and find another avenue that will allow us to fulfill our passion and deliver our products to those who want them.
Backpackers: What other kinds of products do you see manufacturing in the future?
Dan: Being able to buy industrial sewing machines with a successful Kickstarter will give us the ability to work on several tent designs we've had on the table. They'll be lightweight and will set up with our bamboo trekking poles.
If you're interested in the packs, or want to give a truly unique gift, consider purchasing one of the Uphill Designs packs from Kickstarter. We hope it pulls through, because we really want to see those tents!
All screenshots courtesy Uphill Designs