Backpackers.com — Vibram is known for long-lasting soles. You might be most familiar with the name due to the FiveFinger models of "barefoot" shoes that became wildly popular a number of years ago. That was Vibram.
While Vibram did well in designing its own shoe, its soles are on nearly every outdoor shoe around. Check the bottoms of your Merrell's, Wolverine's, Vasque's … you name it — Vibram's sole will most likely be there. The sole is synonymous with grip, flexibility, and longevity. Most hiking shoes break down before the soles do.
Vibram Sole Factor
No stranger to innovation — and global dominance — Vibram unveiled a program called the "Vibram Sole Factor" back in July 2015. The company statement:
"The Vibram® Sole Factor turns your shoes into a statement — whatever terrain, whatever adventure — so you can upgrade any pair to have better performance and personalized style."
So, yes, Vibram will now take any pair of shoes and slap on a custom-tailored sole. The ad campaign highlights shoes not of the backpacking variety — stylish wedges, old Converse, classic leather boots. But, of course, if you needed to get your old worn-in pair of hiking boots re-soled, you can get it done by Vibram.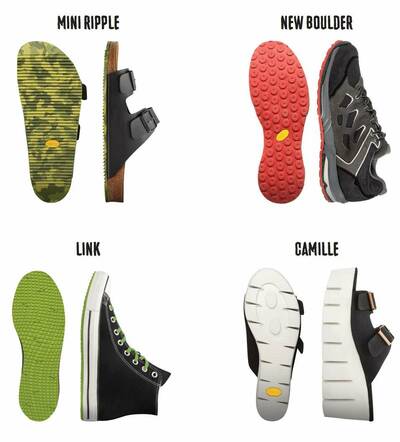 It will set you back $75, with free shipping on both ends, to get a new sole. It's a good chunk of change, especially when a new pair of hiking shoes is roughly $115 (give or take). But for those that have a pair of shoes they can't live without, this is an interesting option.
Vibram is also hitting the "style" trigger as much as possible. The soles on tap are distinctive in color and design, and Vibram wants to add a unique rubbery statement to your already bold Doc Martens. It's a bit outside the box for a sole company, but is interesting.
Where, How, and Why
When launched it seemed that you could only send in for a pair of shoes to be re-soled. This is still the case, but now there are a huge number of authorized local cobblers that can do it for you in shop. The video below highlights this process.
Here is the catalogue for different models of sole, which contains all the info you would need to ship in a pair of shoes.
Now the Why. We try to highlight innovative and unique aspects of backpacking culture here, and this little tidbit piqued our curiosity. Vibram is inherent to the backpacking culture, and the fact that you can re-sole any of your shoes (including sandals!) with its long-lasting style is intriguing. Let us know in the comments if you've experienced this process first-hand, and how it went.
All screenshots courtesy Vibram