Backpackers.com — Beef jerky is a staple of the backpacker's diet. Full of protein and fairly lightweight, jerky packs a flavorful punch that will keep you hiking for hours. It can also be expensive, if you're going for the good stuff. And if you're not going for the good stuff, it will probably be full of preservatives.
So we thought we'd highlight a couple fresh and easy ways to make homemade beef jerky.
Homemade Beef Jerky with Dehydrator
This video is what inspired us, mostly because it's a straightforward, easy solution to the problems of beef jerky. Created by Crafted Magazine founder and editor-in-chief Johnny Brooke — a site dedicated the making really cool stuff — this video uses a dehydrator to do the heavy lifting. It's a recipe for ground beef jerky:
https://www.youtube.com/watch?time_continue=511&v=OavTyDQfuo0
As the video describes above, this method is a simple, hassle-free way of making jerky. Of course, it requires some gear investment. As do all things backpacking, it seems. Brooke uses the 5-Tray Excalibur Dehydrator with timer, which will set you back between $250 – $300 (depending on the sales you can find). And then there's that sweet Jerkey Cannon (really, that's the name), which retails for $49.
So, around $300 for the ultimate jerky setup. There are some pros to this. A dehydrator lets you to make jerky easily, but it also lets you suck the moisture out of anything. It's a handy tool for the serious backpacker who wants to continually cut on weight, eat delicious food, and go out into the wilderness fairly often. You just have to offset that $250.
The cons, of course, are cost. You don't need such an advanced dehydrator (as Brooke says in the video) — the 4-Tray Excalibur without timer is $150.00, which is more reasonable. You can continue to cut costs when it comes to a dehydrator … just look them up on Amazon. But we won't get into that.
You can also just use an oven …
Low-Budget Homemade Beef Jerky
Some backpackers like their gadgets. The best gear, the highest-end tools, the top-of-the-line poop shovels. We get it. But there's a larger contingent that associates the backcountry with Do It Yourself (DIY) — a hobby and way of life that describes itself. And those people won't want to buy anything to make their homemade beef jerky — besides the beef, probably.
So we sourced a couple excellent recipes.
The Healthy Foodie shows how to make beef jerky with strips of steak. A marinade and an oven is all you need. And many recipes follow this lead — an oven at low temperature for many hours is similar to a dehydrator, you probably already own it, and you'll have jerky in no time.
Then there's the ultimate DIY, provided by (believe it or not) Alton Brown. Yes, of the Food Network. He makes his jerky with air filters from the hardware store and a heavy-duty fan. We're not kidding. Check out the recipe and video.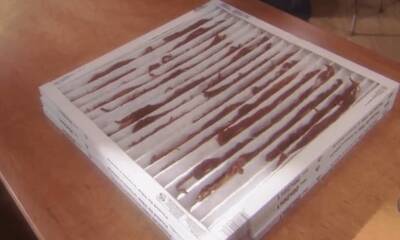 For those curious about more complex backpacker recipes that include homemade beef jerky, check out this post by Paprika & Pinot. That Beef Jerky and Broccoli will be on our next trip.
Featured image courtesy Paprika & Pinot, All Rights Reserved