Backpackers.com — This is a nice combination of a winter hike and a beautiful video. The video (below) was shot by a member of the Adventure Archives, a YouTube channel dedicated to providing high-quality backpacking, hiking, and camping trip reports from all over the world.
Thomas, one member of the Adventure Archives, went for a snowy hike up to San Antonio Falls, which lies in the shadow of Mount San Antonio (commonly called Mount Baldy), outside of Los Angeles, California in late January 2016. California has been in the throes of a serious drought, and only recently did a few much needed storms roll through. Coupled with descending temperatures, Thomas trekked out in fresh snow to San Antonio Falls, a beautiful spot on the way up the mountain. Check it out.
San Antonio Falls and Mount Baldy
Climbing to the falls is relatively easy — hiking to the peak of Mount San Antonio is another story. It's an interesting area, because "Mount Baldy" is a ski range that can be driven to with ease, so a number of roads snake through this forest. It's also the nickname for Mount San Antonio, the biggest mountain to climb in the area.
The San Antonio Falls can be reached just off Falls Road, and from there it's a short .7 miles to the falls. Just after the storm, as you can see in the video above, there is plenty of water. And, in this case, a fresh dusting of snow for hikers, snowboarders, and skiers to play in.
The Mount Baldy trailhead is just off Baldy Road (near Falls Road) and begins a different sort of journey. The trail heads to the peak of Mount Baldy, which sits at 10,064 feet of elevation.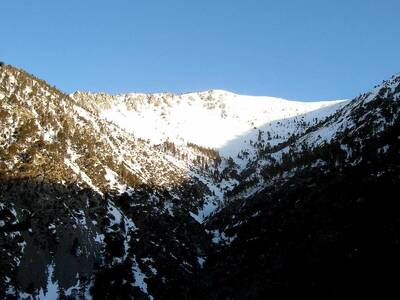 If you're interested in hiking this peak (and many others in the Los Angeles area), check out SoCal Hiker's Six Pack of Peaks Challenge. Mount Baldy will be just one of six mountains you ascend (and probably not in winter).
The video above is a great reminder that a simple hike in the right conditions can bring a breath of discovery and (quite literally) fresh air, even when it's close to an urban environment.
Stay tuned for an interview with Adventure Archives.
Featured image: Traditional First Photo by Mitch Barry via Flickr