Backpackers.com — Some of us are serious alpinists with an unquenchable thirst for frigid conditions, rough climbs, and the ascension of incredible peaks. Some of us just like to watch those dudes and dudettes do what they do. Whatever your preference, the miraculous moments of alpine climbing are pretty incredible.
In case you missed it, we wanted to highlight "A Line Across the Sky," a short documentary that follows Tommy Caldwell and Alex Honnold complete the first ascent of the entire "Fitz Traverse," a legendary climb to the top of Cerro Fitz Roy and its surrounding peaks in southern Patagonia. They completed the climb in rough weather between February 12 and 16 of 2014.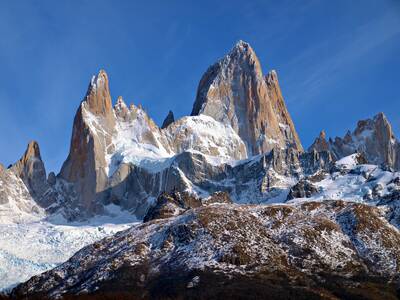 The entire experience was documented, and is included in Reel Rock 10, an hour and 46 minute documentary that highlights five incredible climbs from all over the world. "A Line Across the Sky" is in Reel Rock 10, which can be purchased on Vimeo for $19.99. You can also find the full film screened in a number of locations.
The extended seven minute trailer — courtesy of Patagonia — is below. Both are incredible, and worth your time.
A Line Across the Sky — Long Trailer
As this was conducted and completed in February 2014, a full trip report was compiled by Rolando Garibotti. It can be seen on Alpinist. Garibotti says at the end of the report,
"It should be noted that their success was in spite of very bad conditions, with much ice and snow in the cracks and on the ridges courtesy of one of the wettest summer seasons in many years…

This was Honnold's first climb in Patagonia. Over the years Caldwell has done a number of impressive ascents in the area, most notably the first free and onsight ascent of Linea de Eleganza on Cerro Fitz Roy.

Respect, respect and more respect."
The climb was awarded a Piolet d'Ore, and is the first successful completion of the Fitz Traverse.
Featured image: Monte Fitz Roy via Wikimedia Commons