Backpackers.com — As with all of our winter hikes, we aim to bring you unique, diverse spots across the U.S. (and world, really) with a smattering of reviews, pictures, how tos, and general information.
Bear Mountain Trail in Sedona, Arizona
Ascending Bear Mountain in Sedona, Arizona, is not for the faint of heart. While it's only a 5 mile round-trip hike, you will ascend roughly 2,000 feet, making the first half of your hike basically straight uphill. This challenge is welcomed by some — for those that want to see incredible views, but don't want to hear their hearts hammering, consider the nearby Doe Mountain trail, which is much shorter and less steep.
We picked this hike because of its stunning landscape views, the proximity to the classic red rocks of Sedona, and the ability to do it in winter. While it doesn't snow often in Sedona, if it does, take extra precaution on this hike. A small amount of snow will make the land beautiful, but too much will make the particular steep parts quite dangerous with ice.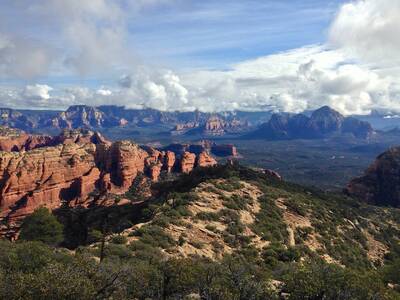 After struggling up the entire mountain, you'll find the top to be a small plateau with forest and thick brush. You can explore this and, as SummitPost indicates, the actual summit of bear mountain is through this forested area. While you can explore, this trail (and much of Bear Mountain) is not significantly marked. As such, go with an expert, or make sure to follow the cairns that lead up the mountain.
See this video by The Hike House for footage of the mountain, and a small safety pep-talk:
You can reach the trailhead by taking highway 89A, then turning right on Dry Creek Rd. After about 2 miles turn left onto Boynton Pass Rd., and continue on this for 1.5 miles until you see parking lots. You can reach Bear Mountain or Doe Mountain from this area. Parking will cost $5.00 for day use.
Hiking Sources
Arizona in general, and Sedona in specific, has a ton of great resources for hiking. We've highlighted a number below. Most of them stress caution, experience, and preparedness when hiking Bear Mountain, so please consult the terrain and take enough water for the hike.
Enjoy this winter hike!
Featured image: Bear Mountain View Towards Sedona by Akos Kokai via Flickr