Backpackers.com — You might have heard by now that Death Valley — the lowest, hottest, largest National Park in the lower 48 states — is experiencing an epic bloom cycle. So epic, in fact, it's dubbed the Death Valley super bloom.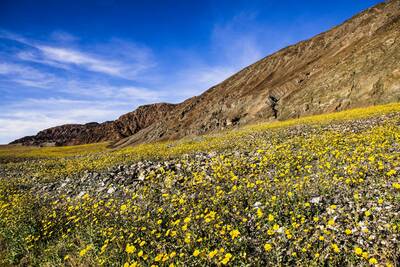 As part of our winter hikes series, we figured a trip out to Death Valley just as winter closes, with the dunes and hills and crags alive with hundreds of thousands of wildflowers, would be pretty awesome. So here's your winter hike in Death Valley — Desolation Canyon. Read below for details on the hike and the super bloom.
Death Valley Super Bloom
A number of large media organizations have covered this, so we won't get too wordy. In short, heavy rains likely due to El Nino from October, 2015 to present have caused a massive blooming cycle in Death Valley. You can learn more in this very informative video:
It's a social media phenomenon as well, falling under #superbloom, the pictures of which are steadily growing in number and are, in short, stunning. It's definitely the right time of year to go.
Death Valley #superbloom is happening now. The desert is calling… pic.twitter.com/msz76s65Ky

— Jaylene Jacobus (@jaylenejacobus) February 24, 2016
We know, we know, if you're hiking in a canyon you're less likely to see the wild and open spaces in which the super bloom is happening. This is true, to a degree. But the drive to get to Desolation Canyon, which is just a few miles from Badwater Basin (the lowest point in the continental U.S.), winds through the prime low elevation area for the blooms.
Death Valley is, for the most part, a trail-less wonderland to explore at will. So, during this drive, if you spot a particularly beautiful area, stop the car, get out, and go for a jaunt. And the view afforded by climbing above Desolation Canyon (at the end of the hike) will provide a vista of all those blooming hills.
So, on to the hike. In total it's a moderate, 3.6 mile hike into Desolation Canyon, up to the top, and back out. Not too strenuous, which will afford you more time to explore other nearby sites in Death Valley.
You start the hike by driving onto Desolation Canyon Rd, which is just 3.7 miles south of the CA Highway 190. It's a small gravel road that ends with a parking lot, and it's easy to miss. If you're coming from the north, you'll drive past Golden Canyon Trail and Gower Gulch to find it. If coming from the south, you'll pass West Side Rd and Artists Drive (in that order).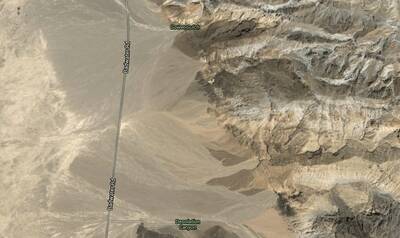 Know that, like many hikes in Death Valley, Desolation Canyon doesn't really have a trail. It's more of a general path towards the canyon itself, which makes sense geographically, but isn't marked. After parking, follow the "wash" (basically runoff from water) east toward the canyon. You'll be able to see it, and want to continue walking toward it, finally heading south into the canyon proper.
From here you generally continue through the canyon, veering right when there's an option. There are plenty of side canyons to explore within the main one, too. After about one mile you'll reach two dry waterfall areas, which you need to climb. This is fairly easy scrambling, but be safe.
Continue onward and upward, and at the top you'll have an expansive view 600 feet above the desert floor.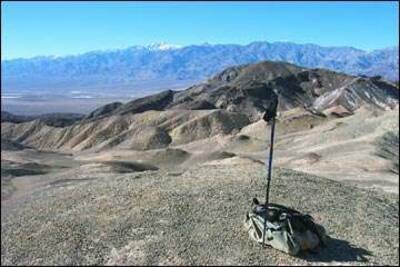 Follow the same path back out.
There are two stand-out qualities to this hike, beside the beautiful natural rock formations and general pleasantness of hiking in a canyon. The first is the lack of crowds. With the extremely popular Golden Canyon Trail and Gulch loop to the north, you'll find Desolation Canyon to be relatively free of people. Second, good portions of "Star Wars" were filmed in and around this canyon — that's a plus to us!
References
A number of sites give thoroughly detailed information on Desolation Canyon. Please refer to them for safety, location, and general understanding of desert conditions. Please remember to always bring water with you, and this hike is meant for the cool seasons of the year. Lastly, if there is threat of rain (which is unlikely), do not hike in the canyon. Flash flooding occurs in canyons during rain … just saying.
This is a beautiful time of year to see Death Valley National Park, and Desolation Canyon is just one of countless excursions in the area. Because you're so close, do visit Badwater Basin, the lowest point in the continental U.S.
Enjoy!
Images in order: Desert Early Bloom by Marc Cooper via Flickr; Map Screenshot via Google; Desolation Canyon Promontory screenshot courtesy Bird and Hike, All Rights Reserved.