Backpackers.com — As with all of our winter hikes, we aim to bring you unique, location diverse spots across the U.S. (and world, really) with a smattering of reviews, pictures, how tos, and general information.
The hike to Summit Lake in Clearwater Wilderness, adjacent to Mount Rainier and a number of other peaks, is an excellent choice for the winter crowd. The 1,200 foot climb to Summit Lake, when done in the popular seasons of spring, summer, and fall, is one of the more crowded in the area. Roughly 70 miles from Seattle, the moderate five-mile roundtrip hike is easy to reach and stunning, so it's an obvious choice for many.
But in winter there's the snow, the cold, and the less-than-stellar road to get there, all of which significantly decrease the number of adventurers heading out. But the lake is still gorgeous, the peaks even more covered in snow. If you've got a car that can make it out (4 x 4's are recommended), consider hiking the Summit Lake trail.
Hike Summit Lake
From wherever you're starting, to get to the trailhead you'll end up on State Highway 165 until you hit the Carbon River Highway (also called "Road" on Google Maps). Take this until you take a left onto Forest Service Road 7810 (also called Cayada Creek Road) — this goes all the way to the trailhead.
As we mentioned above, this is a poorly maintained road and having a raised car with decent wheels is best, especially in winter. Having chains is not a bad idea.
Once there you'll see signs for the Summit Trail #1177, and be on your way.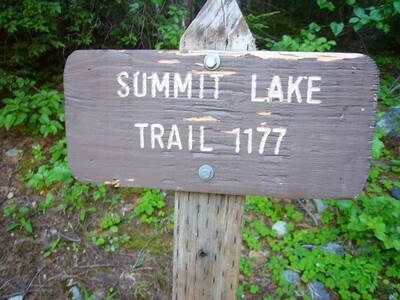 The hike itself starts in a younger forest (due to timber production), but quickly switchbacks up into old fir and hemlock. The hike into Summit Lake is just 2.5 miles, but almost the entirety of that is uphill. You'll gain 1,200 feet in that length, so prepare to climb. After roughly a mile into the hike you'll see another trail, Carbon River Trail #1179, and Twin Lake. A trail leads out to that lake, but it's not nearly as spectacular as what's coming.
Once you crest the last mile and a half you'll see Summit Lake, a large beautiful alpine lake. In winter it'll be too cold to venture into, the surrounding landscape and view will be wonderful. For those wanting the true vista, continue to hike the loop trail that goes around the lake, with the end-point of Summit Lake Peak, which is on the northwest side of the lake.
On a clear day you'll have a view of the Olympic Mountains, Mt. St. Helens, Mount Rainier, the Cascade Range, and even Seattle if you're lucky (Columbia tower). Bearhead mountain and Coplay Mountain are also viewable, all of which make for a stunning and dramatic landscape.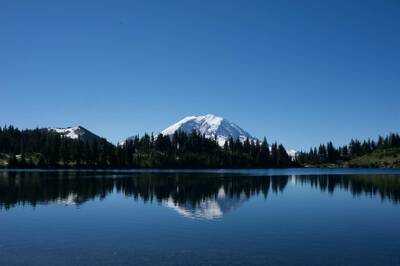 Summit Lake lies in Clearwater Wilderness, which is not a National Park, so you and your dogs are welcome. If you do hike this in winter, consider Yak Traks or snow shoes. And for the serious winter hikers, there are a number of great backpacking sites around Summit Lake, and staying overnight will allow you to bag some of the nearby peaks.
Trip Resources
As you know, there are countless excellent resources online for all outdoor activities. The trip up to Summit Lake is well documented. See the best resources for specific maps, experiences, and tips below.
Enjoy!
Images: Summit Lake Trailhead and Rainier from Summit Lake by Martin Bravenboer via Flickr