Backpackers.com — Winter is often a time of year when people stay inside. But for the driven trail seeker it's the season when crowded parks become empty, worn trails become solitary, and a stillness can be achieved in the cold (and snow, usually).
Marble Falls Trail
The Marble Falls Trail in Sequoia National Park is a great place to start your winter trail expedition, if you're in California. A moderate eight mile hike (out and back), the Marble Falls Trail begins at the back of Potwisha Campground near a small trailhead near site No. 14.
The trail is steadily uphill one way, which means an easy downhill the whole way back — you'll gain around 2,400 feet during the trip. While this isn't extremely strenuous, it's still a solid uphill four mile hike, so come prepared with water, snacks, and enough time during the extra short days of California winter.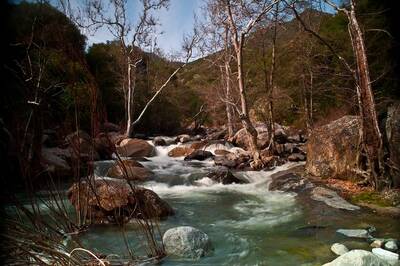 The Marble Falls trail is best in late winter and very early spring. This time of year provides full (but not overflowing from the snowmelt) rivers, roaring falls, a lack of people, and blooming wildflowers that follow you as you walk. You'll also miss the 100 degree days of summer, which are brutal when trekking four miles uphill.
And the continuous climb makes the rather chilly experience — we're talking a high of 30-40 degrees, depending on the specific day and part of the season — rather warm. Huffing and puffing uphill will make you thank the cold, rather than curse it.
You'll end at the gorgeous Marble Falls, and a stunning view of Castle Rocks.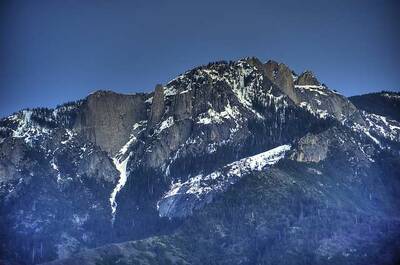 One tip for the Marble Falls Trail from Hikespeak:
"The trail passes the falls and ends on a slab of white marble. Pause on the marble and take in the cacophony of the rushing torrents. If interested, continue up along the river a bit farther to be treated to another waterfall that tumbles into a lively pool. There is faint trail to the upper falls and a bit of easy scrambling is required. This falls is shorter, but a more direct view is available, and it is no less picturesque."
While you can't camp at the falls, the trail begins at the Potwisha Campground, a good place to car camp. Note that if you decide to camp in winter, it will get well below freezing at night. So come prepared.
Hike It
Because we're in the Information Age, there's plenty of detailed hiking information for the Marble Falls Trail in Sequoia National Park.
Hikespeak offers a detailed trail review with pictures, step-by-step instructions, and a detailed geo-location map.
Sierra Nevada GeoTourism Map Guide offers another review, though brief, of the Marble Falls Trail. It focuses on safety and seasons.
EveryTrail offers a small description of the hike and a tip to go in the right season (late winter, early spring!). You can also download the EveryTrail app to keep the map and user reviews (of which there are many) close at hand, even on the trail.
Enjoy this hike, and stay tuned for more winter hikes at Backpackers.
Featured image: Marble Fork of the Kaweah River by Anita Ritenour via Flickr
Body image: Castle Rocks by Anita Ritneour via Flickr