Backpackers.com — This winter hike is for those who love snow. Cadillac Mountain, at 1,530 feet, is the highest point along the North Atlantic Seaboard, the first place one can watch the sunrise between October 7 and March 6, and has an epic overlook of the Atlantic and surrounding islands.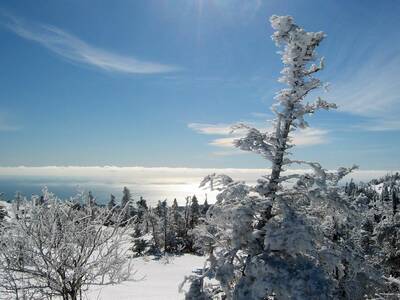 If you're in Bar Harbor, Maine, or traveling there for a winter wonderland experience, summiting Cadillac Mountain is one epic thing to do. In spring, summer, and fall you can take an easy drive up to the top. While that is an enticing way to see the views the mountain offers, it's not exactly the most connected you could be with nature. In winter, the road up to the summit is closed. So you only have one option.
Get the crampons, and get hiking.
South Ridge Trail Cadillac Mountain: To the Top!
This hike in Maine's infamous winter is a solid excursion. Be prepared for a 3.5 mile, 1,350 foot ascent to the summit, and a 3.5 mile descent. In snow, depending on your skill level, it's a full day of hiking.
The first step is getting there. You must be on Mt. Desert Island, in Bar Harbor, or willing (and able) to drive onto the island via Route 3. Once there, you will need crampons or something like Yaktrax to deal with the ice and snow. Lastly, and this is optional (but a good idea) — bring some trekking poles. They really do help, especially on the downhills and in snow.
There are two starting points for the hike. By car, the South Ridge Trail starts just off Route 3 to the West of Blackwoods Ranger station.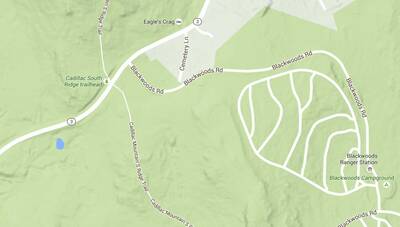 The more official trailhead starts deeper in the Blackwoods campground.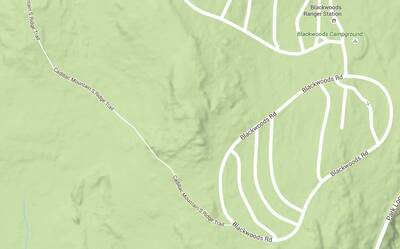 The listed mileage and height gain is from the Blackwoods campground, so you'll save a few hundred feet on the day if you start at the first point mentioned above.
This trailhead at Blackwoods campground is 180 feet above sea level, and you've got a 3.5 mile uphill climb in front of you. You'll pass a few offshoot trails, get a view after a mile at Eagles Crag, see few frozen ponds and lakes, and simply continue upward. If there's not a blanket of snow — beautiful in its own right — look for the classic pink granite rocks.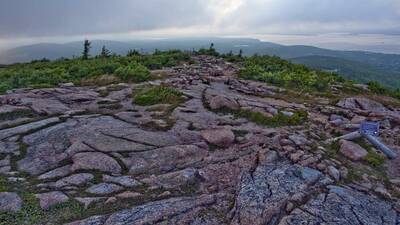 Because it's a winter hike, crowds will not be an issue. In other seasons, upon summiting, you'll often find a parking lot full of tourists. The lot will be empty when you summit due to the closed road, and you'll likely be one of a few to enjoy the completed challenge. Try to go on a clear day to get that epic view, and bring plenty of warm layers for the descent.
There are a number of excellent, fuller sources to peruse for this hike. For a full play-by-play, check out Joe's Trail Guide to Acadia Park. You can also get concrete directions on your phone with the AllTrails trip report. Maine Today has a great guide (with interviews) on how to see the sunrise at the summit. Finally, NorthEast hikes has a well written hike report on the South Ridge Trail.
This winter hike is more than worth it if you're in the area.
Images in order: South Ridge Trail Cadillac Mountain Summit Winter courtesy National Park Service; Google Maps screenshots courtesy Google; Cadillac Mountain Pink Granite by Gary Brownell via Flickr