Backpackers.com — As with all of our winter hikes, we aim to bring you unique, location diverse spots across the U.S. (and world, really) with a smattering of reviews, pictures, how tos, and general information.
Today we want to highlight the West Rim Loop in Cloudland Canyon State Park. Cloud Canyon sits in the Northwestern corner of Georgia, just across the borders of Tennessee and Alabama. It's 27.5 miles from Chatanooga, Tennessee, and just 60 miles from Rome, Georgia.
Not a huge park by any means, Cloudland Canyon boasts just under 3,500 acres. But it has some of the most beautiful hiking in the country, heaps of camping options, and two waterfalls that are worth driving from far away to see.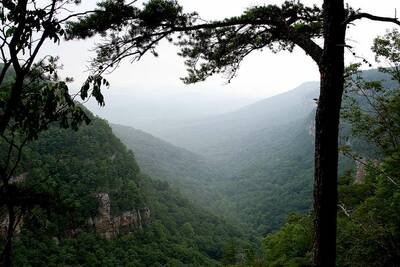 The best part? Most of it is accessible in winter.
Hiking the West Rim Loop in Cloudland Canyon
Cloudland Canyon has a number of well-trodden hikes. Some of them are in the back country, but four solid trails are well-maintained, provide stunning views, and can be trekked in the winter months if you're willing to brave the cold.
The longest of those hikes is the West Rim Loop — a 4.8 mile trek that takes you right to the canyon edge, affording incredible views.
Reach the West Rim Loop by taking the Cloudland Canyon Park Road, heading northeast, and continue until it reaches its end. The trailhead will be slightly to the northwest of the parking area, starting at Daniel Creek Bridge. Georgia State Parks says of the hike:
"… climbing out of the canyon onto the plateau, the trail provides magnificent views of Trenton, Georgia, neighboring Sand Mountain, and of Cloudland Canyon itself. Cottages, West Rim and Walk-In Camping areas are accessible via the West Rim Loop. Passing over varied terrain, most of the hike is moderately difficult, becoming strenuous on several short sections."
If five miles isn't quite enough for you, Atlanta Trails combines this loop with two more trails in Cloudland Canyon for a 6.2 mile hike, which takes you down to the waterfalls themselves. You can read the trip report here — it sounds breathtaking and icy, so wear boots with tread, and be prepared for a serious climb up from those falls.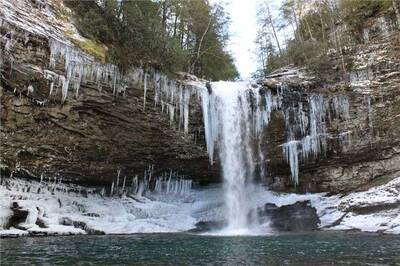 If you're really itching to get out there for longer, see if either of the backcountry trails are open. Both have camping sites spread throughout, and will provide miles of hiking. But, of course, they might be closed in winter, depending on the weather.
Other Resources for Hiking Cloudland Canyon State Park:
We wanted to highlight a specific hike, but most of Cloudland Canyon is accessible in Winter. Check out these resources — there are a lot of great websites full of information in the South:
There you have it. Enjoy this winter hike, and be safe out there.
Images in order: Cloudland Canyon by Jimmy_Joe via Flickr; Winter Waterfalls courtesy Georgia State Parks