Backpackers.com — As part of our enduring winter hikes platform, we wanted to find an article or video that covered one epic piece of the U.S. We're talking, of course, about winter hiking in the Grand Canyon.
The Grand Canyon is one of those ageless wonders — a 277 mile-long, at times 18 mile wide, cut in the crust of the earth. It's also one of the most visited National Parks in the U.S., which can make the experience less than ideal. Don't get us wrong, any time is a good time to see the Canyon, but if you're looking for semi-solo gazing opportunities, your best bet is winter.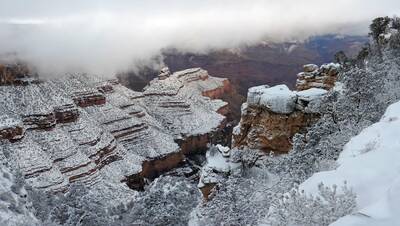 There are plenty of hiking opportunities at the Grand Canyon in winter. We highlighted one merry experience this Christmas (actually, not so merry if you read the article). While a few trails are off limits, much of the canyon can be explored. With cooler temperatures, less people (but still plenty of people … it is the Grand Canyon after all), and fresh dustings of snow, this might be your best trip yet.
Winter Hiking in the Grand Canyon
This video by Kurt Papke will give you the detailed rundown on how to explore the Grand Canyon in the winter months.
There are a number of excellent aspects to this video. The first is how clear and well-documented all the signage is. So much of a successful trip is knowing where you are, where you're going, and how to get there. Papke lays out with the basics with authority and skill, giving viewers a solid grasp of how to approach the Grand Canyon in winter.
Some basic tips from Papke:
Three trails Papke highlights, all of which are better in winter than summer: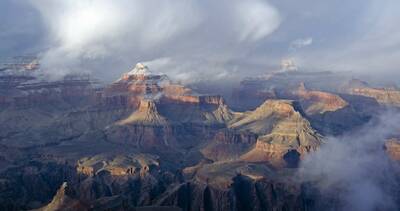 Kurt Papke's YouTube channel is full of helpful advice, and he has many videos on the Grand Canyon in specific. For instance, see him providing an in-depth backpacking report of the Rim-to-Rim-to-Rim (R2R2R) Trail in the Grand Canyon during winter. Yes, it's epic (and funny).
As with all trails, and especially in winter, do your research before heading out. These videos are a great start.
Images in order: Snow by Grand Canyon National Park via Flickr; Powell Point Sunset by Grand Canyon National Park via Flickr