Backpackers.com — There's only one thing backpackers and outdoor folk get in line for: the REI Garage Sale. Each year the outdoor juggernaut hosts a number of garage sales at its stores across the U.S.
For the uninitiated, this is a chance to get insanely discounted outdoor gear.
Why? Because it's when REI puts all of its used items on super sale — you know, those items you bought but didn't like very much, and returned within the one-year warranty? REI has buckets and buckets of returned gear that it can't sell for full value, and the REI Garage Sale is how the company clears its warehouses of all the backlogged stuff.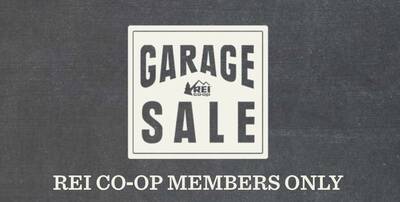 The REI Garage Sale is only available for Co-Op members, which may sound like a major deterrent, but it costs just $20 for a Lifetime membership. The membership also includes 10% back on eligible purchases (in store or online), so for the outdoor junky it's kind of a no-brainer. Finally, if you're into the whole giving-back concept, nearly 70% of the co-op's profits go back to the outdoor community.
The REI Garage Sale is a place to get high quality discounted outdoor gear, but it's also the gateway for many new community members to get involved with the outdoor world.
REI Garage Sale Dates
REI hosts a number of nation-wide garage sales every year. REI corporate HQ organizes all the major stores (and most of the minor ones) to host a sale on a specific day or weekend, usually a Saturday/Sunday. These nation-wide events happen 4-6 times per year.
Each store also has its own garage sale schedule, which is unique, ever-changing, and subject to the amount of returned items in that REI and how active its customer base is. REI recommends checking your local store for the next garage sale near you.
There is no publicly listed schedule of the year's REI Garage Sale dates, and REI only emails its members a month or so before a nationwide event is happening. You can always ask your local REI for upcoming Garage Sale dates, but that requires closing your computer, walking out the front door, and going somewhere.
Below you'll find the most up-to-date information on REI Garage Sale Dates for most major stores. We'll update it as frequently as possible, or you can check your individual store.
When Is the Next REI Garage Sale?
The next nation-wide REI Garage Sale is on the June 17, 2017. Below is a list of major stores that will have garage sales around this time, including hours. Check your local stores if we haven't listed them below.
REI Garage Sale Tips
We'll be honest, there are a ton of complex and thoroughly detailed how to's for REI Garage Sales. It's a topic much discussed in the backpacking world. Because outdoor gear is so costly — you could literally be carrying $2,000 on your back for a weekend trip — the level of these sales is notorious and well-loved. There's also the adrenaline rush that outdoor junkies have when blindly rushing through their favorite store to find that one clutch item.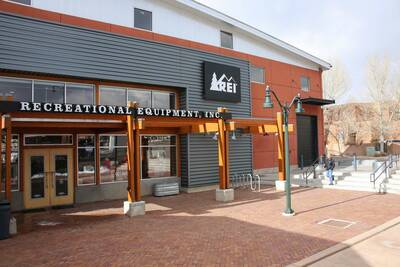 The REI Garage Sale high is real, as is the low that comes from finding nothing. Below are some excellent tips to get you the gear you want while also maintaining your humanity.
1. Limit Your Expectations
It's decent advice for life, and highly applicable to the REI Garage Sale. You might find that item you've been pining for, 80% off, in practically new condition, and weep tears of joy. But, more than likely, you won't. With the amount of sizes, manufacturer variations, and use that each of these items has been through, finding your exact piece of gear is like grabbing a needle in a haystack. Just be prepared to either not find your perfect item, or be open to finding something you weren't expecting.
2. Get There Early
This is simple, straightforward advice. The best items in any REI Garage Sale will be gone in the first hour. So, if the line is wrapped around the block and you're walking up 10 minutes before the store opens, you might be hard-pressed to find something good. Get there early, bring a cup of coffee, a book, and get ready to swap trail stories with your line-mates.
This advice also really depends on your location. If you're going to a garage sale at a Flagship store, really early is the way to go (like 6 hours early, or overnight camping). If your REI is not massive, and there aren't many people in your area, you can possibly get there 20-30 minutes early and still have a decent shot.
But you won't get good gear if you've arrived well after the store is open.
Note: Some REI stores now issue lottery tickets due to the sales' craziness. Call your store and check to see if it's first come, first serve, or if they will be randomizing and timing entry. If it's the latter, get there a little before, and bring a bunch of friends.
3. Know Your Gear
If you're heading to the REI Garage Sale to find generally discounted stuff, that's fine. There's a lot of it. But the people who get the biggest deals (and are most happy, we believe) have spent a time scoping out specific products they want.
Part of the mentality of entering a Garage Sale is heading directly to the part of the store that has the items you want. Backpacks and tents will be in different areas. Headlamps and sleeping pads are not all in one place. If you come with a clear idea of the items you want, and seek those out initially with purpose, you'll have a much better chance of finding them.
If you get down to the model number and name this will be even better. Read reviews, test the gear you think you want in the store before the Garage Sale, and then hunt for it with a passion.
4. Color Coded
Each item in the Garage Sale will have a sticker with a specific color — Green, Blue, Yellow, or Red. You can get a sense of the condition of the item and the level of discount you're bound to find based on these colors.
Green: Practically new, have small discounts.
Blue: Used but functional, have medium discounts.
Yellow: The sweet-spot. Heavily discounted, sometimes damaged or worn down, sometimes not. Look hard at yellows.
Red: Often broken, so unless you can fix the item, move on.
Having a handle on these colors will allow you to sift through items quickly.
5. Grab It
This is our last piece of advice. See an item you like? Grab it. This is a madhouse experience for most people, and each individual piece of gear is unique in terms of price and wear. You won't find the same item again, so even if you're not totally sure of something, grab it. You can try it on, check it out, and make the final decision before purchasing. But if you're thinking, "That looks sweet, but I don't know if I'll fit into it," just grab it. Do that with a handful of items, then spend the time you need to make the decision.
On the flip side of this, don't be the hoarder. Be reasonable with the amount of stuff you have in your shopping bag.
Images in order: REI Garage Sale March 12 screenshot courtesy REI.
Affiliate Policy: We support the hours that go into testing, gear reviews, and informative articles through affiliate commissions on purchases made through links in this article. These don't effect the outcome of our reviews, selection of gear, or the quality of the content.