Trail Report
Backpacking the Four  Pass Loop in the Maroon Bells Snowmass Wilderness near Aspen is a hiker's dream. There are shimmering lakes, alpine meadows, lush green forests, and the bright red peaks of Elks tower all around you at every turn. Although I've hiked around this area many times, I've never committed to the whole 26.8 miles and 8,115 ft of elevation gain until a few weeks ago.
Our little group set out just after 5 p.m. on a Thursday from the overnight parking lot. Take note that during the summer months, parking is only allowed before 8 a.m. or after 5 p.m. at Maroon Lake. If you come outside of these times, you will need to park at Aspen Highlands and take the bus ($8) to and from the trailhead.
You will start out right at Maroon Lake (like we did) — and yes, it's where all of the crowds are. As busy as it can get, it's for good reason. This lake is stunning. The Bells rise proudly in the distance, the glistening lake sits in front of you, and golden aspens frame the whole scene. At least in fall. Since we were running short on daylight, we hustled the 1.5 miles to Crater Lake. There are 11 first-come-first-serve campsites available at Crater Lake, and they're only a short ways from the trailhead. Leave before peak backpacking times — Friday and Saturday — to secure a spot.
Day Two
Night one was simple; the second day had much bigger objectives. We had two of the passes in front of us. After firing up the Jetboils, enjoying some piping hot coffee and muffins, we packed up all of our gear and set out to tackle West Maroon Pass (12,480 ft) and Fridged Air Pass (12,415).
Even though the nights at that elevation were cold (right around freezing), the Enlightened Equipment Revelation quilt performed amazingly and no sleep was lost due to chilly nights. Bonus: In the morning, you don't even have to get out! I loosened up the bottom and wore it around camp as we ate and packed up — so luxurious!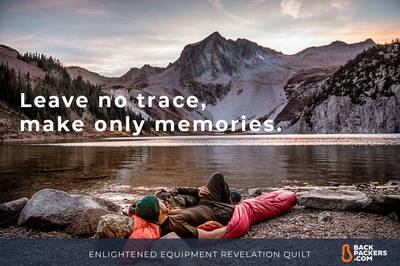 Although these high mountain passes are tough objectives, the scenery and perfect blue skies made the day pass by so quickly. Always wanting to camp near water, we wrapped up the end of day 2 at Fravert Basin, and now you really start to feel as though you are in the backcountry! Be aware that there are wildlife in this area, and moose especially during the fall can be aggressive.
Day Three
Another chilly night came and went, and now we had Trail Rider Pass and Buckskin Pass in front of us, which are arguably the most scenic moments of the entire trip. Trail Rider Pass is a tough one, but once you are at the top and Snowmass Lake is glittering below you, it makes every step well worth it. Snowmass Lake is the perfect place to stop for a long lunch break, or if you have more time, camp out. Behind the lake, Snowmass Peak towers above, providing the perfect backdrop for a leisurely stop. Be aware that if you want to camp it can get a bit crowded, and you need to camp at least 200 feet from the lake.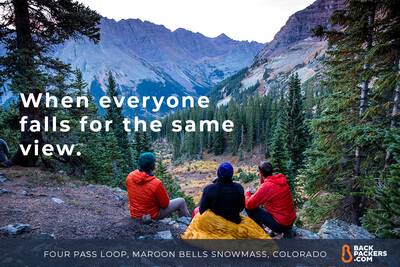 After a leisurely lunch, we headed towards Buckskin Pass, and ultimately the end of the loop. The hike up Buckskin is not too bad, and it feels completely different from the other passes you came from. It's a great time to reflect on each pass, and how even though you are in the Elk Mountains the entire time, every part of the hike feels different, which keeps things interesting as you gain all that elevation in high altitude mountains.
We wrapped up the backpacking trip, exhausted, but so happy — 27 miles and 8,000 feet of elevation gain over some of the most stunning terrain that Colorado has to offer — what more could you possibly want?
Four Pass Loop and Maroon Bells Snowmass Wilderness Tips
The Four Pass Loop is a popular spot and only getting more so! The 7 Principles of Leave No Trace are even more important in areas of high traffic, so if you aren't familiar with them, please take some time to look them over. Colorado is the first state to partner with Leave No Trace, and does so to keep its increasingly traveled wilderness areas clean. As a local, I cannot stress knowing, using, and educating the Leave No Trace mentality on the trail enough. If you see something that could be damaging to the environment, speak up!
A few key tips for traveling the Four Pass Loop (and general area):
Bear canisters or bags are required for this area.
Self-register permits are required. You can get one at the ranger station, the overnight parking lot, or on the trailhead on the way to Crater Lake.
The weather changes quickly in the Elk Mountains, so be prepared for anything. If the clouds are looking ominous or foul weather was predicted, especially in the afternoon, stay off the pass until it blows by. Summer storms are especially dangerous, and it can get serious very fast!
Pack out all toilet paper. We saw so much TP just off of the trail — which is a serious problem as this area gets more and more popular.
Have fun out there everyone!
Highlights
The quilt is extremely customizable. The online process lets you choose from a range of temperatures, tons of colors, and even different fabrics. And the colors in person are amazing!
You can cinch up the top and bottom, zip the foot area up and down, and use the different snaps and buttons to give it a fit and temperature that's perfect for any moment, like sleeping, laying around, sitting by a campfire, or walking around camp.
It's extremely soft, so warm, and really lightweight. Makes it easy to decide to take it.
Best For
This quilt is suited for those who like to go fast and light, but also value comfort and performance. So, basically any savvy backpacker and/or camper. It's the perfect combination of function and versatility. And, truthfully, I'll also use it casually for lounging around after a trip — it's so soft you just want to curl up in it!
Submit Your Own Trip Report!
We're looking for trail blazers from all walks of life to share their own Trip Reports. Help build the trail and gear resources of Backpackers.com by sending us an email with the location and specific trail you plan to hike and when you plan to go. We'll feature you as an ambassador of the outdoors on our site, and you'll help backpackers tackle the wild.
Connect Here: [email protected]
---
Backpackers.com Affiliate Policy: This Trip Report contains affiliate links, which help fund our website. When you click on the links to purchase the gear we get a commission, and this goes a long way to creating guides, gear reviews, and other excellent content.