Road trips are a part of nearly every great adventure. We often have to travel miles upon pavement before we can hit the trails we seek. In some instances, we may even spend more time in our cars en route to the great outdoors than we spend in the outdoors itself.
That's why it's important to outfit your car with the recovery and convenience items you need to make your road trip as comfortable, fun, and safe as possible. Day hikes, backpacking trips, and long vacations all tend to include some time out on the open road.
As such, we've rounded up a list of 10 of our favorite road trip essentials on Amazon. Road trip gear like this will ensure the highway miles are a memorable part of the journey. It's time to gear up and get ready for your next road trip, no matter how near or far you choose to roam.
---
A Jackery Power Station will keep all of your electronics juiced up for the entire ride. The Jackery Explorer 240 is an award-winning entry-level power station with a 240Wh lithium-ion battery. It only weighs a little over six pounds, but it can hold enough power to charge a phone dozens of times over or keep a portable refrigerator running for hours.
That said, Jackery has many power stations much larger than this if you want even more charge. In addition, the suite of available accessories, like solar panels and car outlet chargers, will help you keep any Jackery model at full charge for the length of your trip. With this, you can power almost every personal electronic accessory you would ever take in your car, from laptops to electric griddles and more.
---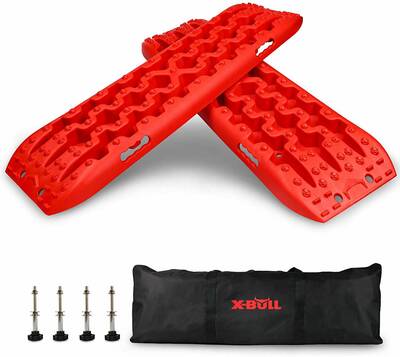 Recovery traction boards are one of the best self-recovery tools you can keep in your vehicle. The X-BULL Recovery Traction Tracks perform as well as other similar products that cost double or triple the price.
These traction boards are well known to seasoned off-road enthusiasts, but they're also worth keeping in any vehicle that heads off the pavement, even if only on occasion. If you've ever found yourself stuck in the snow, sand, gravel, or mud, you know how frustrating it can be. These traction boards will help you get out of sticky situations by providing grip when you need it most, plus they can act as a shovel if you happen to buy your wheels.
See the X-BULL Recovery Traction Boards
---
What's cooler than a cooler, a refrigerator! The Alpicool Portable Car Refrigerator will keep your drinks and snacks cool for far longer than a bucket full of ice will. You can plug this directly into your vehicle's 12-volt charging port or connect it to a separate portable power station when you're car's engine isn't running.
With an in-vehicle refrigerator, you're going to save money in the long run on drinks and food by loading up at the grocery store rather than the fast-food drive-thru. This refrigerator has multiple temperature settings, including a fast freeze mode, and has a built-in LED light to boot!
See the Alpicool Portable Car Refrigerator
---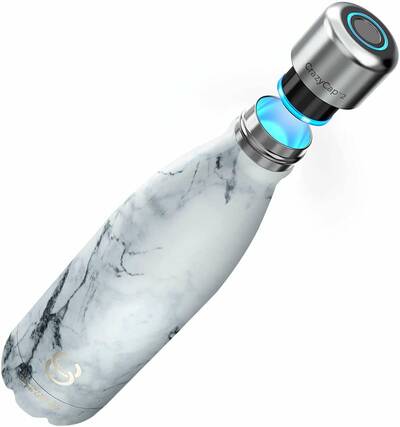 Inspired by the necessity for clean drinking water while traveling the world, CrazyCap was created to eliminate the risk of water-borne illnesses due to contamination. With a quick tap of the cap, you too can have purified drinking water wherever you roam.
The CrazyCap 2 is a self-cleaning water bottle that destroys bacteria, viruses, and pathogens with a deep-UV LED that's embedded in the rechargeable, screw-on cap. It's a sleek, lightweight water bottle that'll work as well on the trail as it would when touring a foreign country or strolling along your own neighborhood streets.
See the Crazy Cap 2 Purifying Water Bottle
---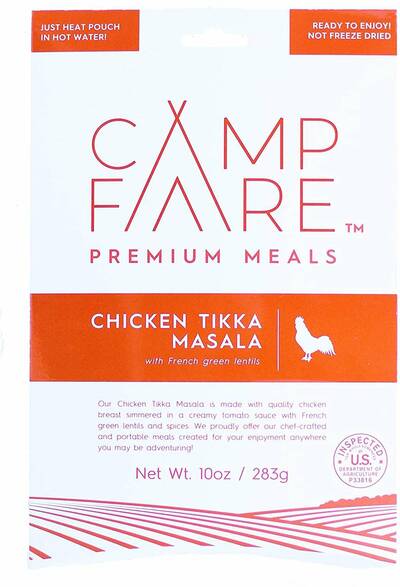 Sometimes a quick, easy-to-make meal is in order, and for those times, a CampFare Premium Meal outshines fast food and meal bars any day. In as little as two minutes, you can make yourself a hot dish of chicken tikka masala, beef burgundy, or wild Alaskan salmon. The choice is yours!
Unlike most hiking and backpacking food, these are NOT freeze-dried meals. Rather, they're fully-cooked and ready-to-eat meals that simply need to be warmed to your preference (if warm is even what you want). Consider this to be your gourmet road trip snack!
See the CampFare Ready to Eat Camping Meals
---
The sad truth is that many hikers tend to neglect their feet. But your feet are doing all the work—so you should outfit them with the best socks available to keep them cool, comfortable, and free of blisters.
The CloudLine Hiking Socks are made of ultra-fine merino wool, nylon, and spandex. This material composition provides the ultimate in fit and comfort while also retaining anti-odor and anti-bacterial properties that'll keep your feet free of stink—and that's something that your car companions will appreciate, especially during a long drive back to camp after a hard day hike.
See the CloudLine Hiking Socks
---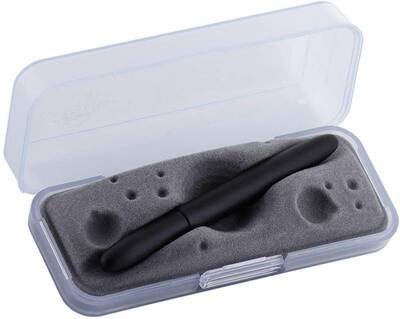 Writing equipment is not necessarily at the top of every adventurer's list, but it is certainly something to consider. Pens are needed for innumerable reasons, so why not have one that can write anywhere at any time? The Fischer Bullet Space Pen can write upside down, when temperatures dip well below freezing, underwater, and on wet surfaces.
Whether you need to mark a map or write a note in your trail journal, you'll be thankful to have a pen that is sure to work when you want it to work. No grocery store pen can compare. So keep a Fischer pen in your car at all times, and slip another into your backpack. It's one of those conveniences that you wouldn't know you would need until you desperately need it—but this is your heads up.
See the Fischer Bullet Space Pen
---
Is a kayak a necessity? No, absolutely not. Is having one at the ready an awesomely adventurous way to pack for a road trip? Oh yeah.
Oru Kayak makes several foldable kayaks in different sizes, but they all pack down to a manageable size that can be stowed away in the trunk of any vehicle. The revolutionary design makes water-bound recreation a possibility for virtually anyone at any time. There's no longer any need to lash down big, bulky kayaks on the top of your that reduce your mpg and add to the wind noise at highway speeds.
See the Oru Kayak Foldable Kayak
---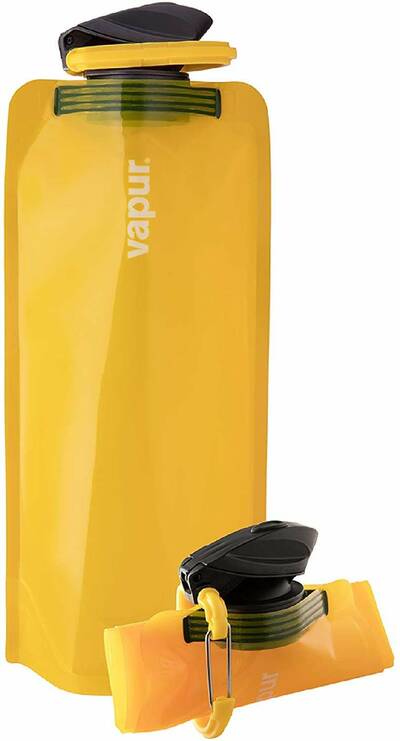 A collapsible water bottle like the Vapur Flexible Water Bottle is perfect for day hikes. The flexible nature of the bottle makes it easy to store in a day pack both when it is full and when it is empty. You can drink straight from it like any rigid water bottle or use it as a backup water bladder for extra water storage.
The Super Cap covers a small drinking spout for when you want to sip, and the cap can be unscrewed for when you want to chug from the wide-mouth opening—this also makes it easy to fill or clean the bottle. Plus, it's available in a veritable rainbow of colors. Go ahead and pick your favorite.
See the Vapur Flexible Water Bottle
---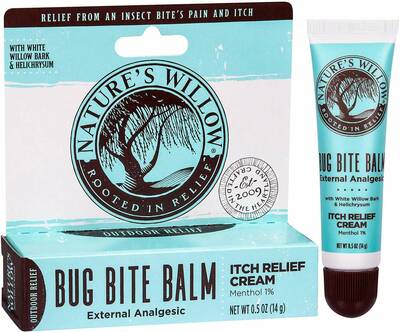 Natural bug bite relief in the palm of your hand, Nature's Willow Bug Bite Balm is the perfect solution to mosquito bites, bee stings, and other minor skin irritations. White willow bark is a natural pain reliever, and helichrysum is a natural anti-inflammatory. Paired with menthol, this combination offers instant soothing relief and a delightfully light aroma.
This ammonia-free insect pain and itch relief cream absorbs fast, so it won't leave behind an oily residue that'll rub off on your hiking clothes. While it'd be great if we could prevent every bite and sting from happening, that's not a reality. When you do get marked by a bug, you'll want to have this balm close at hand.
See the Nature's Willow Bug Bite Balm
---
Backpackers.com Affiliate Policy: This guide contains affiliate links, which help fund our website. When you click on the links to purchase the gear, we get a commission, and this goes a long way to creating guides, gear reviews, and other excellent content.