Backpackers.com — As winter begins to wane we wanted to provide another short guide to hot springs. This time, the steaming pools of Nevada.
Now, Nevada is known for many strange and disparate things. Gambling, sure — Las Vegas is intense and you are sure to find a plethora of hot tubs — but not hot springs, per say. There's rolling desert and a sort of vast, endless quality to Nevada that makes it a driving-through state, often for folks on the way to any of the neighboring states. Then there's Burning Man, a 65,000 citizen city/event (and counting) which occurs in the Black Rock Desert of Nevada for a week every year.
Nevada is also the state with the most natural occurring hot springs in the U.S. Not all of them are nice — in fact, a lot are too hot to dip in, too run down to enter, and flat out in the middle of nowhere. But due to the unique geological condition of the state hot water pours from many places, and some of them are epic.
5 Epic Hot Springs in Nevada
Bishop Creek Hot Springs (12 Mile or Metropolis)
The town of Wells, Nevada sits in Elko County. It's a relatively small place, just off Interstate 80 — surely between point A and B for many travelers. And about 12 miles from Wells is the Bishop Creek Hot Springs — also known as 12 mile, or Metropolis Hot Spring, so named for the ghost town of Metropolis that used to exist there.
The video below shows the general area, which is a bit barren. But the hot spring itself is very large and has a gravel bottom. The water is a nearly perfect 100 degrees, and you'll probably have it all to yourself. If you're passing through Wells, or on a specific hunt for hot springs, this is worth the detour. (Note: the video is from 2001 and conditions have likely altered in some way since then.)
The spring is also next to the Humboldt River, so there's a cold dip option for those that want some extra refreshment.
For full directions check out Travel Nevada's site. Know that a high clearance vehicle is necessary to access the site, as it's a deeply rutted two mile country road that leads to the spring. You could also park at the paved street's edge and hike in two miles.
Pott's Ranch Hot Spring
Update: It has come to our attention that Pott's Ranch Hot Spring is no long accessible to the public. It is now on private land, and those using the spring will be subject to trespassing laws. If you are in this area and want to visit a hot spring, Spencer Hot Springs are close by and still on public land.
This hot spring is another strange one, this time almost literally in the geographical center of Nevada. The only real issue is that it will almost definitely be out of your way. To reach Pott's Ranch Hot Spring you need to head to the Monitor Valley of Nevada, which means Highway 82 and a long valley with mountains on either side.
The biggest feature that would draw you to Pott's Ranch is not this hot spring, but Diana's Punchbowl. Also called the Devil's Cauldron, the Punchbowl is an exposed geothermal spring. It is odd, epic, and surprising to find a gaping hole with steaming waters in the middle of this land.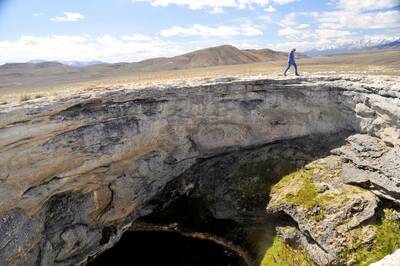 The Pott's Ranch Hot Spring is named after a ghost town, which haunts somewhere north of Diana's Punchbowl. The spring itself is pretty well maintained and engineered — people have created a small dam for the hot creek, and put adjustable tubing that flows into a large raised tub. You have to fill the tub upon arrival, but the flow is fast and won't take more than 10 minutes.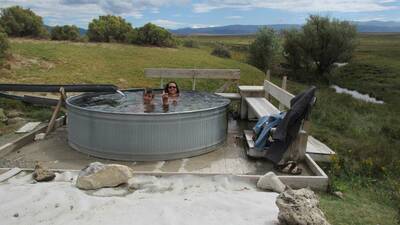 This is an ideal spot for locals and travelers, and while it can be "crowded" at times, this is a very remote location and it likely won't have too many passersby. To see both of these sites live, check out this video by Ben Starr, post-Burning Man.
Driving on Higway 82, head east on NF-138, where you'll pass a number of old crumbling ranch buildings. The tub is behind these. To get a good idea of this area, check out The Path Less Beaten.
Fish Lake Valley Hot Springs
The Fish Lake Valley Hot Springs are one of the more trafficked areas of Nevada — not the springs themselves, but the general connection of highways. In the shadow of the White Mountains, this hot spring isn't so far from Mammoth Lakes, Upper Yosemite, and Benton, a tiny town with a nice formal hot spring that we highlighted in our California feature.
The beauty of Fish Lake Valley Hot Springs is that it's a bit more ready-made than what we've listed above. There are fire pits and grills, free camping on site, and a large concrete pool in addition to two smaller warm ponds. These amenities are nice, but it also means more people frequent this hot spring.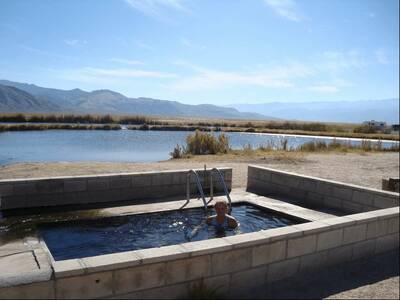 Still, it's entirely worth the trek. And those ponds in the background are warm water frolicking areas for those that want to cool off.
You can get here a couple of ways, but the most straightforward is to get to Highway 264 and head east around Willow Road. You can take Willow Road to a gravel road, or just one of the gravel paths that travels east. Because the place is frequently trafficked, you should see signs that point you in the general direction.
Arizona Hot Springs
The next two sites are in the Lake Mead National Recreaational Area, and technically this one is in Arizona. But you enter the trailhead via Nevada. The Arizona Hot Springs (similar to the Goldstrike Hot Springs below) are in a canyon about 45 minutes from downtown Las Vegas. You'll need to hike down into the canyon to get there, including climbing a tall ladder, but the effort is well worth it.
Note that due to this springs' proximity to Vegas, there are a lot of folk who know about it. Go mid-week if you can, and really only go in Fall, Winter, or Spring. Summer is extremely hot in this part of the world, and the National Park Service recommends staying away during this time.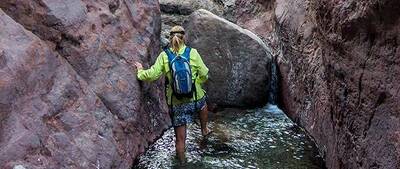 One other nice aspect of the Arizona Hot Springs is that it's official! As in, it's on the NPS site and everything. We'll quote the NPS here:
"The spring forms several pools that are located about 1,000 feet from the river, where the canyon walls are nearly vertical and about 6 to 9 feet apart. Directly at the source the spring discharges highly mineralized water at a rate of about 30 gallons per minute and a temperature of about 111 degrees Fahrenheit. The spring issues from fractures in Miocene-age volcanic rocks near the intersection of two faults."
Sounds nice, right? It is, but it's also a hike. Six miles round trip. This will take you four or five hours of hiking, and you'll want ample time to soak in the springs, so plan a full day.
You can get to the Arizona Hot Springs by driving to the Lake Mead Visitor Center, then driving down Highway 93 east for 8.4 miles. You'll pass the Hoover Dam. There will be a sign for the trailhead, and then just follow the trail.
Goldstrike Hot Springs
The Goldstrike Hot Springs are a short distance from the Arizona Hot Springs. This is a longer hike, though, and it requires a good deal of bouldering. The Goldstrike springs are spread out along the river with hot water dripping from canyon walls. There are less people here than the Arizona Hot Springs due to the difficult entry, meaning you might get some solo time in the springs.
This quirky video by Wonder Hussy takes you on the hike and to the springs — it's funny, and frank, and she's raunchy. There's also some language, so just be warned.
Bird and Hike has an incredibly detailed trip report of this hike and the springs you'll encounter. If you're planning on going, make sure to read it. You can also reach this trailhead via Highway 93 — you'll take the highway No. 2 exit (just past the Hoover Dam), jog right, then left, and finally come to a gravel road which leads to the trailhead.
Make sure to take a lot of water with you on both of these hikes, and bring lights in case you stay out past dark.
There you have it — 5 epic hot springs in Nevada. A little bit of everything for everyone, and hopefully some new activities to pursue if you're driving through or making a tourist destination out of the state. Please remember to leave no trace at all of these sites — many of them have trash and debris which is really unfortunate. Leave it nicer than you came, not just the same.
Enjoy the soak!
Images in order: Archeologist Diana's Punchbowl by BLM Nevada via Flickr; Weekend in Monitor Valley by Jeff Moser via Flickr; Fish Lake Hot Well screenshot courtesy Rambling Down the Road, All Rights Reserved; Arizona Hot Springs via NPS