Backpackers.com — We live in an age where backpacking has, for better or worse, become all about the gear. Not to say that gear is necessary or essential to enjoy the outdoors (at least, not in our opinion), but it certainly helps.
The evolution of gear, at its core, has been built for comfort. You rarely hear of people "surviving" more situations than they could in the 60's, and when you do hear of people doing such things they are in the most dangerous conditions imaginable. For the general user gear improvements is just about having a better and more comfortable time so that you can enjoy nature more.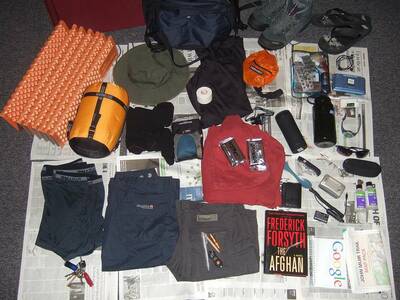 As such, we get a lot of questions about what the best gear is. That's a tricky issue that depends on a ton of factors. But the next question people often ask is more specific:
What backpacking gear is worth spending money on?
It's an often debated subject because with the arrival of newer, stronger, and lighter gear has come the inevitable and continual rise of cost. Add $10 for every ounce removed (or something like that), and you'll end up with a setup that weighs almost nothing, and potentially costs a month's paycheck.
Of course, nothing is permanent or set in stone. You can find plenty of light gear for cheap, and you can spend hundreds on gear that's heavier than rocks. The thing about backpacking gear is that everything comes down to preference, taste, budget, and necessity. Figuring out these things is the primary goal; then delve into the gear you need.
With that said, there are some key pieces of gear that might be worth dropping a few dollars on.
5 Pieces of Backpacking Gear Worth Spending Money On
Warning: None of these will shock and appall you. You won't find high-end toe-nail clippers on this list, or a $400 beanie that you absolutely must buy.
Instead, this will go into the five key items that are worth spending money on — it doesn't have to be a lot of money, just some money. Enough money that the thing will last, and will work when you need it to.
Here we go.
1. Shoes
Yes, shoes are No. 1 on the list for a reason. Any solid backpacking trip, even if it's just for an overnight, will entail walking. Whether it's 1.5 miles into your site or a 12-mile weekend excursion, you will be walking the whole way. With a backpack on your back. And the sun — or snow, or rain — beating down upon you.
Shoes are the thing that keeps your feet happy, and happy feet means an enjoyable walk. Feet are also the thing you will desperately need if you're in an emergency situation, and a decent pair of shoes is the best way to assure they will be in good shape should something happen.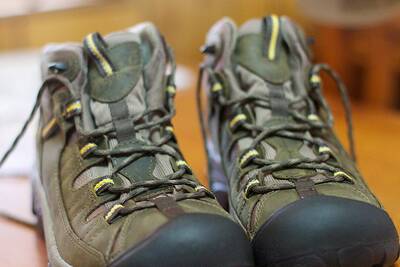 A couple scenarios:
Blisters
Yikes almighty, that blister hurts. For the most part these are more of a nuisance than a life-threating situation, but a bad blister or two can really mess up your feet. If you're going on a thru-hike blisters are inevitable, but for a weekend or week-long trip you can avoid them pretty well. Make sure your shoes are somewhat broken in so the stiffness doesn't rub up against you all the time.
Rolled or broken ankle
This situation is quite common, and can turn into an emergency if you're not careful. With 30-50 pounds on your back walking turns into a unique feat where you're side-stepping roots, rocks, and potentially fording streams. It's easy to roll or break an ankle if you're not careful, and having a solid pair of shoes will greatly decrease this chance.
Types of Shoes
The above example doesn't mean you have to get boots that weigh two pounds each. A lot of backpackers today use lightweight trail running shoes or low-profile hiking shoes with solid traction and waterproofing material.
The key here is to get something you are comfortable with, used to, or have some experience with. There are plenty of new technologies out there, like Vibram's FiveFingers or Luna Sandals. These can absolutely work for you if you want them to.
The key to getting the right shoes is testing them out before you buy. Go to an outdoor store with a shoe collection and spend an hour in there wearing different pairs, walking around, running, and jumping. Get a backpack, load it up with some weight, and walk around. Get the pair that feels comfortable, supportive, and practical.
Durability
As with every step on this list, durability is a major factor in why you'd pay more for a piece of backpacking gear. Your shoes will get used as often as you backpack, and the trail can be hard on them. You want something that will last so you're not watching the tread go flat, the seams fall apart, and the "waterproofing" fail completely.
That extra money won't always assure durability, but it often does. As always, read reviews and feel the thing for yourself, then make your decision.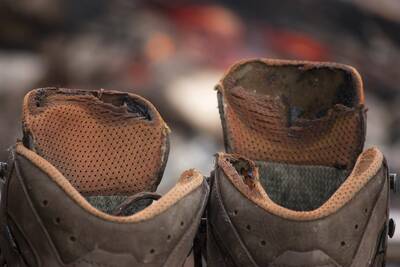 Price
In general you can spend $85-$150 on a pair of decent backpacking shoes at full retail price. Deals can be had at any time, significantly discounting that price. The issue with deals and shoes it that it's hard to know if something will fit on your particular foot unless you've tried it.
Go to a store and find the pair (or pairs) that work best for your foot. If you need the shoes for a trip tomorrow, just buy them. You'll thank yourself. For those of you that like to plan (and you really should plan), write down the exact model and size that works for you, then hunt for them, either actively or passively. Subscribe to some online backpacking retailers and wait to see if your shoe pops up. If not, get them when you need to.
A good pair of shoes will get you through anything, whether it's backpacking or the zombie apocalypse.
2. Socks
Perhaps it's a surprise we've put socks as No. 2 on the list, but it really shouldn't be. Socks come hand in hand with shoes (or foot in foot) and have a large part to play in the happiness of your feet. Maybe we're biased to feet-based problems in the wilderness, but the rationale still stands that if you can't walk in or out of the woods in relative comfort, you're going to have a rough time.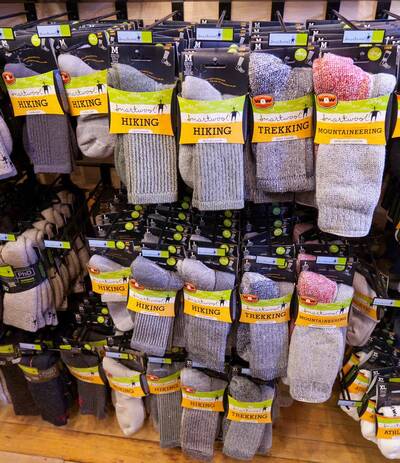 This is a much shorter step because socks are much less complicated and overall cheaper, even for the high-end versions. The main reason to get a nice pair of socks?
Blisters (again)
While shoes are a serious creator of blisters, socks are the most responsible. If your socks don't wick moisture correctly, fit your foot, or rub and bunch incessantly you're going to get blisters no matter how great your shoes are.
A great pair of socks will mitigate blisters at all times.
Durability
The common denominator for most backpacking gear is how long it will last. This is arguably more true with socks than anything. A pair of socks will take the brunt of your sweat, exertion, and trail stomping, so it will probably be the first item to tear and rip on you.
If you skimp on your sock selection this will happen much quicker. The last thing you want is holes in your socks when you're out in the woods due to those aforementioned blisters.
Type of Socks
Compared with other types of gear socks are pretty simple. Today you can get low-cut socks that don't go above the ankle, micro-boot versions that come up your shin, full boot socks that ride up high, and knee-lengths if you really want them.
This is more about personal preference than anything, and the type of the weather and terrain you'll be hiking through. As a general rule it's good to get a sock that goes above your shoe-line for backpacking because it will keep off pieces of the trail you don't want in your shoes. Also, the longer length means warmer feet at night.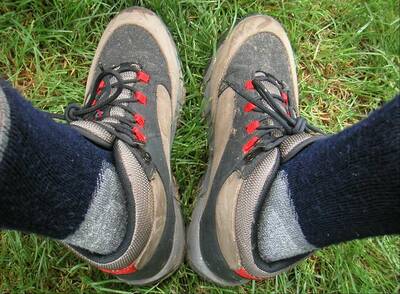 That said, a lot of backpackers like low-riding socks in hot weather. It's your call.
Price
Socks are really No. 2 on this list because it doesn't cost all that much to get a decent pair. When you buy casual clothes you probably grab a 6-pack of socks from a generic department store. That's fine. With backpacking socks you really only need one pair, two at the most. This means even if you spend $20-$25 on a pair of socks — which is the price range you're looking at — they will last you a very, very long time.
We try not to mention too many specific brands in this article, but in the sock realm it's hard not to. Darn Tough Socks are a cult favorite, and they are important because of their lifetime guarantee. If you really want to make that dollar go far, invest in a pricey pair of Darn Toughs and you'll never have to buy hiking socks again.
3. Sleeping Pad
Coming in at No. 3 is the sleeping pad. If your eyebrows are raised and you're shaking your head, let us explain. Some backpackers are in it for the grind, but many new entries into the field (who would use a list like this) want to figure out how to maintain a level of comfort in the wild.
The sleeping pad is the best way to do this. After a long day's hike, your freeze-dried dinner, and a cup of hot cocoa you will almost certainly want to collapse into bed and let your body rest. The days of doing this on a tiny, thin pad with no support are long gone. The technology has come a long way, and despite there being very expensive sleeping pads out there, there are also great options within a reasonable budget.
Some backpackers will see this as a luxury, but we don't. The closed-cell foam pads in the $20-$40 range do work — they provide a very thin layer for you to rest on, but nobody in their right mind would say they are extremely comfortable. You can get extreme comfort now, in the form of a sleeping pad, for an amount of money that won't entirely exhaust your bank account.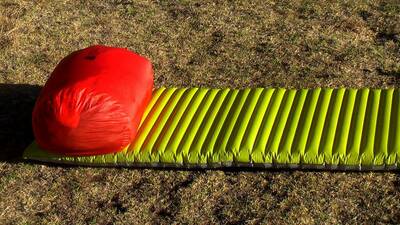 Types of Sleeping Pads
There are many types of pads these days, so your best bet is to go into the nearest outdoor store and ask to try a couple models. Blow them up, lay them out, kick off your shoes, and pretend like you're going to fall asleep.
There are models that have layers of air and closed-cell foam technology, models with just air, and plenty of hybrids. There are pads with rails to help sleepers that move a lot, straight and narrow pads for perfect back sleepers, and all levels of thickness and insulation.
Base your decision on what weather you will use the pad most in — if it's anything below 40 degrees opt for a pad with a decent R-value for insulation. Then base it on comfort. What feels best for you?
Durability
This, again, becomes the main reason to shell out some dough on a good sleeping pad. Once you've made the decision to not skimp, you'll want to get a pad that is durable.
Some people are extremely careful with their pads — never sitting on them, never placing them near rocky surfaces, and never bringing them out of the tent. Others are rougher and use a pad to its limits.
What you'll want in either case is a durable pad that can withstand the occasional sharp point. A pad that tears easily is a terrible thing. You don't want to do field repair out in the wilderness, and sometimes you just won't be able to find the hole. Likewise, you'll want a pad whose valve stays solid throughout your many years (yes, years!) of use.
Price
If you're going to shell out for a nice pad it can cost you upwards of $150. But you don't have to go to such lengths. Decent pads start around the $75 mark, with a couple from Kylmit getting even lower. The most reputable brands these days are Therm-a-Rest, Big Agnes, Sea to Summit, Exped, Klymit, and REI.
4. Backpack
We've come to an essential element of backpacking — the backpack. Used to haul everything you will be carrying out into the wilderness, it's not right to have a list of money-worthy gear and not include the thing that will be carrying everything you own for a few days.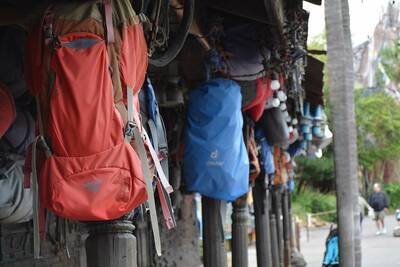 When it comes down to it backpacks are how we get out there, so having a decent one is a great idea. Here are a few specifics:
Weight and Comfort
We haven't talked too much about weight here, mostly because the majority of you are not ounce counters, which is perfectly fine. However, when it comes to a backpack there are two main factors to consider when thinking about weight.
The weight of the backpack.
The weight that you are carrying with the backpack.
The first is something that a lot of money won't necessarily buy — there are heavy backpacks that cost hundreds of dollars. It is an important factor to consider, though.
Once you've decided to spend some money on a backpack you should look at the relative weight of the backpack, how many liters it holds, and compare that with what you will actually need.
Many beginning backpackers like to grab 75-80 liter backpacks — this is rarely necessary. That's a huge pack, so unless you're going on a serious expedition in which days and days of food will be required, or getting the pack for the doubled purpose of adventure travel, you really don't need one that big.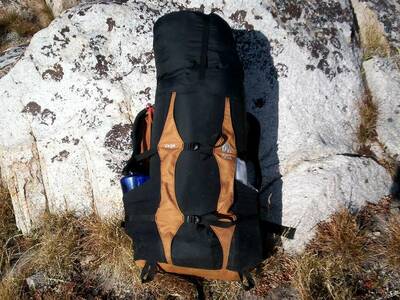 A pack in the 50-65 liter range is more appropriate, and will typically weigh less than an 80 liter monstrosity.
The second factor is how much weight you end up carrying with the backpack. This includes the sleeping pad mentioned above, the tent, and a huge host of other items not covered in this article. The goal of a backpacker is often to have gear that:
Allows them to survive the wilderness.
Provides some measure of comfort while surviving.
Is durable enough to sustain many uses.
The gear you'll need to accomplish those things will end up weighing between 20-50 lbs. That's a huge range. Consider the kind of backpacker you want to be — lightweight and bare bones, moderate and medium, or plush and heavy. It's all up to you, but you'll want to buy a backpack that is made for your experience.
Your backpack size, strength, and comfort will depend on how much weight you have, and what the pack is capable of carrying.
Comfort
The other major factor in shelling out decent money for a backpack is just how comfortable the hike will be. Like shoes, this thing can either dig into you or rest effortlessly, and that extra money will help it be the latter.
You'll find shoulder straps and hip belts with padding are the two biggest factors of having a backpack on your back, so go for the pack that feels good in these two areas with some weight.
Durability
Right next to comfort is durability, and for a backpack this is huge. You'll want your backpack to stand up to weather, rough usage, and many hours on your back. This means those padded hip belts and straps need to last for years, the zippers need to stay strong and not fall apart on you, and the fabric needs to stay rip-free.
An excellent backpack is one that looks the same, year after year, despite being in the wilderness. The extra money you spend on a backpack will ensure this is a reality.
Price
This is probably the toughest section to sum up because backpacks really do vary in price.
If you're feeling on the low end of the budget, start around $100. For this price you can get a decent backpack from a second-tier manufacturer, like Deuter or Kelty, that will provide years of use. It won't be as lightweight, stylized, or fully-featured as other packs, but if it feels good on your back go for it.
However, we recommend dropping another $50-$100 on the pack, which would put you in the $200 realm. For this amount you can get an excellent pack that will last years of abuse. You will have options from big brand names like Osprey and Gregory, smaller outfitters like Gossamer Gear and ULA, and essentially be able to dial in the exact kind of pack for your needs. It'll last you years, too.
Before You Buy
With the above in mind, we're going to recommend something more unique for backpack purchases. Before you shell out the money on a pack, go bargain shopping. Hit up thrift stores, flea markets, and Craigslist to find a backpack that has similar attributes to one you might eventually buy.
If you're new to backpacking this is important because the reality is, you don't know what you're going to want or like on the trail. Shoes, socks, and sleeping pads are all items that are worth dropping the dough right away because they are all pretty easy to use. Backpacks are different. Go on a 1-2 overnight trip with your cheap backpack to see what you like and what you don't, how much you'll be carrying, and if you can cut out any extra features you won't need.
This way when you do decide to drop the dollars you'll end up with the pack that's best for you.
5. Tent
The final piece of gear in this list is the tent. We debated putting a sleeping bag here, or a puffy jacket, or any number of necessary items for backcountry trips, but the reality is that shelter is pretty important.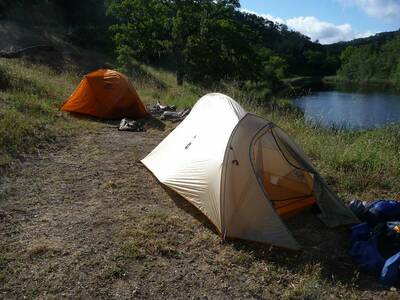 Weight
The main benefit of putting up good money for a tent will be the weight savings. Even those of you who "don't care" about weight will seriously notice the difference between an $80 Costco tent and a $150 backpacking tent. You really don't want to haul a big brick of poles, fabric, and unruly stakes into the wilderness just to find out it doesn't work all that well.
Your back will thank you for upgrading.
Design and Durability
Getting a well-designed tent will cost a little extra, but those savings will result in so many positives.
Lightweight poles will collapse easier, stay strong longer, not fail on you in high winds, and usually clip into the tent in an easy and efficient manner so you don't have to spend precious minutes getting that shelter up.
Solid mesh will keep out bugs. This is hugely important for backpackers (yes, you will encounter bugs). Cheaper tents don't have "no-see-um" mesh quality, which means the smallest of bugs will get in your tent and annoy you. Worse, those cheaper tents will have weak mesh that rips easily, and once there's a rip in your mesh those mosquitos will fly right in.
A working rainfly will do what it's supposed to — keep out rain. Granted, even with high-end tents you can get a poorly designed rainfly. This is a factor you'll need to research, but on the lower-end tents you will find that the rain protection just doesn't cut it. This eats into comfort and, in extreme circumstances, survivability.
Temperature control on higher-end tents is typically done right. Most backpacking experiences range from high summer heat to freezing clear nights, and you'll want a tent that can handle both. In a cheap tent you'll wake up to stifling heat and find yourself freezing in the middle of the night. Sure, temperature also has to do with your clothes, sleeping bag, and sleeping pad, but you'd be surprised how much a nice tent can help to regulate temperature.
Price
The good news about tents is that there is a really, really huge range of prices. You can get a solid tent for around $150 at full retail value, and less than that if you find a deal. This is the low-end of a tent worth buying. They go all the way up into the $400-$500 range — so if you want the lightest, most hyped tent around, feel free to spend your dollars. For the most part what you pay ends up equating to some beneficial factor, so it's important to define what matters to you.
Unlike backpacks, purchasing a used or really cheap tent to test out your preferences isn't as applicable. As long as you know how much room you'll need — we don't recommend anything larger than a 3-person tent, as it will be unwieldy to backpack no matter what — you can pick a tent that will work.
The other aspect of tents is that there are classic models that have great reputations, and new-fangled tents that come along every year. If you're going to buy your first tent, go with a well-reviewed tent. You can count on other people to have experienced the tent in all weather, and if it holds up, it holds up.
Ready to Get Some Gear?
This has been a very long primer on the backpacking gear worth spending money on. We believe the five types of gear listed above are what a beginning backpacker should focus on when it comes to shelling out  a little more money — the rest is important, but can be spared some expense.
Images in order: By wetwebwork from london, U.K – Camping Equipment Uploaded by Partyzan_XXI, CC BY-SA 2.0; New Hoofers by Alan Levine via Flickr; Damaged Shoes by Kitty Terwolbeck via Flickr; What to wear by Andypiper via Flickr; Hiking socks by erge via Pixabay; Pillow and Sleeping Bag by Rick McCharles via Flickr; Backpacks Hanging courtesy Hodgepro and Pixabay; Locked and Loaded Backpack by Rick McCharles via Flickr; Big Agnes Fly Creek UL2 by Matt Zimmerman via Flickr