To celebrate the beauty of nature and to share their passion for outdoor adventure, two of the world's leading brands have joined forces to create a collection of high-performance outdoor wear.
The 16-piece collection fuses stunning nature photography with high-performance materials and fabrics, featuring products that are designed to be both functional and stylish in the outdoors.
Introducing the Adidas Terrex x National Geographic Hiking Collection
Adidas TERREX and National Geographic have launched a multi-seasonal partnership to create high-performance outdoor apparel.
A common love of nature and the fundamental need for people to feel connected to their environment serve as the cornerstone of this collaboration.
Nadia Svensson, Senior Product Director said that "Nature is special beyond words. It allows us to become more inspired, more present, more conscious, more human."
"When in these places we are compelled to capture it through photography, to try and evoke the emotions of a place when we can't physically be there," she said.
This collaboration celebrates nature through beautiful photographs — abstract colorful ecosystems told from above — revealing incredible stories about the Earth. It is born from, and built for, exploration of the natural world around us."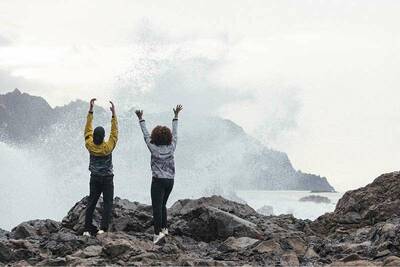 Meanwhile, Yulia Boyle, VP of International Media and Licensing for National Geographic said that storytellers and photographers spend so much time in the field, often braving the elements, to bring to life the beauty of our world and share its wonder with audiences around the globe.
"We hope that people will feel inspired by these beautiful and practical collections and be encouraged to get outside in similar ways," she said.
The inaugural collection was created to honor the significance of photography in the outdoor sports culture, as well-equipped hikers use their capacity to explore new areas and a sense of adventure to create stunning materials.
To celebrate this partnership, designers at Adidas TERREX searched through the National Geographic photographic archives to find amazing stills of some of the most isolated yet stirring locales on earth, which they then incorporated in one-of-a-kind all-over prints for a daring new hiking line.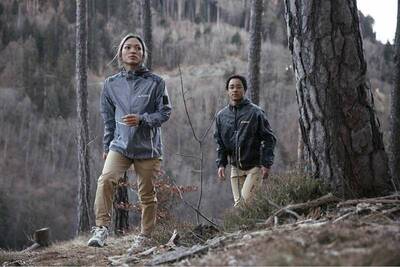 The yellow National Geographic logo serves as the unifying factor for all the components.
A 120-mile-long, north-to-south stretch of sandstone in Comb Ridge, Utah, that defines the state's red rock landscape is among the locations celebrated in the collection.
Other locations include textured portraits of shale, taken on the coast of Norway's northernmost county, highlighting the sedimentary rock's distinctive formations.
The 16-piece collection includes women's, men's, and gender-neutral offerings – all built to equip the wearer in multi-terrain environments.
A hero part of the collection is the RAIN.RDY Jacket; a 2.5L waterproof and seam-sealed outer garment built to facilitate epic adventures. The men's jacket features a bold print of the shell formations in the Porsanger Peninsula, Norway, while the women's is inspired by stills of White Sands National Park in New Mexico. It features a bold new logo design that alternates between TERREX and National Geographic from different perspectives.
A bold long-sleeve shirt combines a stylish drop hem and lightweight fit for easy movement on the go. It is finished with the bold National Geographic yellow icon and reflective details.
The TERREX Swift R3 GORE-TEX hiking shoes offer the peak combination of lightweight construction and cushioning as seen in trail running shoes with the stability of a hiking boot. Finished in a print inspired by a stunning aerial shot of Earth, the hiking shoes come with a GORE-TEX lining and membrane seal so water is kept out, and a Continental  Rubber outsole for optimal grip in wet or dry conditions.
The WIND.RDY: GET SHELTERED Jacket, with wind-resistant technology and a water-repellent ripstop fabric, allows explorers to feel protected and confident in many weather conditions.


The Adidas TERREX and National Geographic Collection is available via adidas.com/us/national_geographic, select Adidas and Adidas TERREX stores, and partner retailers worldwide.
---
Images courtesy of Adidas Terrex
Backpackers.com Affiliate Policy: This article may contain affiliate links, which help fund our website. When you click on the links to purchase the gear we get a commission, and this goes a long way to creating guides, gear reviews, and other excellent content.