Airstream and REI Co-op have launched the new REI Co-op Special Edition Basecamp 20X travel trailer, expanding their collaboration for outdoor enthusiasts.
With a larger 20-foot model to complement the successful 16-foot design, these trailers cater to adventurous travelers looking to maximize outdoor time.
Built on Airstream's popular floor plan, the special edition Basecamp offers more space, eco-friendly materials, robust off-grid features, and clever storage design.
REI Members received an email preview, and details are available at rei.com/airstream. Both models are sold through Airstream dealerships.
Bob Wheeler, Airstream's President and CEO, emphasized the partnership's growth amid increased outdoor recreation and conservation efforts.
The REI Co-op Special Edition Basecamp 20X boasts a larger chassis and convertible front dinette, enhancing shared living space.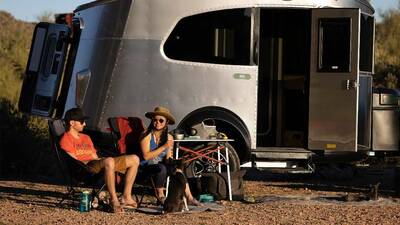 It retains the popular rear hatch door for cargo access and views and includes larger holding tanks for longer trips.
Sustainability is key, using recycled materials, a recycled paper sink cover, and lightweight, sustainable wood cabinetry.
The Basecamp 20X features a recirculating water heater and UV-led water purification, with options like a solar package and composting toilet.
Isabelle Portilla, vice president of REI Co-op brands, highlighted the resonance of this offering with adventurers seeking iconic trailers for various experiences.
Designed for unconventional journeys, the Basecamp 20X includes the X-Package for off-road travel, an L-track storage system, a built-in floor cooler, and a comprehensive REI Co-op product kit.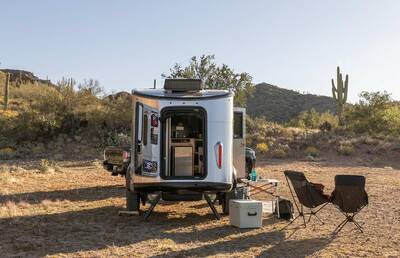 Weighing 3,500 pounds, the REI Co-op Special Edition Basecamp 20X is easily towable by midsize SUVs and light trucks, meeting the demand for lightweight, versatile travel trailers.
For full details, visit www.airstream.com/travel-trailers/.
The Airstream REI Co-op Special Edition Basecamp 20X Travel Trailer invites outdoor enthusiasts to embrace nature and embark on remarkable adventures.
---
Images courtesy of Airstream and REI Co-op
Backpackers.com Affiliate Policy: This article may contain affiliate links, which help fund our website. When you click on the links to purchase the gear we get a commission, and this goes a long way to creating guides, gear reviews, and other excellent content.