It is time to get outside and explore.
That's why AllTrails, your ultimate digital trail expert and your amazing companion to the outdoors, has unveiled a new brand identity.
AllTrails for All of Us
This new identity, The Outside in All of Us, invites everyone, regardless of expertise or background, to get outside.
The company believes that the outdoors is not something we should seek but rather is a part of each and every one of us. This is the core of AllTrails' refreshed brand identity.
Design components express the splendor and variety of outdoor activities, communities, and landscapes throughout the world.
Carly Smith, CMO of AllTrails, noted that the brand is building a movement to redefine the outdoors, remove hurdles in the path, and help everyone find a sense of belonging in the outdoors.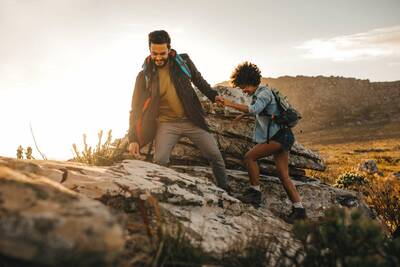 "The time has come to reflect this in our brand," said Carly. "We're re-introducing ourselves with an inviting brand identity – a fresh look and feel and a new brand for our premium offering."
As part of the brand's refresh, AllTrails is launching:
A refreshed visual identity, including a new symbol, wordmark, typography, graphic elements, art direction, and color palette
New tone and messaging, invoking the persona of your adventurous friend; inspiring, motivating, adventurous, trustworthy, and never intimidating
Rebranded premium offering "AllTrails Pro" to "AllTrails+" making it clear that AllTrails+ isn't about who scales the highest mountains – it's about giving everyone extra tools to save time, be prepared, and do more outdoors.
The brand evolution is now live in the AllTrails app and at www.alltrails.com.
Meanwhile, AllTrails has also expanded its Community feature, creating a place for the company's 50 million members to interact and find inspiration from one another.
With a user's network of connections, the Community feature enables users to explore and find even more trails and outdoor areas.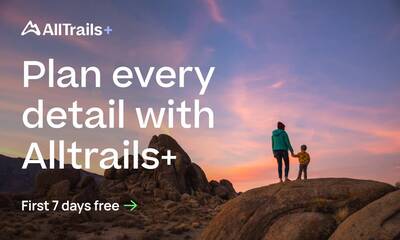 Members get free access to all of these Community features today.
With trail coverage throughout every nation and all seven continents, the AllTrails app is the most recognized digital brand and market leader in the outdoor activity sector.
Currently, AllTrails is home to:
50 million trail-goers

400K+ curated trails

750+ million logged miles
And those numbers are only expected to grow in both size and diversity.
Get Started with AllTrails+
Do more outdoors with AllTrails+. With offline maps, wrong-turn alerts, and extra safety features, your annual membership makes the great outdoors even greater.
Start your AllTrail+ free trial today.
---
Images and content courtesy of AllTrails
Backpackers.com Affiliate Policy: This article may contain affiliate links, which help fund our website. When you click on the links to purchase the gear we get a commission, and this goes a long way to creating guides, gear reviews, and other excellent content.