Three-time Olympic gold medalist Shaun White has extended his signature brand, Whitespace, by introducing a line of women's performance wear catering to riders of all disciplines.
Collaborating with outdoor retailer Backcountry, Whitespace initially emerged as a limited-edition snowboard two years ago and has since grown into a diverse range of snowboards, goggles, and high-end men's and women's attire suitable for both mountain and urban environments.
The women's collection, Whitespace, is the brainchild of White's partnership with an all-female team, prioritizing style and function.
Designed for women who seek comfort during their rides, it offers the Graphene Midweight Base Layer Mock Neck ($89.00 USD) and Base Graphene Layer Bottom ($99.00 USD) to deliver warmth and breathability for peak performance.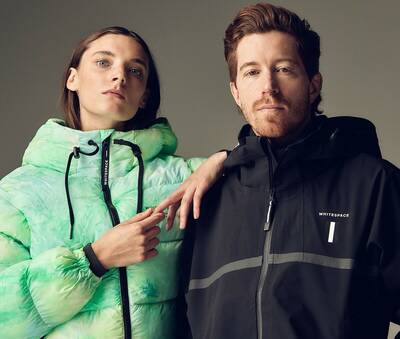 Additionally, the High Waisted 3L Soft Shell Riding Bib ($349.00 USD) provides a PFC-free water-repellent DWR, sealed with Bemis 3L taping and YKK vislon zippers.
The Insulated Riding Jacket ($379.00 USD) complements the bib, featuring a dual-zone thermal liner and a thermal cell phone pocket.
Melanie Cox, CEO of Backcountry, notes that the expansion of Whitespace into women's wear is a natural progression, reflecting the growing female participation in snowboarding.
The women's collection combines technical innovation with street-and-snow aesthetics.
Graphene Balaclava
Cropped Puffer Jacket – Women's
The men's Whitespace collection also receives new additions, including the Graphene Riding Hoodie ($99.00) and Tech Harrington Jacket ($199.00).
As Whitespace expands its product offerings, the brand remains dedicated to enhancing the experience of all riders, on and off the mountain.
Whitespace's new collection is now available for purchase on Backcountry's website.
---
Images courtesy of Backcountry
Backpackers.com Affiliate Policy: This article may contain affiliate links, which help fund our website. When you click on the links to purchase the gear we get a commission, and this goes a long way to creating guides, gear reviews, and other excellent content.