The Backcountry Semi Annual Sale continues to provide heavy discounts on top-shelf products. Below we highlight some of our favorite hiking footwear, all of which come with a price cut!
Most of these deals are due to slightly new models (or colors) hitting the shelves in a few months. This is the best opportunity all year to get a brand new hiking boot, shoe, or trail runner for a fraction of the cost.
And, if you haven't seen our hand-picked deals for tents, sleeping bags, and sleeping pads, make sure to check it out.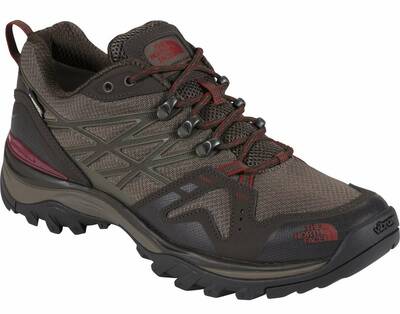 The North Face Hedgehog Fastpack GTX hiking shoe has a long name for a surprisingly simple, effective piece of footwear. It's not the most expensive or fanciest hiking shoe on the market, but it has solid features and all-around durability to make it an easy purchase, year after year.
The shoes (depending on size) are about two pounds total, which is quite light for a robust hiking shoe. They have a Gore-Tex waterproof liner, which allows your feet to breathe while shedding water or an inopportune river drunk. The midsoles are made of EVA, which are known for softer, more cushioned comfort, but they have a TPU shank for trekking against rough terrain. The sole is made with Vibram XS Trek, high quality rubber with an excellent all-around lug pattern.
The Hedgehogs have a generally medium fit profile, work for most people, and are seriously discounted.
See the Men's North Face Hedgehog Fastpack GTX
See the Womens's North Face Hedgehog Fastpack GTX
---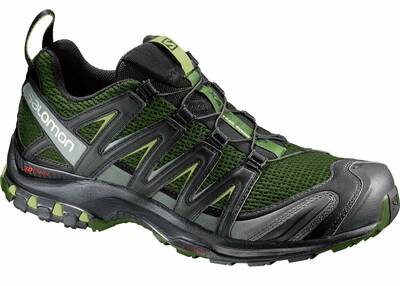 The Salomon XA Pro 3D is one of the premier trail running shoes on the market. And, unlike most trail runners, it's actually pretty beefy, making it the perfect "backpacking" shoe for people who prefer trail runners.
Salomon puts a lot of excellent engineering into their footwear, and the XA Pro 3D uses most of it. Specifically, the 3D advanced chassis-system lets your foot sit firmly and comfortably when moving fast. The Contragrip outsole is one of the grippiest soles on the market, and the Quickfit lacing requires no tying of laces. This is coupled with breathable mesh, a shock-absorbing dual-density EVA midsole, and a durable toe rand for a trail runner.
The Salomon XA Pro 3D is expensive, so this discount is much needed. Salomon typically runs narrow. Read our full Review to learn more.
See the Men's Salomon XA Pro 3D
---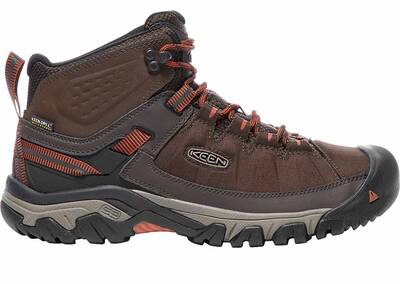 If you've always wanted a rugged backpacking boot that will last you years, the KEEN Targhee EXP Mid Waterproof may be the one. The "EXP" in the name stands for Expedition, which means you can take this boot to the edges of the earth (assuming those edges aren't just ocean).
The Targhee is one of the most popular models from KEEN, and this boot pulls out all the bells and whistles. It is waterproof, it uses a durable leather throughout the boot, it has a mesh lining in key places to allow some breathability, and has a removable dual-density EVA footbed in addition to the EVA midsole. This provides maximum comfort and is meant for inordinately long treks.
Like all rugged, over-the-top boots these things are heavy.  Make sure you need them for your trek, but if you do, they will get the job done without issue. A decent discount, but only available for certain sizes (and running out fast!). KEEN tends to run wide in the forefoot.
See the Men's KEEN Targhee Exp Mid Waterproof Boot
---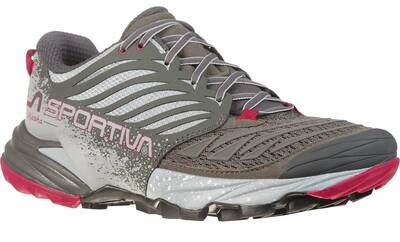 La Sportiva makes a mean shoe, and the Akasha Trail Running line is meant for moving fast and light in warm climates. If you're a trail runner who likes breathable mesh, this may be the shoe for you.
The Akasha series uses a dual-injection EVA midsole for very cushioned, responsive support. The sole is La Sportiva's FrXion XT, plus its Impact Brake System, which are fancy terms for lots of traction and excellent stability. The women's Akasha uses the Tempo last, which was specifically designed for women's feet, and allows the toes to splay more naturally when striking the ground.
The Women's La Sportiva Akasha trail runners are on serious discount, and work well for average-shaped feet on canyon terrain. The Men's are not as discounted (only 21% off), but still take a good chunk off the price.
See the Women's La Sportiva Akasha
See the Men's La Sportiva Akasha
---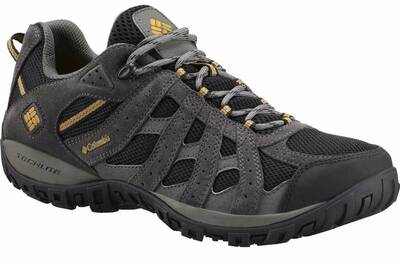 The Columbia Redmond Waterproof hiking shoe is made to tackle your basic hikes. It's got a mix of suede leather and breathable mesh in the upper, providing durability in rugged terrain and plenty of sweat-release when you're overheated. It's made waterproof with Columbia's Omni-Tech, which keeps water far from your foot.
If you're looking for a shoe that won't break the bank at full price — and is quite affordable during this sale — the Columbia Redmond is a great choice. It fits fairly standard, and will work for just about any activity.
See the Men's Columbia Redmond Waterproof Hiking Shoe
---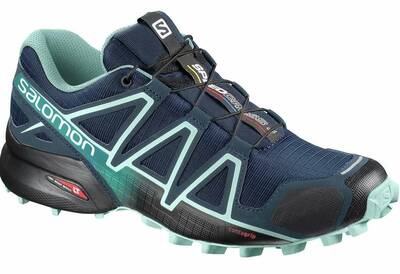 The Salomon Speedcross 4 trail runners are fast as lightning. If lightning, could run, we mean. These shoes were designed to move quickly across a huge variety of terrain, and are excellent for devouring miles.
The Speecross 4 also uses a heaping of Salomon tech, including the easily-adjustable Quickfit lacing, a wet-traction-specific Contragrip outsole, and a dual-density EVA midsole for shock absorption. The Speedcross 4 are fairly light, just nine ounces per shoe, and are built for strong feet.
We reviewed and loved the Speedcross 4. It's on discount because a new version is coming out, but the shoe remains excellent. And remember, Salomon typically runs narrow.
See the Women's Salomon Speedcross 4
See the Men's Salomon Speedcross 4
---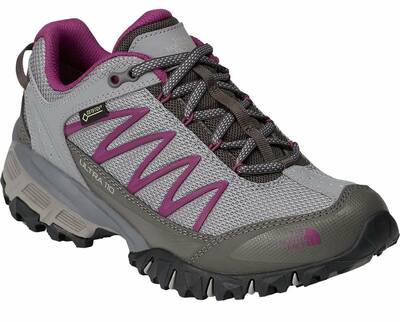 The North Face makes so much gear it's hard to keep track, but the Ultra 110 GTX hiking shoe is one of the best on the market. It's a great mix of hiking and trail running, providing that high level of support and durability you want in a hiker, but a fast and light feel you want in a runner.
The North Face Ultra 110 GTX uses a Gore-Tex membrane to fend off water, a single-density EVA midsole for decent cushion with a bit more responsiveness, and a midsole shank for difficult terrain.
These are simply high-end, all-around hiking shoes that remain lightweight — less than a pound per shoe. The women's are seriously discounted, the men's just 29% off.
See the Women's The North Face Ultra 110 GTX
See the Men's The North Face Ultra 110 GTX
---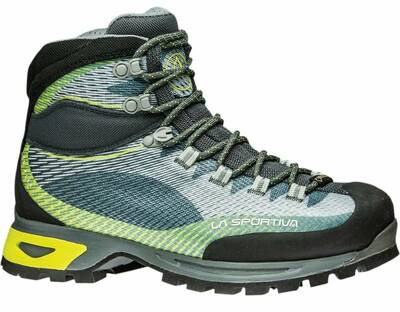 The La Sportiva Trango TRK GTX boots are the synthetic, lightweight answer to the typical bulky hiking boots. Made for serious treks, the Trango really shines in high-summer alpine environments, where you need something very rugged, but also lightweight and breathable.
La Sportiva uses Gore-Tex's impressive Performance Comfort membrane for waterproofing, a very grippy Vibram Mulaz sole, and a dual-density EVA midsole for maximum comfort. There's a lot of mesh overlayed with TPU on the upper of the boot, which fends off snags well, but keeps the breathability top notch. The boots are just over a pound, which is very lightweight for such a serious trekker.
The La Sportiva Trango TRK GTX boots are heavily discounted for the women's model, which is great because they're not cheap. The men's model is less discounted — 20% — and has fewer sizes to choose from.
See the Women's La Sportiva Trango TRK GTX
See the Men's La Sportiva Trango TRK GTX
---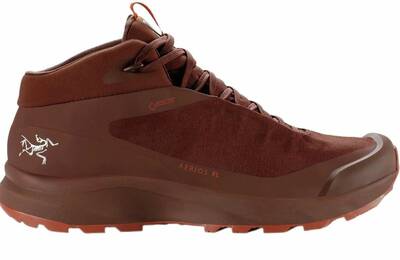 Arc'teryx may not be on your radar for footwear, but they should be. The newly-released Aerios line is a distinctly-styled, impressively-constructed hiking shoe, and the Aerios FL GTX Mid Hiking Boot combines outstanding materials with unique design for a versatile hiker.
The Aerios FL GTX is lighter than most mid hiking boots at roughly 12 ounces per shoe, yet has serious protection with the Cordura mesh upper and support through the ankle. It uses Gore Invisible Fit waterproofing — a newer tech — which keeps water out but focuses on fit and flexibility so your feet can move freely. The Vibram MegaGrip outsole is one of the best industry soles around, and the combination of compressed EVA midsole and solid TPU shank provide comfort when hiking hard.
The Arc'teryx Aerios FL GTX Mid hiking boot is seriously discounted for women (35%), and somewhat discounted for men (19%).
See the Women's Arc'teryx Aerios FL GTX
See the Men's Arc'teryx Aerios FL GTX
---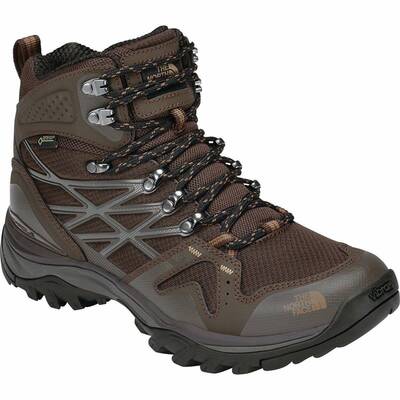 The North Face Hedgehog Fastpack was highlighted as a "shoe" above, and as a full hiking boot here. Much of the technology is the same, except that this is a fully featured hiking boot meant to carry heavy loads, trek for hundreds (if not thousands) of miles, and provide impressive support for your soles and ankles.
The Hedgehog Fastpack boot uses full grain leather in the upper, with a generous amount of mesh for breathability. It uses a classic Gore-Tex membrane for waterproofing, has an EVA midsole for comfort, and a Vibram rubber outsole for grip.
The Hedgehog Fastpack Mid GTX is only discounted for men, and it's already a fairly affordable name brand hiking boot. The extra discount makes it a no-brainer if you're seeking a well-rounded boot that fits most feet.
See the Men's Hedgehog Fastpack Mid GTX
---
This article is sponsored by Backcountry.com. All images courtesy Backcountry. 
Backpackers.com Affiliate Policy: This guide contains affiliate links, which help fund our website. When you click on the links to purchase the gear we get a commission, and this goes a long way to creating guides, gear reviews, and other excellent content.