There's no better time to make that outdoor person in your life beyond stoked. REI is the place to do this, and an REI Co-Op product is an affordable option that refuses to compromise quality, longevity, or usefulness.
We scoured the depths of REI's catalogue and have picked our favorites. From budget hats to world-class tents, these are the best of the best REI Co-Op products of 2019. Ordered by price, there is something for everyone on this list, from ultralight backpackers to casual city dwellers.
REI Co-Op on a Budget
REI makes reasonably priced gear and clothes for the outdoor industry, but even they can be expensive. These products are truly budget items, some of them are on sale, and all of them are surprisingly handy for any outdoor enthusiast.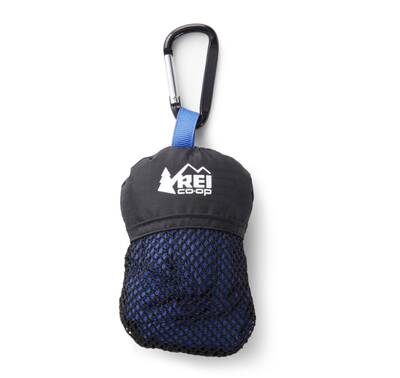 The REI Multi Towel Mini is a cute gift, and perhaps the perfect gift for anybody who occasionally sets foot in a campsite. It's a 16-inch square of quick-dry polyester and nylon that weighs about half an ounce, packs down into its included carrying case, and works to clean faces, dishes, or hands.
A reusable camp towel is invaluable, and we see giant stacks of paper towels in campsites way too often. Ditch the waste with a few of these, and make sure you've always got a hand towel on hand. (We had to!)
See REI Multi Towel Mini
---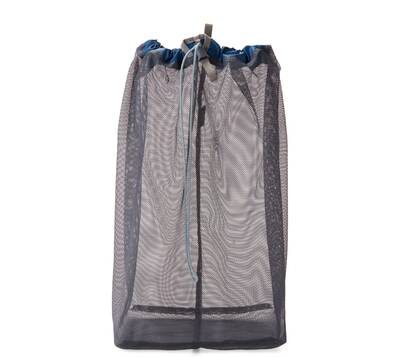 If another low-cost gift is on your bucket list, the REI Mesh Stuff Sack is a basic yet incredibly useful product for literally any outdoors person. A stuff sack typically takes one or more items and compresses them, or makes them easily accessible. A mesh stuff sack means you can see what's inside the bag at all times, and it allows whatever's inside to dry out easily.
REI's Mesh Stuff Sack comes in four sizes — three, five, eight, and 12 liters — has a simple drawcord closure, and that's about it. These work wonders for storing a bunch of loose camp cookware, lighting (like headlamps, lanterns, and batteries), or even a grouped type of clothing, like underwear and socks.
For anyone who complains of having too much crap around camp or in their backpack, the REI Mesh Stuff Sack may be the ultimate (cheap) solution.
See REI Mesh Stuff Sack
---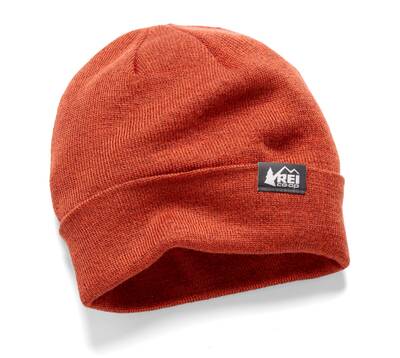 A basic beanie will always make a good gift. A colorful, understated, warm, stretchy beanie for under $15 will make a fantastic gift. REI's Lightweight Logo Beanie uses a combination of acrylic and wool (70/30 split, respectively) to create itch-free warmth for the noggin. The colors are attractive, the fit is casual slope-style, and the whole thing can be worn day after day.
If you're not a fan of the logo (we get it), just turn the beanie around. Now you've got a basic, no-logo beanie.
The Lightweight Logo Beanie is 30% off during REI's last sale of the year, making this a steal of a gift.
See REI Lightweight Logo Beanie
---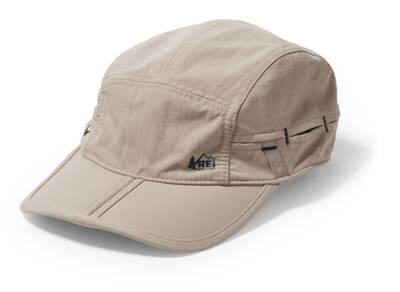 Continuing the trend of solid, relatively inexpensive headwear, REI's Screeline Cap is a little nugget you may not have known about. The Screeline is a mix of hipster style and outdoor performance.
There's an adjustment strap on the back to loosen or tighten the fit, the brim folds easily against itself (and out again) when packing, and there's a sunglass loop that secures your shades while not in use. If that last feature doesn't scream dorky-cool, we don't know what does.
The whole thing has a UPF 30 mesh liner and it floats! The brim is deep for plenty of shade, and the Cap can be washed easily.
Classic trucker hats are expensive these days — the REI Screeline Cap seriously ups the performance. It's on deep discount until the end of the year — 52% off — and therefore will set out rather quickly.
See REI Screeline Cap
---
Mid-Range REI Co-Op Products
The middle ranged gift is the sweet spot at REI. These products range from $50-$80 when full priced, but many are on sale until December 24th. They are well made, come with that 1-year return policy if you don't like the style or fit (it's a lot of clothing), and are excellent models in their category.
We are continually impressed at the level of quality and innovation REI offers, especially for the price, and the mid-range section displays that best.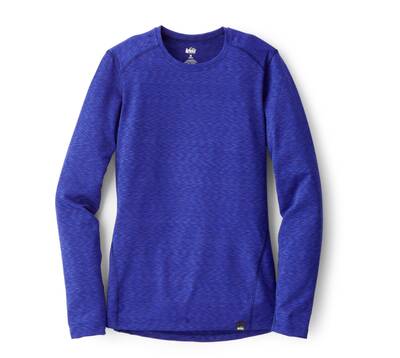 Base layers were built to keep you warm in the woods, but the truth is that this magic layer keeps you warm everywhere. A solid base layer today–as long as the color and fit suits you–can be worn in any environment. REI's Midweight Base Layer Crew is the most affordable, simple, all-around base layer on the market.
It's a synthetic mix of polyester and spandex, has 50 UPF built in, provides a medium amount of warmth, and has 4-way stretch for flexibility. The flat seam construction helps when wearing a backpack, and it layers like a champ (as any base layer should).
We are continually impressed by this reasonably priced, decently warm, colorful option, which turns any combination of clothing into a warm affair.
See Women's REI Midweight Base Layer Crew
See Men's REI Midweight Base Layer Crew
---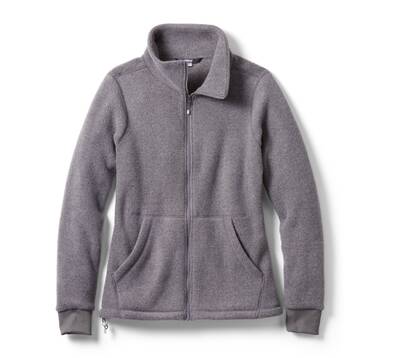 Groundbreaker is the new entry-level line from REI, and it focuses less on technical outdoor gear and more on casual, cozy comfort. This is REI's strategy to appeal to the everyday consumer (not just the gear-prone adventure seeker), and it's working. The Groundbreaker Fleece Jacket uses a very cozy midweight fleece for warmth, a large kangaroo pocket to store chilly hands or basic items, and it includes a drawcord around the waist to lock in warmth.
It's not necessarily a fleece that layers underneath a larger jacket (unless it's a rain jacket), but it will fit over a base layer (see above) or basic shirt. There are plenty of colors, excellent cuffs, and a very affordable price tag.
The Groundbreaker Fleece Jacket will be 30% off through December 24 — get one while it lasts!
See Women's REI Groundbreaker Fleece Jacket
See Men's REI Groundbreaker Fleece Jacket
---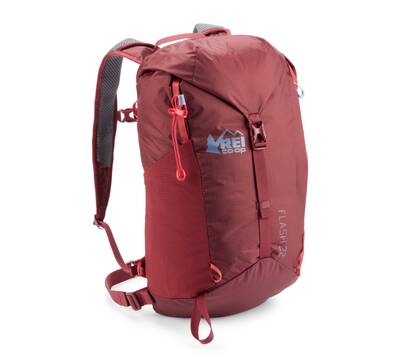 The REI Flash 22 backpack, year after year, remains a solid choice for anyone who wants to walk around with stuff. It weighs well under a pound, has convenient well-placed features, and is big enough for a real day hike, but small enough to accompany you around town.
The Flash 22 has a mesh water bottle pocket, a zippered exterior pocket for small items, an internal hydration sleeve (that works for laptops, too), a removable back padding that doubles as a sit pad, and a unique over-the-top buckle closure.
We are big fans of the REI Flash 22 Pack, and awarded it our Budget Pick for Day Hikers!
If you're looking to give the gift of pack, and don't want to spend $100+, the Flash 22 is an excellent option.
See REI Flash 22 Pack
---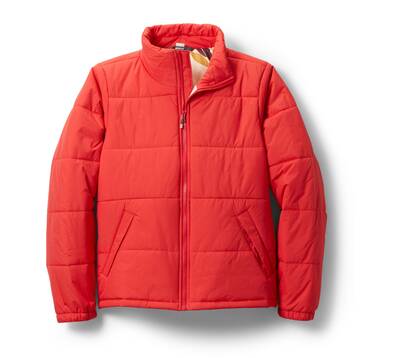 Another standout in the Groundbreaker line, the REI Groundbreaker Insulated Jacket is a stylish, urban puffy that will keep you warm. It's made of nylon, recycled polyester that's bluesign approved, and stuffed with synthetic polyester insulation. The shell has a solid DWR coating to shed light rain, and the slick hand-warmer pockets are cozy.
The Insulated Jacket comes with a drawcord at the waist to seal in warmth, and is oversized to layer underneath.
The REI Groundbreaker Insulated Jacket is a puffy that won't break the bank (as many are wont to do) — and REI is discounting it another 30% off through December 24. Get one before it's gone.
See Women's REI Groundbreaker Insulated Jacket
See Men's REI Groundbreaker Insulated Jacket
---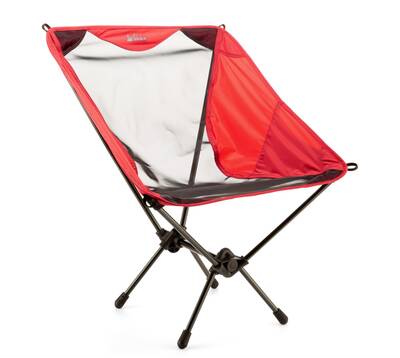 We all need to sit down, once in a while. The practicality of sitting down in a chair on a backpacking trip was not a reality until recently. But materials have gotten lighter, designs have improved, and we now have the ability to take a packable backpacking chair with us, and afford one at the same time.
The REI Flexlite Chair uses a collapsible aluminum frame, much like a tent, to pack up small. Stuff it along the side of your pack, or where your sleeping pad used to go (cause it's tiny and fits in your pack now!). The whole thing weighs well under two pounds, has 11-inches of seat height, and is surprisingly comfy.
The beauty of the Flexlite chair is that it works equally well for camping, a kid's soccer game, or just chilling in the backyard. They don't take up room in the garage (let alone the backpack), and are made with high quality ripstop nylon for a lifetime of use.
If your favorite backpacker wants to sit down once in a while, consider the REI Flexlite Chair.
See REI Flexlite Chair
---
High-End REI Co-Op Products
In our view anything over $100 at REI constitutes a high-end gift. When you decide to drop this much cash you'll be surprised at just how innovative REI design is, and impressed at the level of materials they use in their product. It's world-class gear, and continues to be some of our most frequently awarded models in a wide range of Backpacker Types.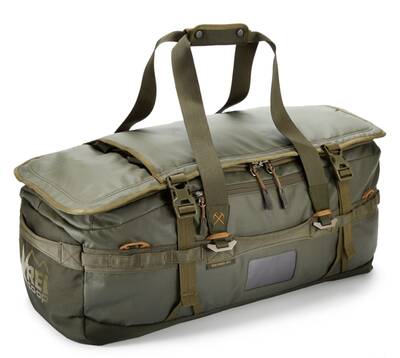 Sometimes we just need to carry a ton of stuff. Whether you're traveling for months, taking an extra-long weekend to a snow-filled paradise, or van-lifing it, the REI Big Haul 60 Duffel is meant to do exactly what it sounds like it's meant to do: haul. To be clear, 60 liters is a lot of space. This won't fit in an overhead compartment, but it will store almost everything you might want take on a trip.
The Big Haul 60 is best known for its rugged and versatile design. It uses 1680D nylon on the bottom, which is so over-the-top that it basically can't be scratched. The rest of the bag uses a still-very-impressive 400D TPU-coated nylon for rip resistance, so drag this baby all over. It has duffel handles that can be repositioned, a cross-body strap, and stowable padded shoulder straps to be worn like a backpack. Basically, carry it any way you want.
The Big Haul 60 packs into itself, has one exterior zippered pocket, and will fit your every need.
See REI Big Haul 60 Duffel
---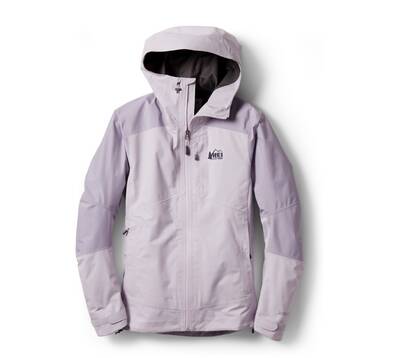 Rain jackets are having their heyday — never have materials been so light, so breathable, so water resistant, and so environmentally friendly. The REI XeroDry GTX jacket is the epitome of that, as it uses Gore-Tex's 2.5-layer Paclite technology, weighs just under 12 ounces, and is bluesign approved.
The XeroDry GTX has two high zippered hand pockets sit well above a hip belt, and act as core vents when open. There's an external zippered chest pocket (on men's and women's models!) to store basic items, and the hood has two points of adjustment.
The REI XeroDry GTX jacket is much less expensive than similar Gore-Tex Paclite rain coats, is offered in many colors, and has models in sizes Small through 3X for men and women.
See Women's REI XeroDry GTX Jacket
See Men's REI XeroDry GTX Jacket
---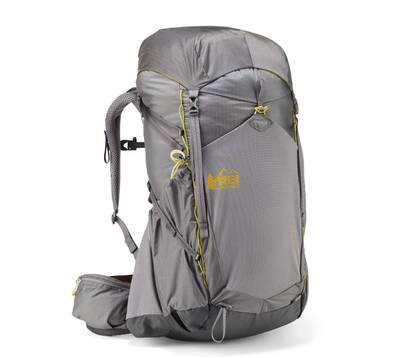 A different beast entirely than the Flash 22, the REI Flash 55 backpacking pack is built for fast and light treks into the wilderness. As gear gets lighter, the need for huge, heavy backpacking packs is fading. REI has designed the Flash 55 line to be highly customizable, and includes straps, pockets, and a top lid that are removable and movable across the pack. This system is called Packmod, and works surprisingly well for serious gearheads who want to cut weight and organize things just so.
The Flash 55 has a standard roll top closure that can be used in a more traditional top-lid style, an extra large front mesh storage compartment, water bottle pockets, and a large internal chute for your gear. It includes a 3D contoured hip belt that's specific to male and female physiques, and the whole thing weighs under three pounds, which is quite impressive.
If you've got a lightweight backpacker in the family, the REI Flash 55 pack will not disappoint.
See Women's REI Flash 55
See Men's REI Flash 55
---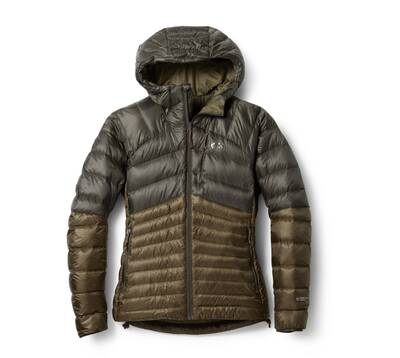 A down hoodie is a beautiful thing. A super lightweight, 850-fill goose down hoodie made with bluesign approved Pertex fabrics and certified by the Responsible Down Standard is almost as good as it gets. REI has outdone themselves with the Magma 850 line, and it shows.
The REI Magma 850 Down Hoodie 2 uses variable baffles to put warmth and stretch exactly where you need it, and the drawcord at the waist helps lock in heat. The hood is also filled with down, and it has an adjustment point so your head can be toasty and secure. We reviewed and awarded the first iteration of the Magma 850, and were very impressed.
The entire jacket weighs under 13 ounces, and packs down incredibly small. This is a serious gift that pretty much anyone will love — and it works equally well in the back- and frontcountry. What's more — REI taking 50% off the price until December 24. These will not last!
See Women's REI Magma 850 Down Hoodie 2
See Men's REI Magma 850 Down Hoodie 2
---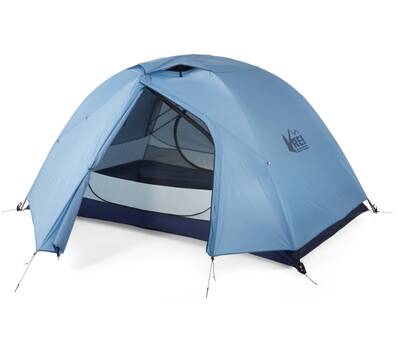 When creating this guide, it was tough to choose between the REI Half Dome 2 Plus and the Quarter Dome 2. They are both iconic tents, but in the end we have found that more people will use, and be impressed by, the Half Dome 2 Plus. It's a huge tent, with more than enough room for two people and a pet or baby, and is built with impressive materials and ingenious design for the price.
The Half Dome 2 Plus uses a DAC Pressfit aluminum pole hub to set up, which is some of the highest quality available, and it has been designed to give you maximum head room. REI uses solid 40D ripstop nylon for the canopy and rainfly, and highly durable 40D taffeta nylon for the floor. There are two full doors, two full vestibules, and more pockets than you can shake a stick at!
The craziest thing about the Half Dome 2 Plus is the square footage — this is a 92- by 60-inch home, or 35.8 square feet of space. You could probably rent the thing out it's so big. For reference, that means you can fit two full 25-inch pads side by side and still have room to spare.
We have reviewed and awarded the Half Dome 2 Plus, and find it's a one-and-done tent for backpackers and campers who aren't too concerned with weight. As a gift, it's epic.
See REI Half Dome 2 Plus
---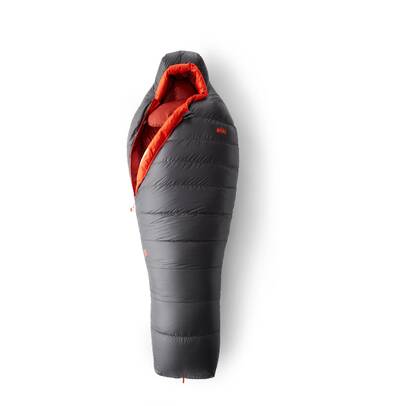 It wouldn't be an REI product list without a sleeping bag. REI has a knack for making ultra-warm, well-designed sleeping bags, and the REI Magma line is feather for feather one of the best models on the market. It's certainly not cheap, but you don't buy a high-end down sleeping bag because it's cheap.
The REI Magma 15 uses 850-fill power water-resistant goose down, which has been RDS certified and bluesign approved. It has an industry-leading 15D Pertex ripstop nylon shell, is cut in a medium-tight mummy shape, and is offered in equal temps for both men and women. The men's bag is wider in the shoulders, the women's wider in the hips, and the women's bag uses almost double the amount of down compared to the men's (23.45 ounces), so it is significantly warmer.
The bag has variable baffle spacing for maximum warmth and reduced weight, a fancy zipper that has one of the best no-snag designs we've seen, and an insulated neck yoke to make sure your precious head stays toasty. The men's weighs well under two pounds, and the women's just above two pounds, and they pack down to under 11 liters. We reviewed and awarded a previous version of the Magma.
Stats galore, the REI Magma 15 is a souped up sleeping bag that offers best in class warmth, weight, and comfort.
See Women's REI Magma 15
See Men's REI Magma 15
---
This article is sponsored by REI. All images courtesy REI, All Rights Reserved.
Backpackers.com Affiliate Policy: This guide contains affiliate links, which help fund our website. When you click on the links to purchase the gear we get a commission, and this goes a long way to creating guides, gear reviews, and other excellent content.