Backpackers.com — We thought you might like to bring in the New Year with a purifying soak. In a hot spring. In California. Just like our Oregon hot spring article, we highlight a number of hot spring resources in the Golden State and provide three excellent springs to visit.
Not just for the New Year, obviously, these California hot springs are always worth checking out.
Big Caliente Hot Springs
If you're in the general area of Santa Barbara, California, consider checking out the Big Caliente Hot Springs. These are relatively known in the local area, but remain free and can be accessed without too much struggle. There are two private and coveted rock and mortar pools down the way from the parking lot, and then one, more public concrete box right next to the parking area.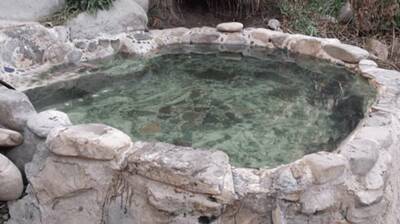 HotWaterSlaughter — the premier hot springs website for California and the U.S. — says of the site:
"The concrete box is very popular on weekends because of the close proximity to Santa Barbara despite the drive and rough road (but most passenger cars can make it if the weather conditions are good). This is why camping is banned within 500 feet of the parking area, but there are two official camping spots just a quarter of a mile away. Many tourists may be at the concrete box, but often the primitive pools with [sic] have genuine soakers, even if they are also packed. Despite their popularity on the weekends you can often have them to yourself on the week days."
Technically part of Los Padres National Forest, a ranger is regularly on patrol and will enforce general rules, like clothing and camping. There are four campsites in the area — Rock Camp, Middle Santa Ynez, P-Bar Flat, and Mono Camp. All of these cost $5 per day, or are free with an Access Pass.
To get there, take Highway 154 to the San Marcos Pass summit. Then turn east onto East Camino Cielo for 23 miles until you reach Pendola station. Just past the station turn on Rd. 5N16, and in three miles you'll see the picnic area and concrete box hot spring.
The two pools are a short hike away. And, take note that when it rains this area is closed, due to slippery adobe roads.
Hunt Hot Springs
Hunt Hot Springs are located near-ish to Redding, California, in Big Bend. The springs are on private land, but the owners allow day-use for interested parties. The three springs have been built up with decent tubs and a wooden deck.
Because it's on private property the access can be denied at any moment, so know that before going in.
Hunt Hot Springs features two separate pool areas — one has a wooden deck, some feet up from the river, while the other two were built next to each other and practically sit on the river. Both are extremely hot, but have basic temperature controllers.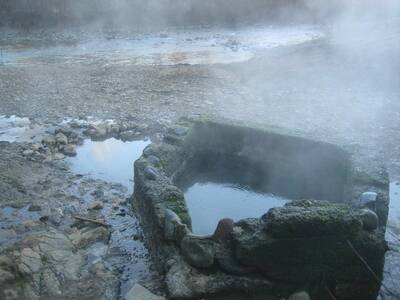 The blog International Waters writes the best description for how to find the Hunt Hot Springs. Scot says,
"To find Hunt Hot Springs, drive into Big Bend and stay on Big Bend Road.  Cross the river (technically becoming Summit Lake Road), and keep heading straight for 2.3 miles, staying left at the fork 1.2 miles in.  You'll come to a bridge across Kosk Creek, and you can park there (don't cross the bridge).  The hot springs is on private property, and it appears that the land owners are letting folks walk in – but this is as far as you can drive.  There are visible signs that no camping, soap, or dogs are allowed, and access can be revoked at any time.   It's about a half mile walk downstream (on the east side of Kosk Creek) to get to the hot spring."
You can camp in a number of areas near Big Bend, but the most popular option around is in McArthur-Burney Falls Memorial State Park.
Enjoy the tub, and be respectful. We are lucky to have owners who accept strangers onto their land…and we all want it to stay that way. Here are Google Map coordinates — Hunt Hot Spring actually shows up on Google Maps!
Benton Hot Springs
The previous two options are great for day trekkers, or those who want to camp near a hot spring and soak during the day. For a more full-service experience, consider Benton Hot Springs, just outside of Benton, CA on the Eastern section of the Sierras, south-east of Tioga Pass.
This country resort offers a number of paid rooms, RV, and tent camp sites that all utilize a small hot creek for an incredibly relaxing experience. At $40 per night, the tent and RV spots have the best bargain value. Each site comes with a full, private hot tub.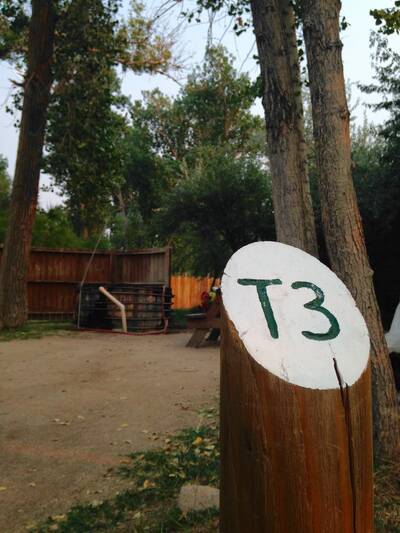 You (obviously) have to book ahead of time if you plan to stay here, as it often fills during peak seasons. The water in these tubs goes through a number of filters, has no noticeable odor, and has a comprehensive system for cooling and heating. There are group and two-person sites, and stunning views of the Sierras all around.
For those on a more extravagant getaway, Benton Hot Springs are a delight.
Resources for California Hot Springs
California hot springs are numerous, especially in the foothills of the Eastern Sierras. Our picks were chosen because of their location and the good reports gleaned from around the web. HotWaterSlaughter has a full list of California hot springs, and the HotSpringsDirectory has a comprehensive resource for those willing to scrounge. And, if you're looking to join an active group of hot springers (in California and the Western U.S.), check out Hot Spring Adventures, which organizes trips and keeps good logs of various springs after visiting.
Good luck out there, and stay warm…er, hot!
Images in order: Benton Hot Springs screenshot courtesy Benton Hot Springs; Big Caliente Hot Springs screenshot courtesy Hot Spring Adventures; Hunt Hot Springs by International Waters; Benton Hot Springs Site 3 by Pippa Baker-Rabe, All Rights Reserved.