Chaco is best known as the brand that made river sandals universally popular. Head to any rocky creek and you'll see colorfully-webbed, heavily-soled, surprisingly technical sandals on most feet.
Building off that foundation, the new Chaco Chillos take the now-classic design, and relax it. The Chillos are named for the level of activity that you should probably engage in: chill.
Whether it's around a campfire, at the beach, a backyard BBQ, or on the way to yoga, the Chillos will give you support, functionality, and ease. They relax the strapped webbing that Chaco is known for and function as a simple slide sandal for men and women.
Unique Features of the Chaco Chillos
The uniqueness of the Chillos is just how mellow they are, yet how much support they give. The Luvseat Footbed is built into most Chaco sandals, and the Chillos are no different. This footbed is Podiatrist certified, and remains a key feature of most Chaco sandals, because footwear should be about support.
You can wear the Chaco Chillos all day — with the glorious assumption that you're chilling all day — and your feet will feel well-supported.
This is coupled with uncomplicated straps that secure your feet, yet keep things feeling loose. Unlike more complex Chaco sandals, the Chillos' webbing has only one adjustment point, and this tightens or loosens the main strap over the top of your foot.
We can slide into the Chillos without hands and slip them off just as easily.
Camp Sandals, River Sandals, or Hippy Sandals?
The biggest unique feature of the Chaco Chillos is the weight. We weighed a Men's size 8 Chillo, and it came out to 5.8 ounces per sandal. For those who care about weight, and know how much sandals can weigh, that's impressively light. The pair will run you well under a pound.
Other Chaco sandals are notoriously heavy, so this reduction is something people will love.
It also makes them perfect as your camp sandals, because you can backpack with them or throw them in the car without a second thought. Yet they are functional enough to remain river sandals, as long as you're not embarking on super technical terrain.
And for those who know the Chaco aesthetic, they remain hippy sandals. Even more so, because they are so chill.
Who is Chaco?
Chaco is known for technical, supportive sandals. They got their start in river rafting, but have spread to college campuses, hot-weather hiking, and beyond. The company has a thriving repair program and continues to make unique sandals that serve the outdoor community.
Update: The Chaco Chillos have been a massive hit during the COVID-19 pandemic, to the point that the brand has released new colorways that are very funky. Check them out.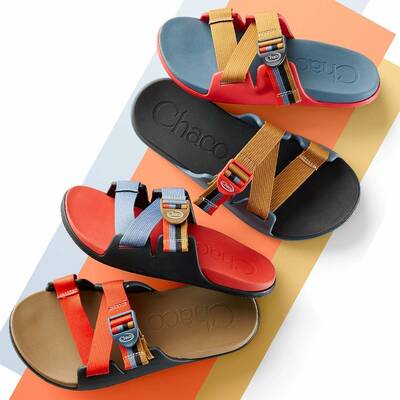 See the new Chaco Chillos, and learn more about Chaco.
---
This article is sponsored by Chaco.
Backpackers.com Affiliate Policy: This guide contains affiliate links, which help fund our website. When you click on the links to purchase the gear we get a commission, and this goes a long way to creating guides, gear reviews, and other excellent content.